2012 Honda Insight Hybrid -- First look
by
KBB.com Editors
|
October 17, 2011 1:31 PM
Smarter styling details, an enhanced feature set and even better fuel economy highlight the suite of subtle but purposeful changes incorporated into the 2012 Honda Insight Hybrid. While the wedge-shaped 5-door gas/electric hatch continues on in base Insight, LX and EX trims, all three benefit in varying degrees from the effects of this updating effort.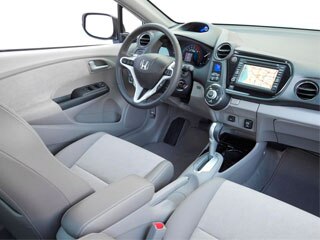 Beyond several new paint color choices, exterior changes to the 2012 Honda Insight include more cleanly contoured front/rear fascias, revised internal reflectors on the headlamps/taillamps and a new, more distinctive grille insert. These are complemented by a tidier fairing under the engine bay, longer air-channeling strakes in the front wheel well and new rear air diffusers -- changes that collectively help bump the Insight's aerodynamic efficiency by two percent. All variants now ride on wider, lower profile 185/60 tires wrapped around 15-inch wheels -- steel with new covers on the Insight/LX and restyled alloys on the EX. That change should add a bit more sporty confidence to the Insight's handling as well as improve its stance.
Inside, additional sound deadener helps make the 2012 Honda Insight a more serene place while a revised rear seat and headliner add legroom and overhead clearance. The remake also brings mildly revised gauge graphics and bigger cupholders. While the LX now boasts upgraded cloth upholstery, seat coverings in the Insight EX transition to a synthetic-leather/premium-fabric combo. The top-line Insight EX with Honda Satellite-Linked Navigation System also benefits from two functional enhancements that add convenience as well as speed to its wide range of navigation-related capabilities. The previous 4.7GB DVD drive gives way to a new 16GB flash memory and a rearview camera becomes part of the basic system.
The 2012 Insight retains the same basic Honda Integrated Motor Assist (IMA) system that pairs a 1.3-liter i-VTEC gasoline 4-cylinder engine with a 10kW electric motor to yield 98 horsepower and 123 lb-ft. of torque. However, a series of friction-reducing measures in the engine and the Continuously Variable Transmission (CVT) contribute to improved 41/44/42 mpg city/highway/combined EPA ratings, numbers that literally one-up the 2011 Insight's stats across the board. Those gains ensure that the 2012 Insight Hybrid remains the most fuel-efficient vehicle under $20,000.
As for pricing specifics, the base 2012 Honda Insight Hybrid opens at $19,120, with the Insight LX starting at $20,945, the Insight EX at $22,585 and the Insight EX with Navigation commanding $24,310.