2012 Honda CR-V Concept makes first public appearance
by
KBB.com Editors
|
September 28, 2011 7:37 AM
Back in July, we brought you a first look at the 2012 Honda CR-V Concept. Last week, the automaker put it on display at the Orange County International Auto Show in Anaheim, California. Save for a closer view of its rear quarters and confirmation a production successor will be formally revealed at the upcoming Los Angeles Auto Show in November, Honda provided few new details about the vehicle, which is expected to carry on in volume-build form with at least a 4-cylinder gasoline engine underhood and offer both front and all-wheel-drive (AWD) configurations.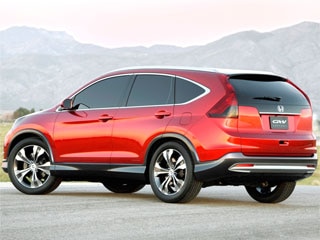 As initially reported, the all-new 2012 Honda CR-V will maintain the basic scale and character of the current vehicle -- which has been America's best-selling crossover-style SUV for the past four years -- but offer significant visual and functional upgrades. According to John Mendel, executive vice president of sales for American Honda: "The 2012 CR-V Concept strongly hints at the more dynamic and refined look of the upcoming model. It promises to build on its highly successful formula with even more style, innovative features and higher fuel economy."
Like its edgier front fascia, bolder body sculpting and more-pronounced fender flares seen earlier, the rear quarters of the CR-V Concept make a stronger and more contemporary statement set off by several well-integrated details. The flowing roofline leads into a far more interesting D-pillar treatment with fashionably recast vertical taillights framing a large, one-piece liftgate that features a cargo-friendly bumper-level lower cutline. Still no word as to whether Honda might finally break tradition and offer the new CR-V with a third-row seating option -- or if a hybrid might be in the works.
The 2012 Honda CR-V is set to go on sale late this year. Pricing information will be released closer to its actual appearance in the showroom.