2012 Honda Civic -- First look
by
KBB.com Editors
|
February 18, 2011 1:03 PM
Although Honda still has quite a few pertinent specifications under wraps, we now have photos of production versions of the 2012 Civic Coupe and Sedan lineup that was previewed in concept form last month in Detroit. Set to arrive at dealers sometime this spring, these new ninth-generation Civics will have a bolder look -- although not quite as edgy as their show-car precursors -- and promise to deliver even better fuel economy across the board.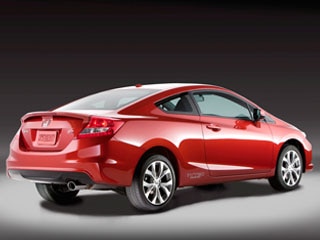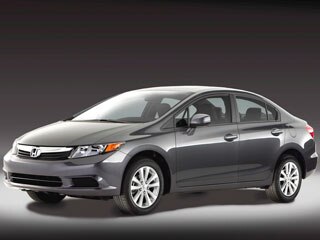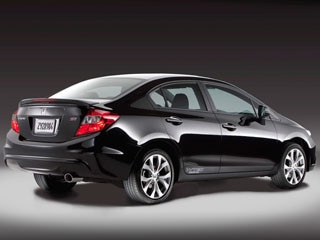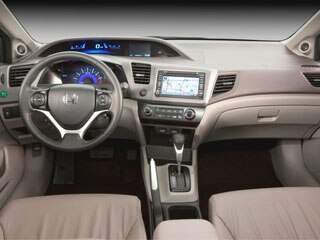 Motivation for the standard 2012 Civic Coupe and Sedan, including the natural-gas powered Civic GX four-door, will be provided by the familiar 1.8-liter/140-horsepower i-VTEC four-cylinder engine matched with a five-speed automatic transmission. All will be fitted with Honda's mileage-maxing ECO Assist real-time driver-feedback technology, a new feature that, combined with various other tweaks, is expected to help increase the combined EPA stat to 39 mpg in the gasoline cars and yield a seven-percent efficiency gain in the Civic GX.
For those forced to actually go the extra mile or more in the course of their daily commutes, the Civic Class of 2012 offers a pair of notable players. The revamped Civic Hybrid Sedan swaps its 1.3-liter engine for a larger 1.5-liter i-VTEC four and gets a new lithium-ion battery pack in place of the previous nickel-metal hydride unit to power the motor/generator that's used in its Honda IMA (Integrated Motor Assist) setup. While the total combined output rating remains at 105 horsepower, which still gets sent to the front wheels through the continuously variable transmission (CVT), this latest Civic Hybrid is projected to earn a 45 mpg combined EPA rating, which is four mpg better than the current model.
Joining the Civic Hybrid is a new-for-2012 Civic HF model. It uses the same basic powertrain components as its regular Civic siblings but adds a number of unspecified aerodynamic enhancements along with ECO Assist (both also part of the Civic Hybrid's standard kit) to earn a projected 41 mpg EPA highway figure.
Delivering a suitable one-two punch on the performance side of the equation, the 2012 Honda Civic Si Coupe and Sedan step up their respective games by replacing the 2.0-liter/197-horsepower i-VTEC four with a new 2.4-liter version that makes 200 horses and 170 pound-feet of torque -- 22 percent more twist than in 2011. The engine gets paired with a new and improved six-speed manual transmission. Despite its extra muscle, the 2012 Si set is expected to garner an estimated 31 mpg EPA highway number, which is a two-mpg advantage over their 2011 counterparts.
Additional details on the 2012 Honda Civic line, including pricing, will be released closer to its on-sale date. Expect to see the cars arrive at Honda dealerships sometime in April.