2012 Ford Mustang Boss 302 to offer street/track engine option
by
KBB.com Editors
|
November 16, 2010 1:20 PM
In conjunction with its appearance at the Los Angeles Auto Show, Ford has announced a pair of impressive new features for the 2012 Mustang Boss 302 that goes on sale in the spring. The most intriguing and most focused is TracKey. Developed jointly by Mustang engineers and the Ford Racing dealer network, this as-yet-unpriced option will provide buyers two distinct engine software programs, one standard and the other a more aggressive competition-spec aimed at transforming the new-gen Boss 302 into a track-day dream machine.
As the name implies, each choice is accessed by its own dedicated ignition key. Go with basic black, and this maxi Mustang puts its 444 horsepower to work in an admittedly exhilarating albeit as-delivered factory fashion. But fire it up using the red alternative, and the 5.0-liter V8 snaps to life with the benefit of 200 unique even-higher-performance tweaks to the parameters of its basic electronic control unit, modifications that impact everything from camshaft timing and spark mapping to fuel-injection and engine-braking. This patent-pending package with its TrackMode software marks the first time two separate sets of engine management software has been placed on a single control module. As a bonus, it also includes a two-stage launch control similar to the setup found on the Cobra Jet race car that allows the driver to dial up and automatically hold a pre-set launch rpm. Best of all, the TracKey option does not compromise the Boss 302's original factory warranty.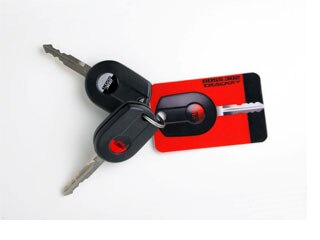 "From an engine management standpoint, we've done just about everything possible to give TracKey users a full race car experience," explains Jeff Seaman, Mustang powertrain engineer. "It's not for use on the street -- for example, the deceleration is set up to preserve the brakes, and the throttle response is very aggressive. But a skilled driver on a closed course will really appreciate the benefits." TracKey will be available directly from authorized Ford Racing dealers.
Ford is also sweetening the deal for Boss 302 buyers on a more universal basis with the introduction of a Boss Track Attack program. Offered through Team Mustang and Ford Racing, it's designed to be a total immersion experience that will include a deep background on the history and development of the car followed by a full day of high-performance driving on a racing circuit. The initial Boss Track Attack program will take place at Miller Motorsports Park in Toole, Utah, but other venues as well as dates will be announced later. While participants will have to cover their own travel-related expenses, all on-track activities -- including the use of a Ford-owned Boss 302 -- will be included in the purchase price of the vehicle. Although no specifics have been released on its sticker, the automaker has indicated that the new 2012 Ford Mustang Boss 302 should start somewhere "between $35,000-$50,000."