2012 Ford Mustang Boss 302 -- The legend returns
by
KBB.com Editors
|
August 13, 2010 2:08 PM
It's been nearly 42 years since the original Ford Mustang Boss 302 hit the streets running and quickly sped into the annals of automotive performance history. Today, Ford revealed the successor to its original iconic thoroughbred, and endowed it with exactly the same kind of take-no-prisoners attitude of its illustrious forbear. Based on the 2011 Ford Mustang GT, the limited-edition Boss 302 benefits from a comprehensive factory makeover intended to create "the quickest, best-handling straight-production Mustang ever offered by Ford." In addition to a "standard" version of this high-profile road rager, the automaker will offer it with a Boss 302 Laguna Seca package that adds track-focused suspension/tire upgrades and several other functional aerodynamic tweaks.
"The decision to build a modern Boss was not entered into lightly," said Derrick Kuzak, group vice president, Global Product Development. "The entire team at Ford felt the time was right and with the right ingredients, the world-class 2011 Mustang could support a successful, race-bred, worthy successor to the original Boss 302. For us that meant a production Mustang that could top one of the world's best -- the 2010 BMW M3 -- in lap times at Laguna Seca. We met our expectations."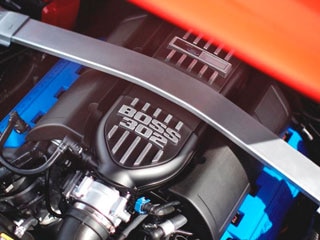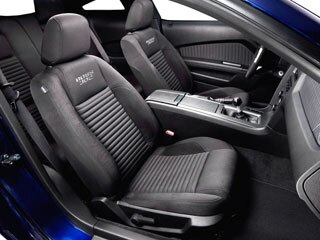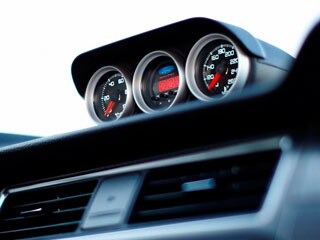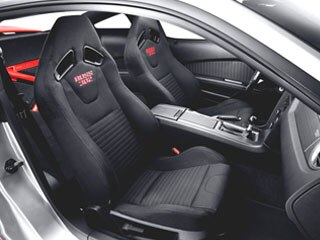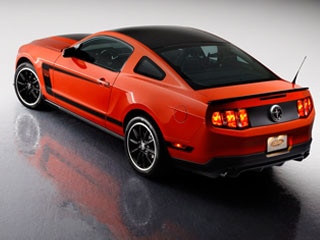 Rewriting the formula for fast
The heart of the 2012 Ford Mustang Boss 302 is a modified version of the 5.0-liter Ti-VCT V8 engine found in the Mustang GT. A new, freer-flowing intake manifold coupled with more aggressive camshaft profiling and recalibrated electronic controls bumps its power output from 412 to 440 horses, although peak torque does dip modestly from 390 to 380 lb-ft. Power headed to the rear wheels via a short-throw, close ratio six-speed manual transmission teamed with a heavy-duty clutch that uses upgraded friction materials and a 3.73:1 performance axle. For an extra measure of stick, a Torsen limited-slip differential (coupled with Recaro buckets seats) is optional.
In addition to a more-efficient cooling system, the 2012 Ford Mustang Boss 302 gets its own unique quad exhaust system that matches standard twin-outlets with two additional branched pipes that exit just ahead of the rear wheels. While flowing minimal gases, each of these supplemental pipes is fitted with attenuating "tuning" discs that give the Boss 302 a uniquely aggressive sonic signature.
Underpinning the 2012 Ford Mustang Boss 302 is a performance suspension setup based on shock absorbers that offer five different levels of stiffness. Quickly and easily adjustable using just a screwdriver, they work with an electronic power steering setup that offers three levels of driver-selectable assist, accessed using a menu on the instrument cluster. In addition to having a lower overall ride height, the stability and traction control systems on the Boss 302 get unique performance-oriented calibrations. Bigger Brembo front brakes and revised pads on the standard-GT rear binders enhance stopping to "best ever installed on a Mustang" level. Keeping it all stuck to the ground are a set of 19-inch Pirelli PZero summer tires (245/40 fronts and 285/35 rears) on custom staggered-width alloy wheels. Collectively, these upgrades allow the 2012 Boss 302 to to pull over 1.0g of lateral acceleration when cornering, making it the first non-SVT Mustang ever to exceed that lofty benchmark.
A look to remember
According to chief designer, Darrell Behmer, the cosmetic detailing of the 2012 Ford Mustang Boss 302 was done to create a contemporary homage to cues seen on the original 1969 street car. The six-color exterior palette -- Competition Orange, Performance White, Kona Blue Metallic, Yellow Blaze Tri-Coat Metallic and Race Red -- gets set off by a contrasting roof panel in black or white, depending on the color of the retro-style C-scallop side. Functionally, a unique front fascia brings more aggressive details and a lower splitter derived from the one used on the competition-only Boss 302R racer that more effectively routes air around and under the car. It's complemented by a subtle drag-reducing rear spoiler. Collectively, they help trim lift and improve overall stability, right up to its 155-mph top speed.
Inside, the new Boss 302 gets its own distinctive instrument panel, gauges, Alcantara-trimmed seats and steering wheel plus a black ball-style shifter knob. It also arrives with 11 pounds of sound deadener removed to both trim weight and add an extra measure of aural excitement.
Laguna Seca package -- the boss Boss 302
For the hardest-core Boss 302 fans, Ford also will offer a special Laguna Seca package that makes an even bolder statement on every level. Named after the track where Parnelli Jones won the 1970 Trans-Am Series season opener in a Boss 302, the 2011 iteration is available only in basic black or Silver Ingot paint set off with a red roof panel and various other dedicated trim elements. The Laguna Seca package brings a more aggressive front splitter -- also Boss 302R derived -- and a larger rear spoiler plus Ford Racing front-brake cooling ducts. Chassis enhancements here include higher-rate springs and a larger-diameter rear stabilizer bar along with even-wider staggered-width alloy wheels. While its basic powertrain specs remain identical to the standard Boss 302, going the Laguna Seca route also nets the Torsen limited-slip diff as standard.
The 2012 Ford Mustang Boss 302 will go on sale in the spring, although no word yet on the base price of either the standard version or the Laguna Seca variant.
Want more?
Check out Ford's teaser video of "the best track Mustang ever," including some good track footage of the race version.