2012 Ford Mustang Blue Angels edition nets $400K for Young Eagles
by
KBB.com Editors
|
August 2, 2011 7:22 AM
One of the highlights at this week's annual gathering of the Experimental Aircraft Association's AirVenture Oshkosh was the appearance of the stunning 2012 Ford Mustang Blue Angels edition, a high-performance one-off that celebrates both the world's most famous precision flying team and the year-long Centennial of Naval Aviation festivities. Designed and engineered by Ford using graphic elements directly Inspired by the Blue Angels, the car garnered a top bid of $400,000 in a charity auction that will benefit the EAA's Young Eagles organization, a group dedicated to inspiring and supporting budding engineers, scientists aviators, astronauts and other innovators in the pursuit of their career goals.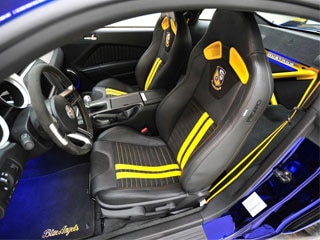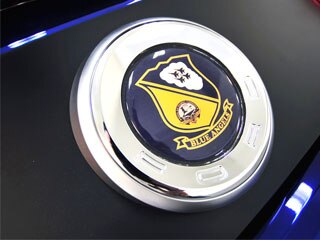 Finished in brilliant spectra-chrome created by Creations 'n Chrome with "Blue Angels" script and crest on the door, this high-flying Mustang GT boasts "screaming yellow" accents and a custom rear spoiler with angled vertical tail fins that recall those on the F-18 Hornets currently used by the organization. That show is matched by equally serious go, courtesy of a Ford Racing-prepped supercharged 5.0-liter V8 that cranks out 624 horsepower. It's matched with a full-on chassis upgrade that includes the Ford Racing handling pack and racing brakes as well as a performance exhaust system.
The Blue Angels motif carries over to the car's cabin appointments, which is highlighted by a pair Recaro sport buckets covered in black leather and featuring yellow contrast stripes inspired by the pilot's flight suits as well as the group's signature crest. Other dedicated touches include unique performance gauges/instrument graphics and navigation screen icons, special dash appliqués, custom seat belt materials, a rear cross brace that replaces the rear seat, Blue Angels script on the blue floor mats and illuminated sill plates and as a finishing touch, puddle lamps that project jet images when the doors are opened.
"The precision, discipline and excitement that define the U.S. Navy's Blue Angels flight team are qualities we celebrate at Ford," said Edsel B. Ford II, a member of Ford's board of directors. "With this year's beautiful 'Blue Angels' edition Mustang GT, we've captured those qualities and paired them with the innovation Ford design and engineering team members build into all of our vehicles. Through this project, we take great pride in continuing our support for EAA and the Young Eagles organization." Ford has been creating one-off Mustangs for this event since 2006, and so far the cars collectively have raised more than $1.7 million at the EAA's AirVentures auctions.