2012 Ford Focus Review - Stepping up and stepping out
by
KBB.com Editors
|
January 31, 2011 1:59 PM
Expanding the envelope

On sale this spring, the 2012 Ford Focus has undergone a clean-sheet recasting that brings a new look, enhanced quality, more features, and class-leading options to a slightly larger package that's far more compelling, both visually and dynamically. Previously available only in four-door sedan or coupe form, this compact front-driver based on Ford's global "C-platform" architecture adds a new five-door hatch model for 2012 and endows both variants with an international design pedigree that introduces numerous first-in-class technologies, including a host of enhanced comfort/convenience/safety touches.
Intent on both broadening the car's appeal to its current buyer base and reaching a new breed of potential customer looking for something more, the new Focus retains its existing S, SE, SEL trims while adding a premium-grade Titanium variant that Ford hopes also will find favor with customers considering a step down from larger traditional luxury vehicles. Beyond squaring off against the new Chevrolet Cruze, the 2012 Ford Focus faces stiff competition in this ultra-competitive segment from perennial rivals like the Honda Civic -- also due for its own mid-year remake -- Mazda MAZDA3, Nissan Sentra and Toyota Corolla as well as the newly redesigned and very well turned out Hyundai Elantra and its Kia Forte cousin.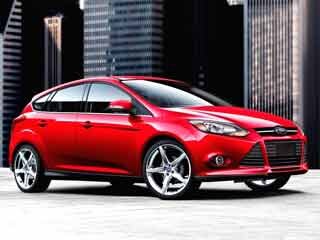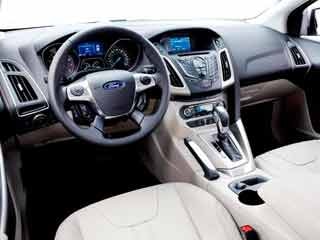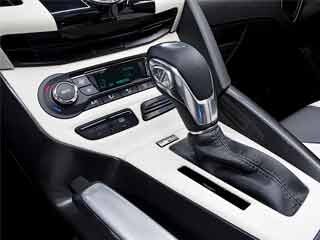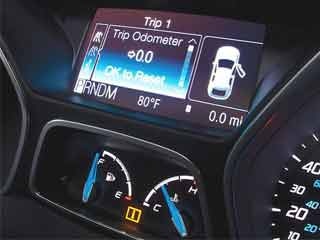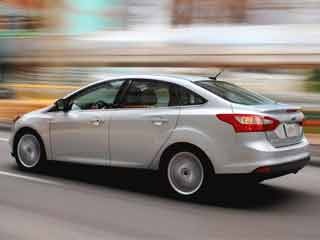 May be your favorite if:

Those seeking a compact vehicle with class-leading character and technology -- from MyFord Touch infotainment/telematics and Active Park Assist to handling-enhancing torque-vectoring control and a PowerShift dual-clutch six-speed automatic transmission -- will find lots to admire in the 2012 Ford Focus line.

May not be your favorite if:

While some may take issue with the Focus' new styling language, typical budget-constrained compact-car buyers willing to forego leading-edge tech touches for a lower pricepoint are likely to be drawn towards more attractive/affordable alternatives like the Chevy Cruze, Hyundai Elantra and Kia Forte.
A vision of tomorrow

Both the Focus sedan and hatchback boast the latest evolution of Ford's "kinetic design" language. Despite that clearly edgier and more aggressive character, their evocatively contoured bodywork is considerably more aerodynamic. While overall footprint size remains roughly equal to the 2011 sedan, a slightly lower roofline, longer wheelbase and substantially wider front/rear track dimensions give the 2012 Focus lineup a more poised and planted appearance. Effectively accenting this new look are stylized headlamp/taillamp treatments and a broad selection of wheel/tire fitments that range from 195/65 all-season tires and 15-inch steel wheels on the Focus S sedan to standard 215/55 rubber on 17-inch aluminum rims for Titanium variants -- along with the availability of an ultimate 18-inch upgrade that also brings 235/40 performance tires and a sport-tuned suspension.
Slightly roomier but with a far more upscale look and feel than its predecessor, the 2012 Focus cabin is highlighted by a healthy dose of soft-touch surfaces and an abundance of sound-attenuation materials that effectively quell engine/road/wind noise. Highly legible instruments and well positioned controls are part of the basic Focus formula while an 8.0-inch full-color touch screen replaces the normal multifunction display on SEL/Titanium models fitted with the MyFord Touch infotainment/navigation system. The rear seat on the Focus is scaled for two mid-sized adults but decently padded for three kids. Folding the standard/optional 60/40 seatbacks to their semi-flat position adds utility to the sedan's 13.2 cu ft conventional trunk and raises capacity of the hatch's rear bay from 23.8 to 44.8 cu ft.


What you get for about $17,000-$18,000

Even the base Focus S sedan boasts an impressive complement of power assists plus air conditioning, a tilt/telescoping steering column, keyless remote entry, 110-watt AM/FM/CD/MP3 radio, AdvanceTrac stability control, anti-lock disc/drum brakes and front/front-side/side-curtain airbags. Up the base price ante by $1,000 and the SE's feature set expands to add a trip computer, multifunction steering wheel, programmable MyKey, power rear windows, automatic headlamps, foglamps and 16-inch wheel/tires. The slightly pricier five-door SE hatch also comes with a 60/40 folding rear seat and a rear spoiler/wiper.
The 2012 Focus links its wide selection of available upgrades directly to the model hierarchy. At S level, the six-speed dual-clutch autoshifter and remote start dominate an intentionally modest list, but SE sedan buyers can opt for those items plus things like a power moonroof, voice-activated navigation, Interior/Winter/Sport/Super Fuel Economy Packages -- all but the SFE also available on SE hatches -- MyFord Driver Connect technology and SYNC package, leather upholstery and more, extras that can bump the bottom line to the $23,000-$24,000 range.


What you get for about $21,000-$23,500

Stepping up to SEL adds items like the six-speed PowerShift automatic, dual-zone climate control, MyFord Driver Connect, SYNC with USB, upgraded audio, cruise control, LED ambient lighting, 60/40 folding rear seatbacks, four-wheel disc brakes and 16-inch alloy wheels. The range-topping Titanium also nets push-button starting, MyFord Touch with 10-speaker Sony HD sound system, SIRIUS Satellite Radio (with six months free), sport seats, sportier suspension tuning, a 17-inch wheel/tire package and more.
Both SEL and Titanium versions also can be fitted with leather as well as voice-activated navigation and the Technology Package (class-exclusive Active Park Assist, front/rear sensors, rearview camera), plus the premium MyFord Touch telematics/infotainment system -- a Titanium standard. Going Titanium also permits a dedicated sport suspension with 18-inch wheels that mount performance tires. Fully loading either trim can take you into the $27K range.

Features of note

MyFord Touch
Optional on Focus SEL and standard on Titanium trim levels, Ford's top-line infotainment/telematics package is based on an even more advanced and expansive application of the automaker's acclaimed SYNC voice-command system and includes a premium 10-speaker Sony sound system, with HD radio, media hub, in-car WiFi access and more.
Super Fuel Economy (SFE) Package
Available on autoshifted SE models, the SFE Package includes auto-articulated, aero-optimizing grille shutters -- an unseen mileage-enhancing element also found on most other Focus models fitted with the PowerShift transmission -- as well as low-rolling resistance tires, wind-cheating wheel covers and a tasteful rear spoiler that collectively bring the car's projected EPA highway figure up to 40 mpg.
Next-gen airbags

The 2012 Focus introduces several innovations in the passive restraint arena. Its driver airbag uses a special tethering system to create a "pocket" that helps decrease pressure levels on the chest and ribs while the front-side airbags are the first in any automobile to feature a new adaptive venting system that can optimize inflation pressures to compensate for both the seat position and the size of its occupant.
A more dynamic personality

Built around a stiffer, stronger unit body structure underpinned by a comprehensively retuned, Euro-flavored suspension that brings better damping and roll control plus quick, well-weighted electrically assisted power steering, the 2012 Ford Focus feels comfortable, confident and impressively responsive to driver inputs under virtually all conditions. Although stepping up in trim level and the accompanying wheel/tire enhancements does impact ride compliance -- particularly with the 18-inch rims and 40-series tires available on Titanium models -- Ford has done an excellent job of bringing out the best in this component set regardless of configuration. When the going gets twisty, the new Focus bolsters its standard AdvanceTrak stability control with a first-in-class torque vectoring control system that acts like a limited-slip differential and helps the car accelerate out of corners more adroitly. Despite a softish pedal, the well-modulated anti-lock brakes (disc/drum in S/SE, disc/disc in SLE/Titanium) deliver solid, drama-free stops.

Getting properly motivated

All 2012 Focus models are fitted with a new, naturally aspirated 2.0-liter inline-four that features gasoline direct fuel-injection and Ford's twin-independent variable camshaft timing (Ti-VCT). This smooth free-revver makes 160 horsepower and 146 lb-ft of torque -- 20 more ponies and 10 additional twist units than its 2011 predecessor. The engine can be backed with a five-speed manual or a new six-speed dual-clutch automatic. On SE with Sport Package, SEL and Titanium models, the automated-manual cog changer also gains a Sport mode with SelectShift capability accessed via a "+/-" rocker switch somewhat awkwardly positioned on the shift lever. Although this new engine is more engagingly enthusiastic above 3,000 rpm, we found it to be a solid match for either transmission. Our impromptu 0-60 mph sprints yielded times 9.0-10.0-second range. Formal EPA figures have yet to be released, but Ford anticipates average fuel economy numbers on the new Focus will be up by about 10 percent. Autoshifted SE sedans models also can be fitted with the mileage-maxing SFE Package that will net it a projected 40 mpg on the highway.
Looking ahead, Ford has already announced that the U.S. Focus lineup will add both a cool green and a red hot member within the next 12 months or so. First up is the battery-powered Focus Electric model that goes on sale late this year. Sometime in 2012, hard-core performance fans will see their patience rewarded with the arrival of the Focus ST -- a purpose-built performance variant motivated by a 247-horsepower/2.0-liter EcoBoost four. At least one other powertrain alternative also might be in the cards. The new soon-to-launch 2012 Ford C-MAX crossover that shares C-platform architecture with the Focus will offer both a 2.5-liter naturally-aspirated four and a 1.6-liter EcoBoost engine; either of which could be tweaked for duty here, should the need/desire arise.

KBB Value Analysis

Even more than it did with the introduction of its subcompact Fiesta, Ford intends to aggressively position the remade 2012 Focus as a premium offering within the compact-car ranks based on its impressive list of advanced design elements and megaload of desirable options. Although the Manufacturer's Suggested Retail Price (MSRP) on the new Focus S, high-volume SE sedan and the SEL four-door models remains at virtual 2011 levels, the hatch variants and Titanium models have the potential to tax the financial wherewithal of the more severely budget-constrained. It remains to be seen how Ford's step-up philosophy ultimately impacts model mix choices in this extremely price-sensitive segment. While KBB.com has yet to officially rate projected resale value on the 2012 Focus, this new and comprehensively improved package is almost certain to move closer to the level of the Honda Civic and Mazda MAZDA3, current leaders in the long-term residuals arena.