2012 Ford Focus Electric unveiled at CES
by
KBB.com Editors
|
January 7, 2011 9:08 AM
Getting its full reveal at the Consumer Electronics Show before heading on to a follow-up appearance in Detroit, the 2012 Ford Focus Electric is the first EV passenger car from Ford and the first of five electrified vehicles the automaker will bring to market here and in Europe by 2013. Arriving at U.S. dealerships late this year, Ford execs say the new super-green Focus five-door variant will retain a good measure of the fun factor found in its conventional counterpart while offering even more efficiency and user-friendliness than the Chevrolet Volt E-REV and Nissan LEAF EV.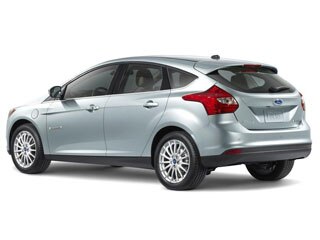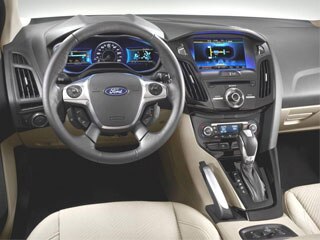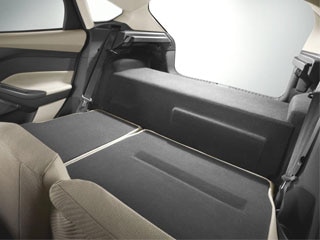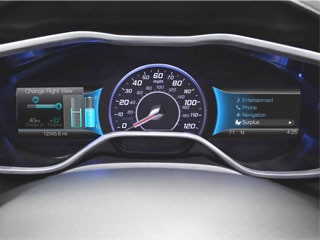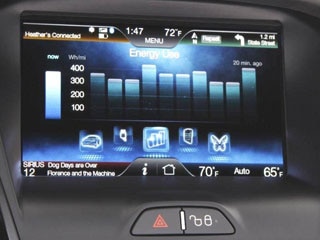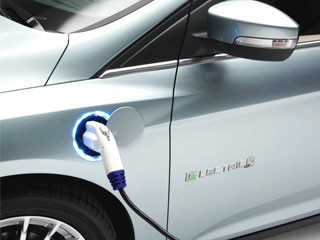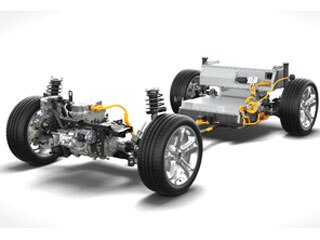 Although modest in scope, the exterior styling tweaks on the Focus Electric are decidedly purposeful. Its revamped front fascia with new grille and intake treatment helps yield a smoother look that increases aero efficiency and standard 17-inch lightweight alloy wheels are fitted with custom 225/50 low-rolling-resistance tires. The car also gets a charging port on its left front fender ringed by an LED-lit surround that indicates battery status plus distinctive "ELECTRIC" badging on the front doors. As for its road manners, Sherif Marakby, director of Ford's electrification programs and engineering, notes that: "More than any other electric vehicle on the market, Focus Electric loses none of the dynamics and quality of driving a traditional car."
A Blue Oval take on ultimate green
Motivating the 2012 Ford Focus Electric is a 123-horsepower motor that develops 181 lb-ft of torque. It's paired with a rear-mounted, liquid-cooled 23kWh lithium-ion (Li-ion) battery pack that delivers an average per-charge range of 100 miles and allows the car to reach a top speed of 84 mph. While official EPA numbers have yet to be released, Ford claims the 2012 Focus Electric will have an MPGe (Miles Per Gallon equivalent) figure that literally "one ups" the Chevrolet Volt and will be "competitive" with other battery electric rivals like the Nissan LEAF.
Charging times for the 2012 Focus Electric will be a very-quick three to four hours using a dedicated 240V setup or 18-20 hours when plugged into a standard 120V wall outlet using the supplied connector cord. Depending on location and specific prevailing rates, Ford estimates that a refill will run $2-$3, on average. Ford is currently working with Best Buy stores to offer a 240V home charging station and installation in a package that it expects will retail at $1,499. To help minimize overall electricity costs, the new Focus Electric also has a powered-by-Microsoft "value-charging" feature that allows owners to ascertain and easily program the least-expensive off-peak times to access the grid system.

Accommodating cabin with an EV twist

Inside, the most notable changes to the Focus Electric's passenger compartment center on its unique dash treatment that includes a pair of driver-programmable 4.2-inch LCD displays flanking a conventional analog speedometer and an 8.0-inch touch screen that dominates the center stack. Collectively, they offer the driver a dedicated expansion of the functionality found in the standard MyFord Touch system recently introduced in several other 2011 Ford lines, and provide real-time status updates on everything from state of battery charge and effective range to energy budgeting for a specific trip and the impact of the car's regenerative braking system.
The large multifunction center display also houses the Focus Electric's MyFord Touch Navigation System. Beyond all normal functions, it adds an additional level of mile-maxing help displaying various EcoRoute options and the location of nearby charging stations as well as numerous other useful bits of data based on SYNC and SYNC Traffic, Directions and Information (TDI) features. As a final touch, a new MyFord Mobile app created specifically for the Focus Electric and other future Ford plug-in vehicles permits owners to remotely monitor and control a host of tasks like scheduling charge times, performing lock/unlock and preconditioning functions, using GPS to locate the vehicle, and receiving critical alerts/status updates via their smartphones or other web-based devices.
Like the Volt and LEAF, the Focus Electric will complement its EV-specific features -- which also include energy-efficient electric operation of its power steering, water/vacuum pumps and air-conditioning compressor -- with a megaload of other premium comfort/convenience/safety standards. Heading that list are a nine-speaker Sony AM/FM/CD/MP3 audio system, Sirius Satellite Radio with Travel Link, HD Radio, programmable MyKey, push-button starting, a 60/40 split-folding rear bench seat and six airbags.
The 2012 Ford Focus Electric will be produced at the automaker's ultramodern Michigan Assembly Plant in Wayne, Michigan, along with its conventional kin and two other new electrified Ford vehicles, a plug-in and a hybrid.