2012 Ford Focus Electric to start at $39,995
by
KBB.com Editors
|
November 4, 2011 3:00 AM
Ford has just taken the latest step in launching its ambitious EV program by opening the order books on its first full-production all-electric passenger car, the new 2012 Focus Electric. Based on the conventional Focus five-door, this distinctively styled and trimmed zero-emission variant will sticker at $39,995 before any federal, state or local incentives are deducted. Interestingly enough, that's exactly the same amount as the 2012 Chevrolet Volt. To make it easier for potential owners to peruse complete specs and features on the car, Ford has created a dedicated website: www.ford.com/electric/focuselectric/2012/.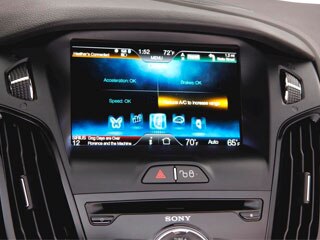 Given its somewhat heady price of entry, you'd rightly expect the 2012 Focus Electric to pack a bounty of upscale standard features. And this resolutely green newcomer won't disappoint. Everything from a variety of dedicated EV displays, SYNC/MyFordTouch with MyFord Mobile App, a premium Sony sound system, voice-activated navigation and Sirius Satellite Radio/HD Radio to HID xenon headlamps, 17-inch alloy wheels and rearview camera are included in the far-from-base package. In fact, the only options are leather in place of cloth upholstery and the choice of two paint colors.
Motivation for the 2012 Ford Focus Electric is supplied by a 123-horsepower electric motor energized by a 23kWh liquid-cooled lithium-ion battery pack, with power heading to the front wheels via a single-speed transmission. Ford had previously indicated that the Focus Electric will have a top speed around 84 mph and a per-charge range of about 100 miles. Replenishing the battery takes a little over three hours using a dedicated 240V home charger, less than half the time required by the Nissan LEAF. However, the interval will stretch to overnight-and-more if it gets plugged into a standard 120V wall outlet.
The 2012 Ford Focus Electric initially will launch on a fairly limited basis late this year in selected areas of California, New York and New Jersey. As production ramps up in 2012, Ford also will roll it out in Atlanta, Boston, Denver, Detroit, Orlando, Portland, Oregon, Raleigh Durham, North Carolina, and Richmond, Virginia, as well as Austin and Houston, Texas, Phoenix and Tucson, Arizona and Washington, D.C.