2012 Ford Explorer/Ford Edge 2.0-liter EcoBoost First Drives
by
KBB.com Editors
|
August 30, 2011 10:14 AM
Ford's efficiency-enhancing EcoBoost engine technology has been winning plenty of new friends since its introduction in 2009. While the first U.S. application came in the form of the 3.5-liter EcoBoost V6, the latest iteration is a 2.0-liter in-line four that will serve as an even more frugal engine option for front-drive versions of the 2012 Ford Edge and Ford Explorer models. According to Erik Petersen, Ford's SUV/CUV Marketing Manager, in today's world, where gasoline is frequently flirting with $4.00 per gallon at the pump, over a third of "utility" buyers cited fuel economy as their primary purchase consideration. Couple that with the long-overdue admission by more and more individuals that their personal motoring needs categorically do not require a vehicle that can haul a large trailer or go bounding across the boonies, and this latest variation on the motivation theme would seem to offer a pretty logical alternative.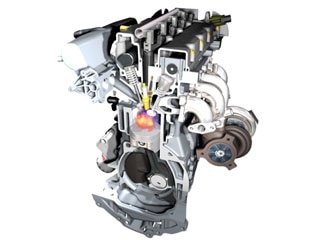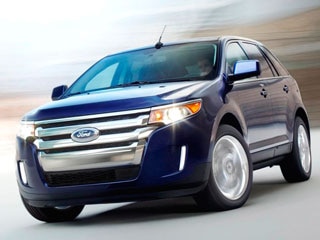 To see how well the 2.0-liter EcoBoost really proves the old adage that good things come in small packages, we recently spent some time behind the wheel of EcoBoosted examples of both the 2012 Edge and Explorer. In addition to a selection of public highways and byways, our driving venues included some more demanding demonstration roads within the restricted confines of Ford Motor Company's Romeo Proving Grounds outside of Detroit.
Like its 3.5-liter EcoBoost V6 cousin, the EcoBoost 2.0-liter in-line four-cylinder engine uses all of the key techno tweaks -- turbocharging, direct fuel injection and Ford's Ti-VCT (Twin-independent Variable Camshaft Timing) -- to create an engine that makes a stout 240 horsepower at 5,500 rpm and 270 pound-feet of torque at 3,000 revs. In addition to bettering the output numbers of Ford's old 4.0-liter V6 by 30 ponies and 16 pound-feet, this new 2.0-liter delivers 40-percent better overall fuel economy. That translates into class-leading 20/28 mpg city/highway EPA numbers for the Explorer and 21/30 mpg stats for the Edge -- which also is helped by the addition of aero-enhancing active grille shutters and a unique rocker-sill configuration.
Equally critical to the mission of both vehicles, this little engine-that-can churns out 90 percent or more of its peak twist figure from 1,825 to 4,650 rpm. As with the 3.5-liter Ti-VCT V6 that remains the standard issue in the 2012 Edge and Explorer, the new 2.0-liter EcoBoost four is backed by a six-speed automatic transmission.
Even though our evaluation period was limited to just over an hour, we learned early on that the new 2.0-liter EcoBoost engine has all that it needs to make the grade, figuratively and literally. Capable of negotiating city streets and freeway hauls without breaking a sweat, both the Edge and Explorer displayed the same kind of stress-free character on the winding "hill course" at Romeo. Although the EcoBoost engine has 50 fewer horses in its underhood corral, peak torque is off by only 15 pound-feet compared to the standard naturally-aspirated 3.5-liter V6 used in both vehicles. Given that the four-cylinder Edge is 58-pounds lighter and the Explorer is down by 54 pounds, the real-world performance differential proved negligible-to-non-existent in most cases.
While the $995 EcoBoost alternative is a decidedly viable one for many potential Edge and Explorer owners, Petersen readily admits that it's not for everybody. Maximum towing capacity drops from 3,500 pounds on a V6-powered Edge to just 1,500 with the force-fed four. It's a similar story on the Explorer, where the top trailering spec dips from 5,000 to just 2,000 pounds when cylinder count falls from six to four. Those who regularly plan to venture off road and/or demand the added confidence and capability of all-wheel drive face a similar go/no-go decision. However, if light-to-moderate duty motoring really is the primary mission, this new 2.0-liter EcoBoost four definitely has the chops to get the job done -- and to do it in a virtually transparent manner while using considerably less fuel.