2012 Fiat 500 Cabrio - First drive
by
KBB.com Editors
|
May 24, 2011 1:54 PM
Opening up new perspectives
Just in time for spring, the 2012 Fiat 500 Cabrio -- unofficially dubbed the Fiat 500c -- has begun rolling into the automaker's 58 sales "salons" currently located in 25 states across the country. Soft-top runningmate to the recently-launched Fiat 500 hatchback, this new Cabrio variant shares much of its styling and mechanical pedigree with its hard-shell kin but adds unique sun-runner flair to the basic mix highlighted by its well-engineered power-activated slide-back top. Available in Pop and Lounge trim levels, the diminutive 500c is set to square off against its primary foe, the Mini Cooper Convertible, armed with an impressive array of standard features, outstanding build quality and a very attractive pricing strategy.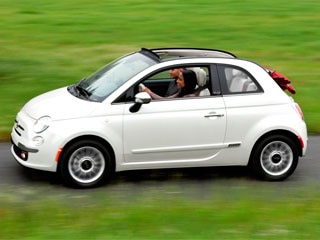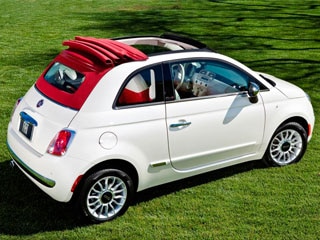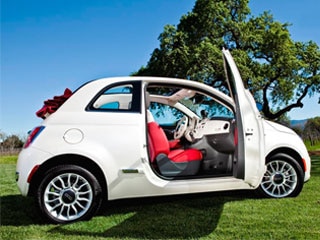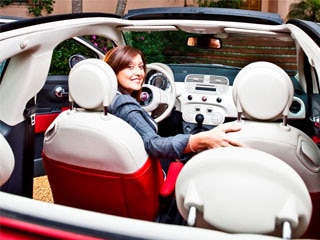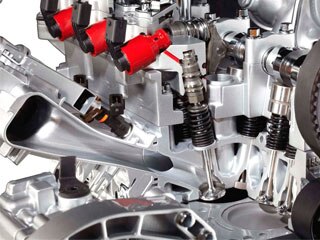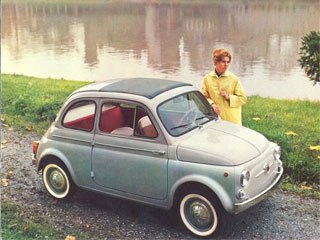 It could be the car for you if:
Cool, funky and fun, the 2012 Fiat 500 Cabrio will find favor with those seeking a vehicle that delivers a refined and comfortable driving experience in either open or closed modes. An exceptional feature set coupled with a $20,000 opening sticker should help seal the deal.
It might not be right if:
Those who believe that hard-core handling matters as much as being able to catch a few rays while on the go will probably be happier with a Mini Cooper Convertible.
Reshaping history from the top down
Like the 2012 Fiat 500 hatchback, the new 500 Cabrio draws on the original -- and even smaller -- 1957 Fiat "Nuova Cinquicento" for conceptual inspiration but overlays that neo-classic vision with numerous 21st century design and engineering upgrades. The most obvious change from the hardtop 500 can be seen in its slightly longer windshield and more steeply-raked A-pillars, changes that provide better outward visibility and help conceal an additional transverse torsional stiffener in the upper frame. A similar reinforcing element atop the rear cabin bulkhead coupled with L-shaped aluminum castings down low complete the unseen shoring up process, which is effectively complemented by the car's B-pillar/C-pillar structure and full-length roof rails. Configured like a super-scaled cloth sunroof, its nifty power-activated soft top sports a color-matched functional rear spoiler that also houses a high-mount stop light as well as a generously proportioned back glass that provides the same sightlines as the one on the 500 hatch. Like the hatchback, the Pop and Lounge Cabrios differ in minor exterior trim details, the key functional distinction being that the former fits its 185/55 all-season tires on 15-inch steel wheels while the latter replaces them with same-size but lighter-weight alloy rims.
A cabin with character

Sharing the same basic look and feel of its hatchback sibling, the passenger compartment of the Fiat 500c mixes and matches elements in a uniquely Italian manner, highlighted by distinctive instrumentation with concentric speedometer/tachometer, a standard leather-wrapped multifunction steering wheel and well-formed, comfortable front buckets. Despite its subcompact scale, there's a surprising amount of space in the 500c's interior, especially up front. While legroom and shoulder room in the aft quarters exceed that of a Mini Convertible, the 500c's rear seat remains best suited to a pair of modestly-scaled kids. However, folding the 50/50-split backs does increase cargo capacity from a usable 5.4 cu ft to a generous 23.4 cu ft.

Packaged to please
Beyond its power-activated soft top, the bounteous standard feature set in the Fiat 500c Pop is headed by a five-speed manual transmission, air conditioning, cruise control, power window/locks/mirrors, keyless remote, AM/FM/CD/MP3 audio system, leather-wrapped multifunction steering wheel, BLUE&ME Handsfree Communication technology, a reconfigurable Electronic Vehicle Information Center (EVIC) with trip computer and the eco:Drive Application that can provide a downloadable profile of your driving habits and offer a variety of mileage-maxing tips.
Moving up to Lounge trim brings a six-speed automatic transmission with SportShift gate, alloy wheels, upgraded interior cloth, automatic climate control, a BOSE Energy Efficient Series audio system and a security alarm as well as additional exterior brightwork accents and foglamps. Both 500c trims share identical safety features headed by antilock disc brakes, stability/traction control and front/front-side/side-curtain airbags plus a driver-side knee bag.
Going your own way

Fiat proudly boasts that buyers of the 2012 500c literally will have over 500,000 different ways to personalize their individual vehicles. Beyond choosing from 14 exterior colors, three top tones, 12 unique color/material combos for the seats, (and the six-sped automatic transmission for the Pop variant) things like leather upholstery and a Tom-Tom navigation system are available on the Lounge variant while a host of custom exterior graphics packages and interior accessory items can be added to any Fiat 500 Cabrio.

Underhood innovation
The front-drive Fiat 500c uses the same powertrain elements found in the hatchback, starting with a 1.4-liter SOHC four-cylinder engine fitted with Fiat's patented MultiAir setup. This world-first Fully Variable Valve Actuation (FVVA) system replaces the conventional intake camshaft with a hydraulically actuated/electronically controlled alternative that permits instantaneous variation of the lift and timing events. MultiAir helps the engine make a modest but quite serviceable 101 horsepower and 98 lb-ft of torque while netting up to a 10-percent gain in relative fuel economy and similarly decreased levels of CO2 emissions. Paired with the five-speed manual transmission, this sophisticated free-revver earns impressive 30/38 mpg city/highway EPA marks. Backed by the six-speed automatic, it returns respectable 27/32 mpg numbers.
Heading down the highway
A truly smooth operator, the Fiat 500c matches its sporty suspension tune with excellent ride compliance. While the Mini Cooper Convertible holds the clear edge in pure acceleration and at-the-limit handling, a back-to-back drive in its prime rival quickly confirmed that the 500 Cabiro has a decided advantage in comfort, refinement, quietness and overall packaging in while exhibiting noticeably less cowl shake over uneven road surfaces. Only 53 pounds heavier than the hatchback, the 500c delivers near-identical acceleration numbers, which means you'll have no problems keeping up with traffic in virtually any situation. However, with 0-60 mph times hovering around 10 seconds, don't plan on winning many stoplight-to-stoplight sprints with either gearbox. That will have to wait until next year when a turbocharged Abarth performance variant arrives here. The 500c's well-sorted six-speed autoshifter can make life easier for those who face daily urban skirmishes, but the crisp-shifting manual transmission definitely imparts a bit more responsiveness -- and fun -- to the 500 Cabrio mix. Both transmissions also feature a button-activated "Sport" mode that modifies the engine mapping and permits quicker shifting. It also adds more feel to the Cabrio's electrically-boosted power steering with the manual and allows the automatic to hold a given gear longer under aggressive acceleration.

Favorite features:
Intelligent power convertible top
The dual-layer power cloth top on the Fiat 500 Cabrio activates at the touch of a button. One press sends it back to the "spoiler" position, even when you're traveling up to 60 mph; while a second causes it to assume the fully retracted configuration, a process that can be executed at speeds up to 50 mph. The whole deployment procedure takes a mere 15 seconds in either direction. Acoustically-optimized materials do a superb job of blocking out wind and road noise regardless of vehicle velocity and the surrounding structure is equally adept at minimizing cabin turbulence when you are running in open mode. If that's not enough, the fully folded stack automatically slides back to its spoiler detent spot when you pop the decklid to ease access to the trunk.

BLUE&ME Handsfree Communication System
Standard on all Fiat 500 Cabrio models, this SYNC-like system also relies on a Microsoft-designed architecture and features a USB port and iPod control capability that permits quick, easy integration of all types of personal communication devices.

KBB.com value assessment
It's still a bit early to know exactly how Fiat's return to America will play out in the long run, but good news is that the 500 Cabrio has the same kind of inherent appeal as the 500 hatch: it's well built, enticingly priced -- the Pop variant opens at $20,000 and the Lounge at $24,000 -- and undeniably fun to drive, in this case with the top open or closed. Although costing thousands less than the Mini Cooper Convertible, the Fiat 500c comes with a Mini-matching four-year/50,000 mile bumper-to-bumper warranty that includes roadside assistance and a three-year/36,000 mile no-cost maintenance package.