2012 Fiat 500 Cabrio - 2011 NY Auto Show
by
KBB.com Editors
|
April 21, 2011 6:22 AM
Offering its own unique take on the world of al fresco motoring, the 2012 Fiat 500 Cabrio -- aka Fiat 500c -- is making its U.S. debut in New York. On sale since 2009 in Europe, this new American-spec version shares most visual and mechanical elements with its equally cheeky 500 Coupe sibling but adds its own sense of sky's-the-limit style and refinement to the impressive Fiat 500 feature mix.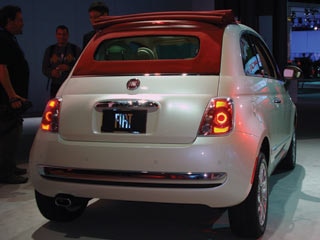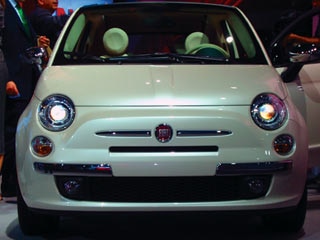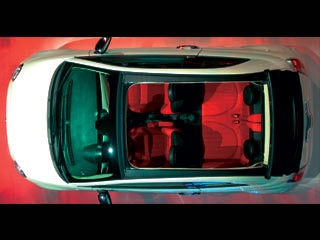 Crowning touch on the four-passenger 500c is a dual-layer power-activated cloth soft top, a one-touch modern interpretation of the manual rollback counterpart used on the original '60s-era Cinquecento Cabrio. Capable of being deployed in multiple stages, it will retract back to the roof-mounted color-matched spoiler when the car is traveling at up to 60 mph and can be rolled back to its fully-dropped configuration behind the rear headrests at speeds up to 50 mph. The top even senses when the decklid is opened and returns to "spoiler level" to provide easier access to the 5.4 cu ft trunk.
>See more new cars unveiled at the 2011 New York Auto Show
Other key design elements that accompanied the convertible makeover process include a marginally longer windshield that improves outward visibility and helps conceal a reinforcing element in the header. Although its C-pillar treatment is slightly more elegant than that of its Coupe kin, Fiat elected to retain full-framed doors and fixed side rails on the 500 Cabrio to ensure that its overall strength and rigidity remain impressively high even when the sun is shining in. The 500c also boasts its own unique wheels with a choice of four different designs.
Although its absolute proportions remain modest, Fiat says the rear seat in the new 500 Cabrio has more legroom and shoulder room than any of its key competitors and even greater headroom than the 500 Coupe. Flipping down the 50/50 split backs yields 23.4 cu ft of stow space.
The new Fiat 500 Cabrio shares the same powertrain as the 500 Cabrio, matching its super-clean/super-efficient 1.4-liter/101-horsepower "MultiAir" four-cylinder engine with either a five-speed manual transmission that features ratios specifically chosen for the U.S. market or a six-speed automatic with a driver-selectable Sport mode that engages more aggressive throttle and shift mapping to up the fun quotient. For the greener of spirit, this new Fiat also offers eco:Drive Application, which uses the 500 Cabrio's optional Blue&Me telematics to gather and download data about the car's real-world operating efficiency that can be used to help the driver analyze and improve their style to increase fuel economy and trim CO2 emissions.
Although the Sport trim remains a Coupe exclusive, the 2012 Fiat 500 Cabrio will be available in both Pop and slightly more upscale Lounge trim grades. Opting for Pop nets features like a full range of power assists, cruise control Electronic Vehicle Information Center with trip computer, AM/FM/CD/MP3 audio system with iPod connectivity air conditioning, ParkSense rear park assist, seven air bags and antilock brakes but matches them with cloth upholstery, the standard manual transmission and 15-inch steel wheels. Moving up to Lounge brings premium cloth and available leather seating, the autoshifter and alloys along with automatic climate control/cabin air filtration and a Bose premium audio package. Beyond the choice of 14 exterior colors, three top tones, 12 unique color/material combos for the seats, the 2012 Fiat 500c Cabrio literally will offer buyers over 500,000 different personalization opportunities, including Tom-Tom Navigation with Blue&Me Handsfree Communication on the Lounge variant. The 2012 Fiat 500 Cabrio will arrive in showrooms later this spring. Pricing on the Pop model will start at $20,000 while the Lounge model is set to open at $24,000.