2012 Fiat 500 - First Drive Review
by
KBB.com Editors
|
February 8, 2011 7:28 AM
Do you like sipping espressos at sidewalk cafés while chatting above the erratic screams of passing motor scooters? If you answered yes, oui or si, Fiat has a car for you and they're bringing it to the States. The Italian automaker is returning to the U.S. after a 27-year absence - a move facilitated by its new relationship with Chrysler - this time as the small-car brand under the Chrysler umbrella. On one hand, it's easy to call the Fiat 500 an Italian Mini Cooper: they're both small cars with big personalities, they both have storied pasts dating back to the late 1950s, and neither has been a true player in the U.S. market until their most recent incarnations. But take a quick spin in each, and a peek at their window stickers, and you'll see just how different they are.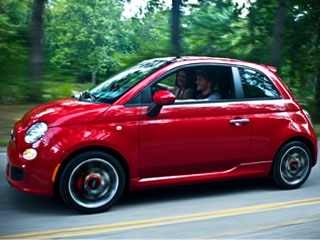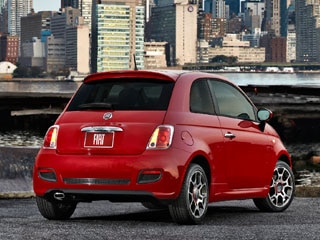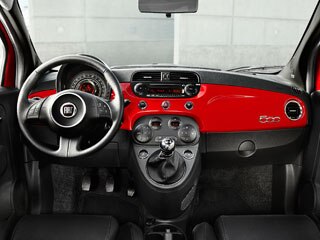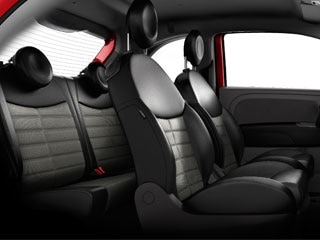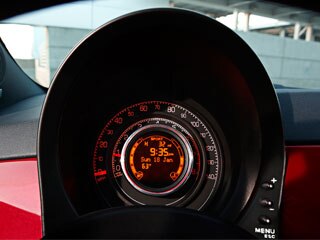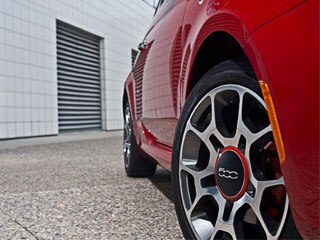 Where does it fit?
More affordable than a Mini Cooper and more gregarious than a Toyota Yaris, the 2012 Fiat 500 offers a new mix of economy and style.
Maybe your favorite if...
Combining European style and heritage with a starting price of $16,000, the 2012 Fiat 500 bridges the gap between the sportier, pricier Mini Cooper and the more pedestrian Toyota Yaris. If you like the big personality of the Mini Cooper but would gladly sacrifice some performance for a more comfortable highway ride and a lower price, you'll find the Fiat 500 worth a look.
Maybe look elsewhere if...
If you're not smitten by the style of the 2012 Fiat 500, you can get more car for your money in something like a 2011 Honda Fit, 2011 Ford Fiesta or 2011 Mazda2, all of which offer more doors, more room and more power.
Hitting the slopes
The 2012 Fiat 500 is a modern interpretation of the tiny, rear-engine original that first went on sale in Europe in 1957. While the new model is almost two feet longer than the original, it's still seven inches shorter than today's Mini Cooper. The 2012 Fiat 500 is available in three distinct trim levels -- Pop, Sport and Lounge -- all of which are easily distinguishable by unique wheels and trim. The sloping rear end is a big part of the car's personality, but doesn't do much for rear head room.
Have a (comfortable) seat
The 2012 Fiat 500 is roomier up front than you might expect, and just as tight in back as it looks. If you plan on transporting more than two adults on a regular basis, we'd point you toward one of the 500's four-door competitors. The interior style lives up the promise of the quirky but fashionable exterior, and we found the materials, build quality and seat comfort impressive for a car with a $16,000 starting price. The optional Bose audio system sounds just okay -- better than the base system, presumably -- and we couldn't navigate via artist or song title while using the USB interface, only skip to the next song.
Compact cruiser
Whereas the Mini Cooper is an undersized action hero -- see: The Italian Job -- the Fiat 500 is more likely to land a part in a festival-favorite romantic comedy. The Fiat is fun, just not in a sideways, airborne, car chase kind of way. A big part of the appeal is in how it combines the advantages of a tiny car with comfortable accommodations and a relatively smooth highway ride. The steering, brake and shift controls all have a quality feel, and the optional six-speed automatic surprised us with its responsiveness. In fact, given the car's unhurried nature and the fact that its manual transmission offers one fewer gear, the auto-swapper might be the better option. The 2012 Fiat 500 is tiny and quirky until you drive it. Then, it's tiny, quirky and respectable.
Favorite feature: Six-speed automatic transmission
Small four-cylinder engines and automatic transmissions have never mixed as well as chocolate and peanut butter, but the 2012 Fiat 500's 101-horsepower engine and six-speed auto complement each other very nicely.
Favorite feature: eco:Drive
Plug a USB memory stick into the Fiat 500's glovebox-mounted USB port and the car will upload onto it a variety of trip details including carbon dioxide emissions information. Plug the memory stick into your computer and you'll get personalized tips on how to improve your driving efficiency. In the long run it will prove more novel than useful to most drivers, but it's a cool idea nonetheless.

Under the hood
The front-wheel-drive 2012 Fiat 500 is motivated by a small but sophisticated 1.4-liter four-cylinder engine that pumps out 101 horsepower. Fiat says regular unleaded is okay, but recommends 91-octane premium fuel. We like the automatic transmission and its extra gear, but it commands about a 10 percent hit in fuel economy.
1.4-liter four-cylinder
101 horsepower @ 6,500 rpm
98 lb-ft of torque @ 4,000 rpm
EPA city/highway fuel economy: 30/38 mpg (manual), 27/34 mpg (auto)
2012 Fiat 500 Pop
At its $16,000 starting price the 2012 Fiat 500 Pop includes air conditioning, power locks/windows/mirrors, AM/FM/CD/MP3/Aux audio system, cruise control, 15-inch covered steel wheels and a five-speed manual transmission. Standard safety features include seven airbags, electronic stability control and seemingly all the other advancements we're seeing on new cars in this price range and beyond.
2012 Fiat 500 Lounge, Sport
A fully loaded 2012 Fiat 500 Lounge includes a six-speed automatic transmission, leather seats, heated front seats, power sunroof, rear parking sensors, dash-mounted TomTom portable navigation system, Bluetooth hands-free communication, Bose audio system, auto climate control and USB/iPod connectivity. The 2012 Fiat 500 Sport is differentiated by a sport-tuned suspension, 16-inch wheels and a variety of aesthetic touches including red brake calipers and a subtle rear spoiler.
KBB value analysis
The 2012 Fiat 500 starts at a Manufacturer's Suggested Retail Price (MSRP) of $16,000 and will climb past $25,000 when fully loaded. The 2011 Mini Cooper has a starting sticker price of $20,100 and can top $30,000 -- further demonstrating the differences between the two. The 2011 Ford Fiesta Hatchback ranges from about $16,000 to $21,000. We expect the 2012 Fiat 500 to be a hot commodity for the foreseeable future and for Kelley Blue Book Fair Purchase Price to reflect real-world transaction prices close to MSRP.
The 2012 Fiat 500 starts arriving at dealerships in February, but unless you pre-ordered you'll likely have to wait until March to get your own.