2012 Family Cars Overview - Midsize Sedans
by
KBB.com Editors
|
December 23, 2011 9:33 PM
Imagine a world without the prototypical family car we all take for granted. Without the midsize sedan, up to two million car buyers every year would be forced to buy something smaller, thirstier or more expensive than they'd like. Rarely the flavor of the month, today's midsize sedan is actually something of a super car, offering an unmatched balance of ride, handling, fuel economy, room, comfort, features and value.
Most of the 14 midsize family sedans below start around $20,000 and top out in the low $30,000 range. There are midsize sedans with V6, turbo and hybrid powertrains, but all of them offer a four-cylinder base engine and that's what most buyers choose.
Listed in order of popularity according to 2011 sales, here's what the midsize sedan segment looks like for 2012.
1. 2012 Toyota Camry
"well-honed practical persona with a new measure of emotional appeal"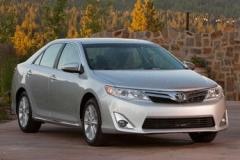 The perennial best-selling car in the country is all-new for 2012, but the recipe remains the same: comfortable, easy and built to last. A richer, more functional interior and a much-improved hybrid model are among the most welcome changes.
2. 2012 Nissan Altima
"The 2012 Nissan Altima Sedan is a car with multiple personalities."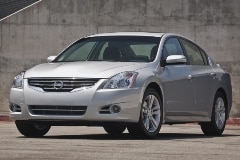 It looks a little sporty, it is a little sporty, but every time we drive the aging Nissan Altima we're reminded of how solid, well-rounded and competitive it is with the category's best.
3. 2012 Honda Accord
"outstanding value, excellent driving dynamics, a roomy and comfortable passenger cabin..."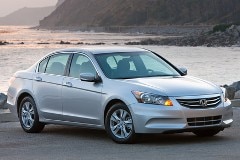 The last time the Toyota Camry wasn't the best-selling car in the country, the Honda Accord took the title. It's been that way for awhile. Honda's midsize sedan is the more engaging of the two, with more personality and more appreciable engineering refinement than any other car in the category.
Up next
Scheduled to debut in 2012 for the 2013 model year are a new Chevy Malibu, new Ford Fusion and new Honda Accord. Each will be superior to its predecessor in every way, so we recommend holding out for a really good deal on a 2012 or waiting for the 2013.
4. 2012 Hyundai Sonata
"the current Sonata has taken the market by storm"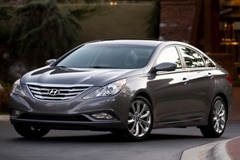 With head-turning looks, excellent powertrains and an unmatched mix of features and value, almost overnight the Hyundai Sonata became a player in just about every midsize sedan conversation.
5. 2012 Chevy Malibu
"a stylish sedan with a handsome, intelligently laid-out interior"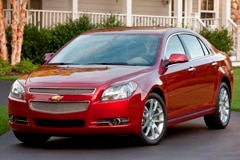 The Malibu is already among the category's quietest, most comfortable sedans, and the all-new 2013 Chevy Malibu is right around the corner. In fact, we've already driven it.
6. 2012 Ford Fusion
"a well-built car with an excellent reputation for reliability and resale"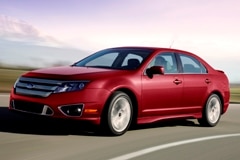 We've never been crazy about the exterior or interior styling, but we're big fans of the Fusion's unique balance of ride and handling. It's among the most comfortable cars in the class, but also one of the most fun.
Did you know?
These 14 midsize family sedans make up less than 5 percent of the car models available in the U.S., but account for more than 15 percent of sales.
7. 2012 Chrysler 200
"If ever there was a case of turning a sow's ear into a silk purse..."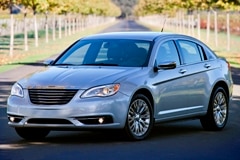 The last Chrysler Sebring was among the most poorly received midsize sedans of its time. And while some of that vehicle lives on in the Chrysler 200, a superior interior, improved suspension and cleaner sheet metal combine to create a far more appealing family sedan.
8. 2012 Kia Optima
"Kia Optima now has customers lining up to get behind the wheel"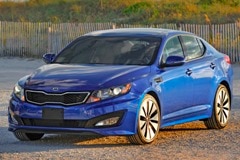 The Kia Optima is the sportier but lesser-known corporate cousin of the Hyundai Sonata, distinguished by cleaner, more modern sheet metal and an interior more reminiscent of European sport sedans. The 2011 redesign - and some good marketing - helped Kia triple Optima sales in 2011.
9. 2012 Dodge Avenger
"If you're looking for a sedan with an American muscle-car attitude..."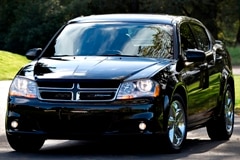 Using the basic ingredients that go into the Chrysler 200, Dodge offers a midsize family sedan that's as close as you'll find to a NASCAR racer - in presentation, anyway - in the whole segment.
Big sellers
Every year since 1989, the best-selling car in the country has been a midsize sedan. The Toyota Camry has taken the honor 13 of the past 14 years.
10. 2011 Subaru Legacy
"a more viable alternative than ever to category stalwarts like the Honda Accord"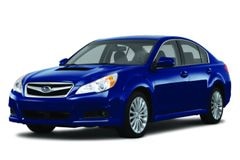 Now that the automaker is making more stylish, American-sized vehicles, more people are discovering that Subaru has a lot more to offer than just all-wheel drive. Its cars are so good, in fact, that Subaru took home the top award in our 2011 Best Resale Value Awards, winning best overall brand.
11. 2012 Mazda Mazda6
"Its sporty exterior is matched by its excellent driving characteristics"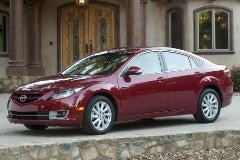 If you're a stickler for driving feel, put the Mazda6 on your midsize sedan short list. If you're more interested in fuel economy or amenities, there's a good chance you'll end up in something else - but the stylish Mazda6 is still worth a look.
12. 2012 Volkswagen Passat
"If you're looking for a practical family sedan that is also fun to drive..."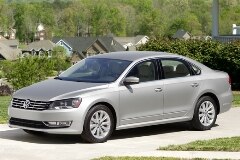 Totally rethought for 2012, the VW Passat is now priced and sized to compete head-on with Camry and Accord. Thankfully it hasn't lost the European feel that's made the Passat a drivers' favorite.
13. 2011 Mitsubishi Galant
"Look for Mitsubishi to continue offering attractive incentive programs"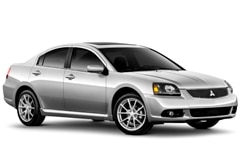 The Mitsubishi Galant is the oldest entry in a segment that's seen some dramatic advancements in the past couple years.
14. 2012 Suzuki Kizashi
"Strong European feel, both in sheetmetal and suspension"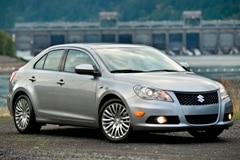 Outside and in, the Suzuki Kizashi has looks, feel and solidity on par with anything in the category. If not for a continuously variable transmission that needs refining, below-average resale values and an anemic dealer network, the Kizashi probably wouldn't be at the bottom of the midsize family sedan sales chart.

Midsize Sedan Alternatives
2012 Buick Lacrosse Luxury-like midsize sedan
2012 Honda Accord Coupe Sporty 2-door version of Honda's famous sedan
2012 Nissan Altima Coupe 2-door take on the Altima
2012 Nissan Maxima Sportier, better-appointed, more distinctive than Altima
2012 Subaru Outback Higher-riding wagon version of the Legacy
2012 Toyota Prius Roomier than you may think, plus 50 mpg
2012 Volkswagen CC Sleek "4-door coupe" in the spirit of Mercedes' CLS

Bigger Sedans
2012 Chevy Impala
2012 Chrysler 300
2012 Dodge Charger
2012 Ford Taurus
2012 Hyundai Azera
2012 Toyota Avalon