2012 Detroit Auto Show Photos, Facts and Faves
by
KBB.com Editors
|
January 12, 2012 9:08 AM
It looks like things are getting interesting again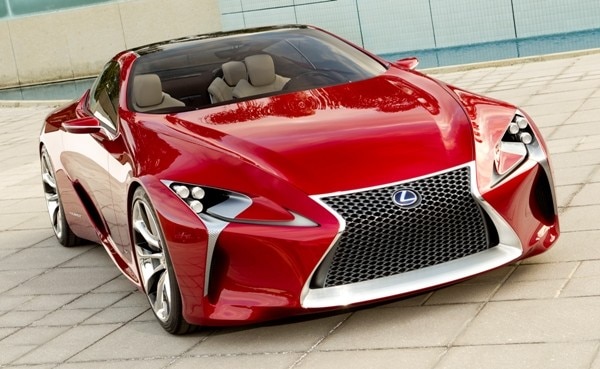 Lexus' latest California-designed concept debuted in Detroit
The economy's been tough for a few years and our domestic auto industry has struggled for a couple decades, but if you're looking for a reason to put the past in the past, spend some time with our coverage of the 2012 Detroit Auto Show. Acura and Lexus unveiled a couple incredible concept cars, while each of the Big Three introduced promising production cars set to begin arriving within months—and some hot concepts of their own. This is going to be fun.
Public dates: January 14 - 22, 2012
Start your tour at the top: Top 10 Cars from the 2012 Detroit Auto Show
All-new Production Cars

Next year, new names like Cadillac ATS and Dodge Dart will be familiar elements in the new-car lexicon. This year, they're two of the newest vehicles that get to share the bright spotlight showered upon all the new cars, trucks and crossovers introduced to the world at the 2012 Detroit Auto Show.
Most Popular
Of the more than three dozen new vehicles we covered in Detroit, the most popular on our pages was the 2013 Dodge Dart. Dodge's first compact sedan since the Neon arrives this spring to take on Civic, Focus and the rest with Italian roots and a standout interior Meet the 2013 Dodge Dart
New Twists on Existing Models

The sheet metal is familiar, but these cars offer upgrades in the way of new engines, new faces, higher performance or any number of enhancements. The 2012 Dodge Charger Redline is all about more performance, while the 2013 VW Jetta Hybrid is designed to deliver increased fuel economy. Check out more same but different cars introduced at the 2012 Detroit Auto Show.
Concept Cars

Some concept cars are conceptual to the core, with looks and features that may never make their way to production. Others, like the Nissan Pathfinder Concept and Honda Accord Coupe Concept are actually very clear looks at production cars to follow this year.
2012 Detroit Auto Show Videos
For our readers who sometimes prefer not to read, here's a one-stop collection of our video coverage from the 2012 Detroit Auto Show.