2012 CODA Sedan - 2012 Detroit Auto Show
by
KBB.com Editors
|
January 13, 2012 11:06 AM
Fledgling electric car maker CODA revealed the latest and most affordable version of its zero-emissions four-door in Detroit, unveiling a new variation for the 2012 CODA Sedan that trades off 25 miles of per-charge range for a $2,650 reduction in sticker price. While the original CODA Sedan with its 36kWh battery pack and 150-mile range will continue to sticker at $39,900 before any applicable rebates or credits, the new version with a 31kWh battery and 125-mile max range will open at $37,250. Both will qualify for the existing $7,500 federal tax credit against those figures as well as various state and local credits/rebates.
More from Detroit 2012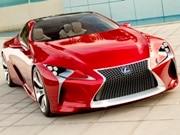 See the future as it looks from the 2012 Detroit Auto Show
More new cars
In addition to a similar features roster, CODA Holdings CEO Phil Murtaugh confirmed this more affordable four-door variant also will use the company's advanced lithium-ion phosphate battery chemistry and be equipped with a 6.6kW on-board charger. Deliveries of both new 2012 CODA Sedans will begin in February.