2012 Chevrolet Cruze Hatchback -- Paris Auto Show
by
KBB.com Editors
|
September 3, 2010 1:28 PM
Although formally dubbed a "show car," the Chevrolet Cruze hatchback is definitely headed for production, albeit with a few subtle "cost-optimizing" cosmetic modifications that will differentiate it from this high-profile one-off. Spun from the Cruze sedan, the smartly styled five-door variation will formally bow in at the Paris show and hit showrooms in Europe -- and elsewhere -- by the middle of next year. Unfortunately, there are no current plans to bring the handsome hatch to the U.S., where American's have historically shown an overwhelming preference for sedans as opposed to these more versatile alternatives. But that's definitely not the case in many other parts of the world, a reality that Wayne Brannon, president and managing director of Chevrolet Europe, intends to to fully exploit.
Yet to enter the American market, the Cruze has been nothing less than a smashing success in the 70-plus countries in which it's currently being sold. Launched in the spring of 2009, the Cruze recently surpassed the Aveo as the division's best-selling model line worldwide. Brannon sees this new hatch variant as the ideal expansion path for many of those geographical areas, but particularly on the Continent. "The total compact segment in Europe represents around 4.8 million units which is over a quarter of the total market, with hatchbacks representing around 65% of that volume."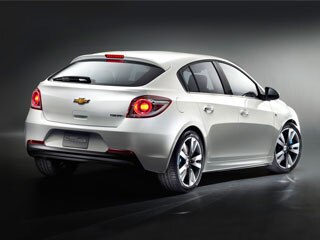 General Motors is currently undertaking an aggressive campaign to raise the profile and sales volume of its biggest division, and this well-focused expansion of the division's most popular model is intended to serve notice that Chevrolet is even more committed to becoming a serious mainstream player in Europe. Faced with the upcoming arrival of the all-new 2012 Ford Focus -- in both sedan and hatch body styles -- it's seems a prudent move that should pay solid competitive dividends.
As for this compact five-door ever spawning an American cousin, well, perhaps when the next-gen Cruze rolls into showrooms sometime near mid decade. For the moment, Chevrolet plans to concentrate all of its U.S. marketing efforts on the imminent launch of the 2011 Cruze sedan that goes on sale here later this month.