2012 Chevrolet Camaro ZL1 will pack 580 supercharged horses
by
KBB.com Editors
|
September 12, 2011 9:52 AM
On sale in the first quarter of first quarter of next year, the 2012 Chevrolet Camaro ZL1 promises to more than live up to what has become an extremely lofty set of great expectations. This maxi-muscle marvel will match the highest-output engine ever fitted to any Camaro with dedicated drivertrain and chassis enhancements that guarantee it instant-legend status.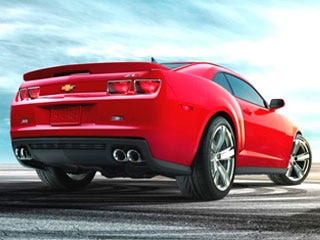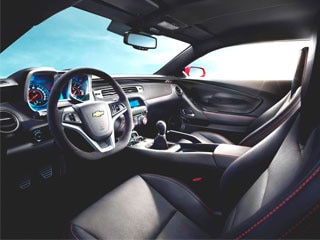 Beneath its bulged and vented hood, the new 2012 Camaro ZL1 packs a 6.2-liter supercharged/intercooled version of Chevy's LSA small-block V8 that matches a scintillating 580 horsepower with an electrifying 556 lb-ft of torque. To put those figures into proper perspective, Al Oppenheiser, Camaro chief engineer notes: "For sheer power, the ZL1 delivers more horsepower than a Ferrari 458, more torque than an Aston Martin DB9 V12, and has a better power-to-weight ratio than a Porsche 911 Carrera GTS." To make that might, the all-aluminum V8 complements its force-feeding hardware with a more free-breathing dual-inlet intake manifold and revised port configurations while bolstering its bottom end with a forged-steel crankshaft and six-bolt main-bearing caps.
To accommodate the widest potential buyer group, the 2012 Chevrolet Camaro ZL1 will be available with a pair of six-speed transmissions: a Tremec TR-6060 manual and a Hydra-Matic 6L90 autoshifter. Both feature much stouter internal bits to handle the ZL1's more demanding torque loads. While purists will likely favor the former, the 6L90 offers its own unique advantages in the form of three driver-selectable maps. These include a normal "Drive" that has the car start out in second gear, a more aggressive "Sport" setting and a full "Manual" mode that eliminates automatic upshifts and gives the driver full control of cog changes. This latter choice can be easily accessed via a tap-shift feature on the steering wheel or shift lever.
To ensure best use of the power within, this new Camaro ZL1 will be fitted with the third generation of GM's Magnetic Ride Control system that replaces conventional shock-absorber valving with the latest and even more efficient form of Magneto-Rheological (MR) fluid technology. Capable of instantly varying suspension firmness in response to changing road and driving conditions, the ZL1's bespoke MRC 3.0 setup offers a choice of Tour, Sport and Track settings. As a final touch, the Camaro ZL1 also gets GM's Performance Traction Management system. First introduced on the Corvette ZR1, PTM integrates magnetic ride control, launch control, traction control and electronic stability control to enhance performance on the racetrack and drag strip. In ZL1 guise it will provide five different flavors of enhancement.
Other well-focused upgrades that make up the 2012 Chevrolet Camaro ZL1 standards list include a low-load electric power-steering system, a high-performance fuel system, a liquid-top-liquid engine oil cooler culled from the Corvette ZR1 and a special rear-differential cooler that can cut axle temps by over 100 degrees during intense operating conditions. Expect pricing information on this ultimate road warrior to be revealed closer to its on-sale date.