2012 Chevrolet Camaro ZL1 proves its mastery of the Nurburgring
by
KBB.com Editors
|
October 12, 2011 11:22 AM
GM's North American president, Mark Reuss, was in Los Angeles this week to offer up some insight on what lies ahead for the organization. But the specific topic clearly nearest and dearest to his heart was the soon-to-launch 2012 Chevrolet Camaro ZL1. With its 580-horsepower supercharged 6.2-liter LSA V8 and track-ready suspension and brakes, the new ZL1 will be the mightiest Camaro ever. To properly showcase that fact, the automaker recently took a production-spec car to Germany to challenge the world's ultimate racing venue: the Nürburgring's daunting 12.9-mile Nordschleife circuit. In the hands of GM test driver Aaron Link, a Camaro ZL1 fitted with a roll cage and carrying a trunk-full of telemetry equipment cranked off a flying hot lap of 7:41:27, momentarily touching 172 mph in the process.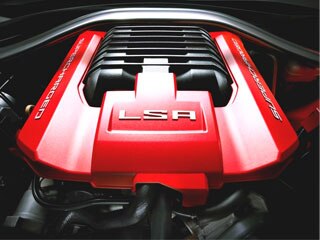 Although that clocking does leave this uber-Camaro a bit behind its 2012 Corvette ZR1 (7:19.63) and 2012 Corvette Z06 (7:22.68) marque mates, it is significantly quicker than a Cadillac CTS-V (7:59) which also packs a supercharged 6.2-liter LSA V8. More impressively, that time makes this Chevrolet a virtual match for many production vehicles that have far more exotic pedigrees and far higher pricetags, including the Ferrari 599 GTB Fiorano, Lamborghini Murcielago LP670-4 SV, Mercedes-Benz SLS AMG and Porsche 911 Turbo S.

Reuss, holder of a GT competition license and a major motorsport proponent, says the stellar effort turned in by the 2012 Chevrolet Camaro ZR1 qualifies as the best ever 'Ring lap for a production car that costs less than $75,000. Equally important, the just-released in-car video documentation of that achievement also shows the ZL1 displayed remarkable poise and balance in accomplishing that feat, matching its blistering speed with superb responses to both steering and braking inputs. According to Link, "One of the best moments was coming through 'Fuchsröhre', or the Foxhole. The ZL1 accelerates at an unbelievable rate down through the tunnel of trees, and into a sweeping left-hand corner flat out in fifth gear. You have to have an extremely well-mannered, confidence-inspiring car to take any corner at 160 mph without lifting off the throttle - and the ZL1 was just brilliant."