2012 Chevrolet Camaro ZL1 - 2011 Chicago Auto Show (w/video)
by
KBB.com Editors
|
February 9, 2011 11:53 AM
Although it won't be arriving in dealers until sometime early next year, the 2012 Chevrolet Camaro ZL1 made an early appearance in Chicago today. Resurrecting a designation first used on a now-legendary limited-production 1969 Camaro model, this new addition to the lineup is on track to become the most powerful, best-performing and technologically advanced Camaro in history and a more-than-formidable foe for the Ford Mustang Shelby GT500.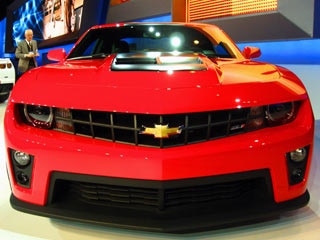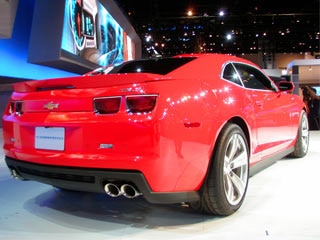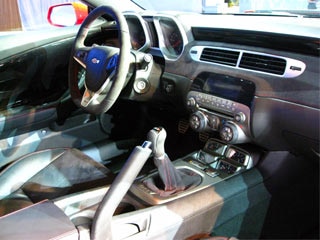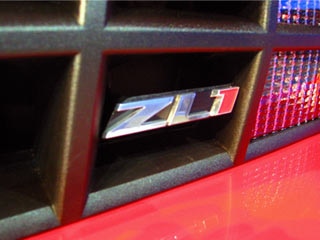 Like the original ZL1, this modern-day successor packs a potent all-aluminum V8, in this case, a dedicated version of GM's supercharged 6.2-liter LSA that also motivates the Cadillac's brilliant CTS-V contingent. Making 550 horsepower and 550 lb-ft of torque, it's fitted with a unique intercooler setup as well as a ZL1-spec oil pan, stainless-steel exhaust manifolds and a custom dual-exhaust system. The engine's prodigious power flows through a high-performance dual-mass flywheel and twin-disc clutch into a Tremec TR-6060 six-speed manual transmission with a short-throw shifter. From there, it heads to the rear wheels via a beefier driveshaft and axle assembly that also includes a limited-slip differential.
To ensure it can meet the lofty benchmarks set for all-around handling prowess, the 2012 Chevrolet Camaro ZR1 is underpinned by a dedicated sport suspension package based around GM's sophisticated -- and segment-exclusive -- Magnetic Ride system that features two driver-selectable (Tour/Sport) damping modes. The ZL1 also sees the first Camaro application of a new electric power steering system designed to deliver precision response while providing excellent feedback to the driver. Stopping power comes from huge (14.6-inch front/14.4-inch rear) Brembo anti-lock brakes with six-piston front/four-piston rear calipers. Keeping it all tied to terra firma, the Camaro ZL1 will arrive wearing ultra-grippy Goodyear Supercar F2 tires mounted on super-light 20-inch forged-aluminum wheels.
>2012 Acura TL - 2011 Chicago Auto Show
>2012 Hyundai Genesis 5.0 R-Spec - 2011 Chicago Auto Show
>2011 Toyota Matrix - 2011 Chicago Auto Show
While Chevy is content to let the ZL1's hardware serve as its ultimate reputation maker, this magnum-load marauder does receive a number of well-measured styling tweaks to set it apart visually from its lesser kin. "Everything about the ZL1's design is directly related to its technology and serious performance, especially aerodynamics," said Ed Welburn, vice president, Global Design, who unveiled the car. "Our designers' goal was to execute that function-oriented design with beautifully sculpted forms, creating an imposing, powerful persona." To that end, the ultimate Camaro features a bolder front fascia treatment with a deeper splitter and vertical foglamps. The new hood incorporates a signature carbon-fiber center section that boasts dual air extractors that also help create additional downforce at speed. A subtle rear spoiler, redrawn rocker panels, unique twin-paired exhaust ports, the bigger wheel/tire package and "ZL1" badging on the grille, hood, decklid and brake calipers complete the look.
Scintillating performance may be its main purpose in life, but the lengthy roster of standards on the 2012 Chevrolet Camaro ZL1 also includes numerous comfort/convenience touches. It starts with all of the goodies from the existing 2SS package. From there, the ZL1 adds heated leather seats -- black only, to match the hood insert -- with microfiber suede inserts and "ZL1" logos embroidered in the headrests plus a subtle shot of microfiber accenting on the dash to give it the richer look. Other bespoke bits include six-way power front seats, multifunction steering wheel, unique door-panel trim, a Boston Acoustics premium audio system, wireless personal device interface module, USB port, rear backup camera/parking assist and ZL1 sill plates.
Despite thousands of development miles that have already been logged on various prototype models in the U.S. and Europe, Chevy says the revision/refinement process on the 2012 Camaro ZL1 package is destined to continue for the remainder of 2011. As far as we're concerned, the new year can't come soon enough.
Walkaround with Tom Peters from Chevrolet