2012 Chevrolet Aveo -- Paris Auto Show
by
KBB.com Editors
|
September 8, 2010 12:54 PM
Embodying all of the impressive promise seen in the Aveo RS Concept shown earlier this year in Detroit, the production version of the all-new 2012 Chevrolet Aveo takes this small car to a whole new competitive level in the global market. Premiered at the Paris show in five-door form, the next-gen Aveo also will be offered as a sedan. While Chevrolet cautioned that final specifications will be tailored to each market, the basic package appears strong on all levels and should make the car a far more formidable presence when it goes on sale here sometime in 2011.
Longer and wider than the current model, the 2012 Chevrolet Aveo boasts an enhanced sense of style that carries through from its crisply rendered and smartly detailed exterior to a more spacious and people-friendly cabin. Like the Aveo RS Concept, the volume-built car will retain a motorcycle-inspired main instrument cluster and blue-backlit center console. In addition giving the interior a higher-quality look and feel, Chevy's design team also endowed the new Aveo with an impressive range of creature features, including an upline audio system with USB/AUX inputs and Bluetooth.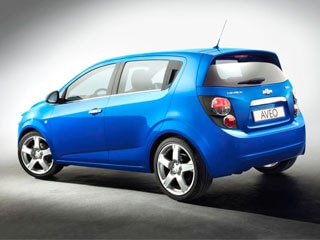 Spun from GM's Gamma II global minicar platform, the 2012 Chevrolet Aveo boasts a far more rigid body structure than the car it replaces and Chevy says it the chassis will be tuned to deliver a greater degree of ride comfort and handling sophistication. Electronic power steering, stability control and anti-lock brakes will be standard across the entire 2012 Chevrolet Aveo line.
Depending on the market, the 2012 Chevrolet Aveo will offer buyers a choice of both gasoline and diesel engines. The European menu will include 1.2-liter (70 and 86 hp), 1.4-liter (100 hp) and 1.6-liter (115 hp) gasoline motivators as well as a 1.3-liter (75 and 95 hp) oil burner. However, only the two larger-displacement gasoline engines are likely to make it here, both backed by either a standard six-speed manual transmission or optional six-speed autoshifter. Although Chevrolet has yet to confirm a production version of the slick Aveo RS, it seems a natural extension of the line. If/when that happens, it would likely arrive with the same 138-hp/1.4-liter turbocharged Ecotec four that was fitted to the concept car and also is found under the hood of the new 2011 Chevrolet Cruze.