2012 Buick Verano: Promising preview drive
by
KBB.com Editors
|
October 17, 2011 4:11 AM
Expectations are indeed great for the all-new 2012 Buick Verano, the division's first compact sedan in over two decades and its hoped-for hook to turn younger, hipper, and primarily import-intending buyers into life-long fans of the brand. Sharing a good deal of basic platform architecture with its domestic Chevy Cruze cousin - as well as the Opel Astra and China-market Buick Excelle -- the Buick's new Verano distinguishes itself thanks to a megaload of unique styling and content upgrades, not the least of which is a comprehensive infusion of Buick's "Quiet-tuning" enhancements.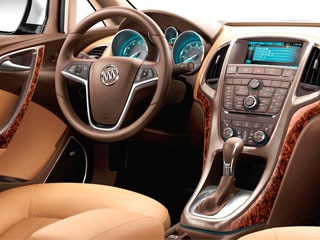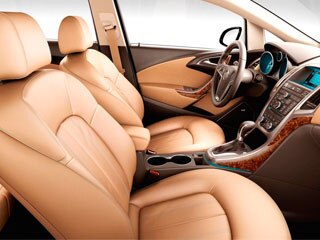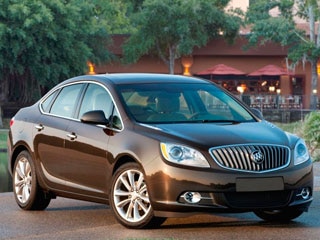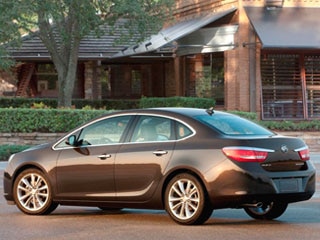 We recently got a chance to briefly evaluate several pre-production versions of this promising newcomer which goes on sale late this year. Even though our initial encounter with Buick's new small sedan was confined to a small corner of GM's sprawling Milford Proving Grounds, the impressions that came across were decidedly positive.
The third all-new sedan to join the Buick lineup in the last three years, the 2012 Verano embodies a good deal of visual commonality with its larger Regal and LaCrosse siblings. To emphasize its premium character from curbside, the Buick Verano's cleanly sculpted bodywork is set off with good deal of brightwork detailing and standard 18-inch alloy wheels wrapped in 235/45 tires. Inside, the Verano makes an even stronger upscale design statement, from its soft-touch dash, fabric-wrapped pillars and 7-inch LCD center display to supportive cloth or leather-covered seats, automatic climate control, the latest iteration of GM's OnStar, Buick's Intellilink system and available Bose audio. The Verano's extensive roster of safety elements also includes a class-leading 10 airbags.
But in this realm, it's what you can't see -- or more appropriately, don't hear -- that makes the biggest difference, all courtesy of the pervasive Quiet-tuning program.
Essentially a front-to-rear, top-to-bottom effort to eliminate, absorb or block all undesirable noise from getting into the Verano's well-appointed inner sanctum, Quiet-tuning entailed using a full measure of GM's most sophisticated sound-deadening/noise-attenuation processes and techniques to ensure the 2012 Buick Verano is one of the quietest compact sedans on the road today. That formidable arsenal includes everything from unique blanket/mat configurations on various structural body bits to thicker front/rear glass and heavier-weight carpeting, all synergistically deployed to position the Verano within a whisper of its sonic bogey, the LaCrosse.
After flogging several different early-build Buick Verano sedans over a portion of the test loop comprised of rough, broken, and otherwise distressed road surfaces, then sitting in one as a gasoline-powered leaf blower was fired up just outside, we can say with at least qualified certainty that the isolation/din-abatement mission appears to have been successfully accomplished.
While our modest wheel time demands that any dynamic conclusions be cautiously qualified, there, too, the 2012 Buick Verano seems headed in the right direction. As in the Regal, its base engine is GM's 2.4-liter naturally aspirated/direct-injected Ecotec 4-cylinder that develops 180 horsepower and 172 lb-ft of torque in this application. All of that gets sent to the front wheels via a standard six-speed automatic transmission, giving the Verano a projected 0-60-mph time of about 8.7 seconds and EPA estimated city/highwy fuel economy of 22/31 mpg. Like the rest of the package, smoothness and refinement take precedent over pure visceral feel; but the Verano -- which weighs about 300 pounds less than the Regal -- does respond smartly to throttle input and seems eminently well prepared to cope with the demands of any daily commute. Verona fans requiring an extra bit of sudden impact will have to wait until sometime later on, when the 2.0-liter turbo 4-cylinder that makes 220 horsepower in the Regal will be offered as an option.
The Verano sedan's super-rigid unit body contains over 60-percent high-strength steel, which in addition to helping ward off flex-related squeaks and creaks also serves as a remarkably solid anchor point for the car's front MacPherson strut/Z-link torsion-beam rear suspension. Although there was little opportunity to engage in serious at-the-limit maneuvering, the few moments of envelope-stretching we did manage showed the Verano's well-tuned underpinnings adroitly balanced control with compliance in a manner likely to please the majority of prospective owners. With a standard StabiliTrak stability system to further help the cause, the smallest Buick also remained surprisingly composed during various transition moves.
Given this outing was primarily intended to showcase the effectiveness of its Quiet-tuning program, a true assessment on the 2012 Buick Verano's chances of finding favor with those considering alternatives like the Audi A3, Acura TSX or Lexus IS 250 will have to wait on a final-form example. However, what we experienced at this stage of its development plus a value-oriented $23,470 starting price leaves us inclined to think there's a fairly bright future ahead for Buick's newest family member.