2012 Buick Regal with eAssist - 2011 Chicago Auto Show
by
KBB.com Editors
|
February 8, 2011 3:17 PM
Expanding the use of its new mild-hybrid technology, the 2012 Buick Regal with eAssist was unveiled in Chicago and goes on sale across the country this fall. Functionally identical to the package that will be standard on all four-cylinder 2012 LaCrosse models that arrive in dealers this summer, the 2012 Regal with eAssist is a stand-alone model that will supplement the existing Regal CXL/CXL Turbo and Regal GS variants. Like its slightly larger kin, the mid-size Regal with e-Assist sees its EPA numbers rise by 25 percent over the baseline 2011 Regal, earning an estimated 26 mpg in the city and 37 mpg on the highway.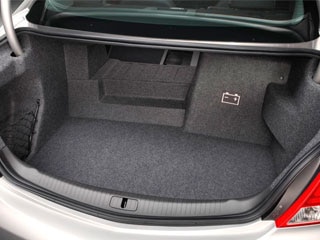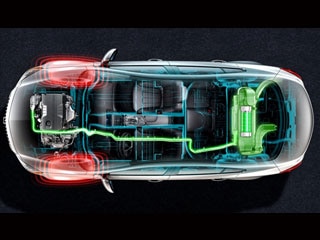 Key powertrain components in the eAssist "light electrification" package include the naturally-aspirated 2.4-liter Ecotec four-cylinder engine a compact 15-horse induction motor/generator that replaces the conventional alternator and is linked to a state-of-the-art lithium-ion (Li-ion) battery pack and controller/inverter hardware mounted between the rear seat and trunk. While the engine output ratings remain at 182 horsepower and 172 lb-ft of torque, the motor/generator can add 15 part-time ponies under hard acceleration and offers 15kW of recharging potential using regenerative braking.
The eAssist system on this five-passenger front-drive sedan also includes aggressive fuel shutoff during deceleration and intelligent charge/discharge cycling of the 115V Li-ion battery plus a hill-assist system that uses captured brake pressure to reduce the tendency of the car to roll backwards when starting up on a grade with the engine in shut-down mode. As a final touch, the 6T40 six-speed automatic transmission in the Regal with eAssist gets a series of efficiency enhancing tweaks to its internal clutch controls, taller gear ratios and an auxiliary electric-powered oil pump.
Like other eco-oriented vehicles, the 2012 Buick Regal with eAssist also boasts an assortment of supplemental mileage-maxing elements including aerodynamic underbody enhancements, 17-inch lightweight alloy wheels and low-rolling resistance tires. In addition to an ECO gauge in the main instrument cluster and a comprehensive powerflow readout that can be dialed up on the car's 7.0-inch central display, the Regal with eAssist also comes with a driver-selectable, efficiency-optimizing mode for the climate control system. Although the eAssist hardware does add 65 pounds to the Regal's curb weight and trims trunk capacity from 14.3 to 11.1 cu ft, it's packaged in a way that still permits a decent-sized pass-though opening.
Pricing for the 2012 Buick Regal with eAssist won't be released until closer to its on-sale date. However, Buick has already announced that it intends to make this innovation a solid value proposition for consumers no matter where it appears. Expect it to slot between the Regal CXL and CXL Turbo, which currently start around $27,000 and $29,500, respectively.