2012 Buick LaCrosse eAssist -- Los Angeles Auto Show (w/video)
by
KBB.com Editors
|
January 14, 2011 9:01 AM
Making its world debut at the LA Auto Show, the 2012 Buick LaCrosse with eAssist will introduce a new iteration of GM mild-hybrid powertrain technology when the car goes on sale next summer. Standard on all 2012 LaCrosse models equipped with the 2.4-liter Ecotec four-cylinder engine, eAssist is a cost-effective gasoline/electric package that promises to deliver an enhanced driving experience -- including a 25-percent boost in overall fuel economy compared to the current four-cylinder LaCrosse. That means this full-size luxury sedan will deliver 25-mpg city/37-mpg highway EPA numbers in place of the current Ecotec's 19/30 mpg stats -- and do so at a projected pricepoint of "about $30,000," roughly the cost of a base LaCrosse V6 model.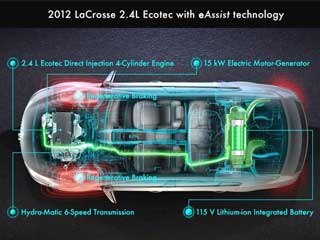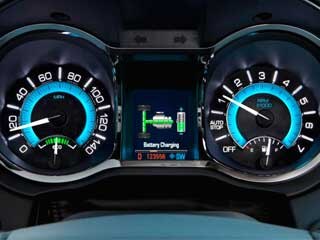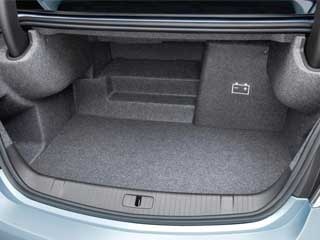 An advanced variation on GM's existing belt-alternator-starter (BAS) system, eAssist provides nearly three times the output of today's BAS and represents a far more comprehensive integration of the various system components. Key eAssist elements include an electric motor/generator that can produce up to 15 additional horsepower of on-demand assist and a compact, trunk-mounted lithium-ion (Li-ion) battery pack that weighs just 65 pounds and integrates with the regenerative braking setup to pull back up to 15kW of electrical replenishment under various decel conditions. Like the standard 2.4-liter Ecotec, the official rated system output remains 182 horses and 172 lb.-ft. of torque.
To further aid in the mileage-maxing cause, the system also incorporates the latest and most effective forms of GM's start/stop circuitry as well as aggressive fuel-shutoff mapping. The final piece of the e-Assist puzzle is a revised six-speed 6T40 automatic transmission that features revamped clutch controls and has an auxiliary oil pump plus several other tweaks to help reduce slippage while improving shift timing and response.
In describing the operational concept, Steve Poulos, global chief engineer for eAssist emphasized that: "The battery system is designed to provide power assistance to the internal combustion engine, rather than storing energy for all-electric propulsion. It's really an extension of the conventional internal combustion engine, not a replacement for it." As for its real-world benefits, Poulos noted: "Being able to provide electric boost to the powertrain system during heavy acceleration and grade driving enables the LaCrosse transmission to operate more efficiently, while the added functionality of engine start-stop and fuel shut-off during deceleration provides added fuel savings."
Daryl Wilson, LaCrosse lead development engineer amplified those thoughts, while offering some insight as to other applications within the GM family. "It's a very integrated powertrain system, with no compromises in driving performance, shift quality or ride and handling. We believe this combination points to the future of vehicles powered primarily by an internal combustion engine."