2012 BMW ActiveE - 2011 NY Auto Show
by
KBB.com Editors
|
April 19, 2011 1:35 PM
Moving one step closer to putting it on the streets here in the U.S, BMW has announced the latest update on its electric-powered 2012 BMW ActiveE, which will be available in select markets starting this fall. Like the MiniE that preceded it, the new BMW ActiveE will be a lease-only vehicle, with terms of the 24-month agreement requiring a $2,250 down payment at a $499 monthly payout. America is slated to receive about 700 of the 1,100 ActiveE models that will be produced for the world market. The vehicle will be offered in Los Angeles, San Diego, San Francisco, Sacramento, New York and Boston as well as the state of Connecticut, and the ordering process is set to start in August.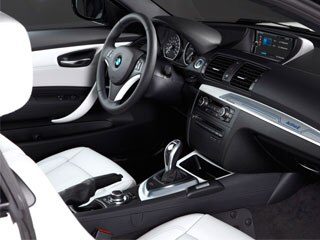 First shown in concept form at last year's Detroit Auto Show, the ActiveE is based on the BMW 1 Series Coupe and intended to help the automaker gather additional real-world use information before the launch of the BMW i3 "Megacity" vehicle in 2013. The four-passenger ActiveE's rear-mounted electric drive setup is integrated into its rear axle, and BMW has now confirmed that will use a motor that makes 170 horsepower and 184 lb-ft of torque. Energized by a new centrally mounted lithium-ion battery pack that will give the car an estimated 100 mile/charge range, BMW says it should propel the ActiveE from 0-60 mph in less than nine seconds and take it to a top speed of about 90 mph. Recharging on a 240V/32 amp circuit is projected to take about five hours. Virtually all of the EV-related components in the ActiveE also will see duty in the upcoming MCV.
>2012 Jeep Grand Cherokee SRT8 (w/video) - 2011 NY Auto Show
>2012 Kia Rio - 2011 NY Auto Show
>Lexus LF-Gh Hybrid Concept - 2011 NY Auto Show
To help potential customers decide if the ActiveE makes sense for their specific driving styles, the automaker also announced it has just launched BMW Evolve, a new downloadable app that will allow people to actively track their motoring habits in any vehicle. More information is available at www.BMWActivatetheFuture.com.