2012 BMW 3 Series Sedan unveiled
by
KBB.com Editors
|
October 16, 2011 5:32 PM
The 2012 BMW 3 Series has undergone a comprehensive transformation for the coming year and this all-new, sixth-generation recasting promises to make what has long been the automaker's most important model an even more formidable Ultimate Driving Machine. Sleeker styling, greater efficiency, even better handling, additional creature comforts and loads of advanced tech touches should keep this striking sedan at the sharp end of the desirability spike for its legion of enthusiastic admirers around the world.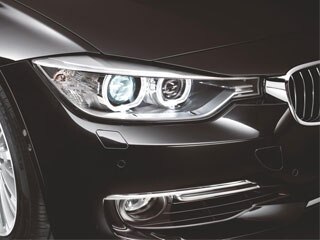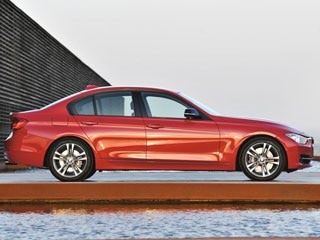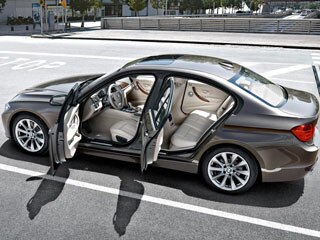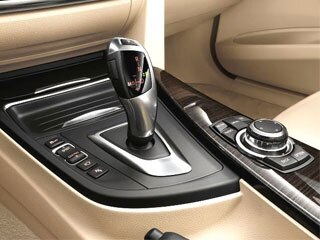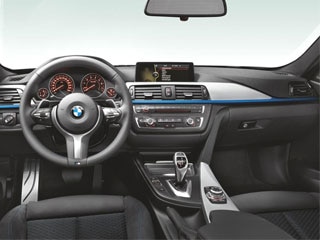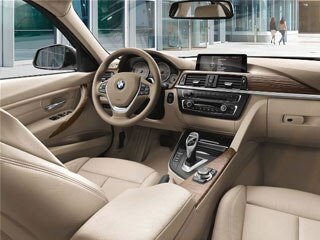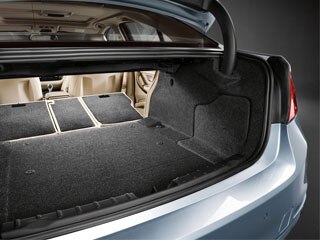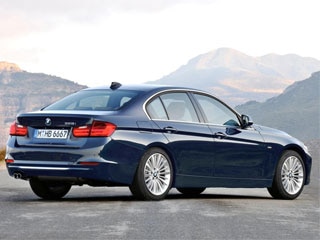 Visually, the 2012 BMW 3 Series Sedan has a more-expressive look with edgier overall character lines culled from its 5 Series and 7 Series kin, set off by uniquely-rendered design flourishes on its aluminum and steel body panels. The most prominent departure is a distinctive front fascia treatment that now subtlety links larger headlight and grille elements via an extension of the inner lamp surrounds. It creates a lower, wider look that's effectively reinforced by the adoption of dual outboard intakes with aero-optimizing "Air Curtain" slots in place of the large central duct used in the past. Short overhangs, dual swage lines along the body side panels and an understated reinterpretation of the signature "Hofmeister kink" in the C-pillar add interest to its more elegant profile, while the subtlety redone tail uses the latest LED-take on BMW's classic L-shaped lamps to frame an even-more spacious trunk. Special underbody fairings complete the exterior mix, and help trim the drag coefficient of this midsize, 4-door sedan to a stellar 0.26.
The new look of the 2012 BMW 3 Series Sedan is matched by a modest, but meaningful, growth spurt. In addition to being 3.7 inches longer, it boasts wider front (1.46-inch) and rear (1.85-inch) track dimensions while gaining nearly two inches of additional wheelbase. Beyond enhancing its stance, that latter stretch also makes the rear seat a good deal more adult friendly. Despite the added scale, BMW says advanced construction techniques have dropped the "equipment equalized" curb weight of the new 3 Series by some 88 pounds.
When it goes on sale here in February, the 2012 BMW 3 Series Sedan will offer the choice of two engines, each using standard TwinPower Turbo technology to improve both performance and fuel economy. In keeping with BMW's Efficient Dynamics strategy, both of these direct-injected motivators are fitted with a lag-banishing single twin-scroll turbocharger and intercooler as well as the latest version of BMW's Valvetronic variable valve timing system and Double Vanos variable camshaft timing.
The new 328i model will mark the return of 4-cylinder power to the U.S. 3 Series mix for the first time since 1999. It this case, it's the automaker's newly introduced 2.0-liter 4-cylinder that develops 240 horsepower at 5,000 rpm and makes 260 lb-ft of peak torque from 1,250 to 4,800 revs -- a formidable plateau that promises to make the 328i Sedan both quick and responsive. Stepping up to the 335i Sedan will bring the carryover 3.0-liter in-line-6, which makes 300 horsepower at 5,800 rpm and 300 lb-ft of twist in an even more impressive 1,200 to 5,000-rev window. The standard transmission in the new 3 Series Sedan will be a 6-speed manual, but the optional cog-changer is a new, first-in-class 8-speed Servotronic automatic intended to help bolster both city and highway EPA stats.
Underpinning the 2012 BMW 3 Series Sedan is a completely redesigned chassis setup that matches a new double-wishbone front suspension with a multilink rear axle. Anchored to a significantly stiffer, stronger and more rigid unit body structure, BMW says it will endow the new 3 Series with even greater agility and better handling response. Hard-core enthusiasts can take things one or more steps beyond by opting for a multi-ratio Variable Sports Steering system; an M Sport package with its lower, stiffer suspension, 18-/19-inch alloy wheels and an aero kit; or the Adaptive M Sport suspension with electronically-controlled damping, as well as a sport-spec Servotronic that delivers quicker gear changes and features steering wheel-mounted paddle shifters.
All 3 Series Sedans will come with a new, "greener" version of BMW's Driving Dynamics Control system. As in the past, DDC allows a driver to modify the throttle response, steering effort, automatic transmission shift mapping, and Dynamic Stability Control parameters via a "Driving Experience Control" switch on the center console. However, in addition to the DDC's normal Comfort, Sport and Sport + modes, the 3 Series package adds a new ECO PRO mode that further revamps the throttle and shift programs and employs "intelligent energy management" control in a manner that can reduce fuel consumption by up to 20 percent. Also doing their part in the mileage-maxing effort are an Auto Start-Stop function and a Brake Energy Regeneration system that only permits battery charging to take place under active braking or roll-down/coasting conditions.
Buyers of the 2012 3 Series Sedan will be able to choose from three far-from-basic trims, each of which augments the driver-focused cabin with its own unique character. The Sport Line focuses on a blackout treatment for the exterior and interior, the Luxury Line places its emphasis on discreet chrome/brightwork bits and the Modern Line celebrates the subtle charm of satin aluminum and natural materials. As in the past, an available M Sport package matches M Sport suspension, alloy wheels and special body bits with a healthy dose of fast-lane interior elements.
To complement its impressive roster of standards, the new 3 Series will also offer a bounty of sophisticated optional features as extensions of its BMW ConnectedDrive infotainment technology suite. Heading that list are a new-generation Head-Up Display system, Active Blind Spot Detection, Lane Departure Warning/Collision Warning/Automatic Collision Notification, High-Beam Assistant, a rear-view camera with Surround View and Parking Assistant as well as a new Comfort Access hands-free automated trunk opener.
Due to make its public debut in January at the North American International Auto Show (NAIAS) in Detroit, the 2012 BMW 3 Series Sedan is destined to spawn a full line of body types and new powertrain combinations -- including the next-gen M3. However, the future model that BMW was the most forthcoming about during this initial reveal was the ActiveHybrid 3. The fourth entry in the automaker's ActiveHybrid family, this more efficient alternative will arrive in showrooms next fall and will be fitted with a gas/electric hybrid setup that teams the 300-horsepower TwinPower 3.0-liter 6-cylinder with a modified version of the 8-speed Shiftronic automatic and an electric motor/generator energized by a lithium-ion battery pack. The system, rated at 335 horsepower and 330 lb-ft of torque, will allow ActiveHybrid 3 to operate using either or both of its power sources and travel up to 2.5 miles in pure EV mode. BMW says the ActiveHybrid 3 will have the driving dynamics of a 335i but use 12.5 percent less fuel compared to an equally-potent but conventionally-powered BMW sport sedan.