2012 BMW 1 Series - First look
by
KBB.com Editors
|
December 22, 2010 1:40 PM
A series of subtle but meaningful changes lie ahead for the 2012 BMW 1 Series Coupe and Convertible, both of which arrive at dealers here in the spring. Visually, these entry-level BMWs add new styling details to their headlamp and taillamp designs and boast switchgear that has a more refined look and better tactile qualities. Functionally, the front fascia on 128i models take a cue from the just-revealed 1 Series M Coupe and also gain BMW's latest aerodynamic tweak, the Air Curtain system. This setup uses a pair of dedicated ducts in the lower outboard openings that channel incoming air to and out of very narrow exit slits at the front wheel arch, sending it past the rotating tires in a way that creates a drag/turbulence reducing wall of air.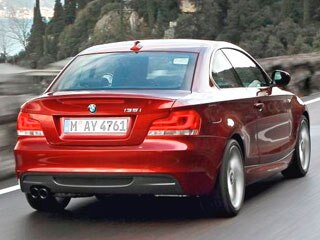 No underhood changes for the 128i, which carries over its naturally aspirated, 230-horsepower/3.0-liter inline six that makes 200 lb-ft of torque. Fitted with the standard six-speed manual gearbox, the 128i Coupe will run 0-60 mph in 6.1 seconds when fitted with the standard six-speed manual transmission, the Convertible in 6.4 ticks. Go for the optional six-speed Steptronic automatic, and those intervals rise to 6.7 and 7.0 seconds.
There is a significant bit of new in the 2012 BMW 135i, which swaps its current twin-turbo "N54" 3.0-liter six for BMW's latest "N55" alternative. Although it maintains the same displacement and 300-horsepower/300 lb-ft output figures the N55 uses a single twin-scroll T-charger to deliver even better responsiveness across the entire rev range. Matching it with the standard six-speed manual will send the Coupe rushing to 60 mph in 5.1 seconds and the drop-top to that benchmark in 5.4 seconds. Step up to the available seven-speed Double Clutch Transmission (DCT), and those times dip to 5.0 and 5.3 seconds, respectively.