2012 Audi TT-RS Track Review
by
KBB.com Editors
|
October 4, 2011 10:17 AM
360 horsepower is a lot. Or at least, it should be. But looking at the 2012 Audi TT-RS's spec sheet, the 360 figure elicited a casual "that's nice" in my mind. Why?
The answer might be the sheer abundance of 400- and 500-horsepower cars out there today; power hitters like the Ford Mustang, Chevy Camaro, Dodge Challenger and Nissan GT-R. Heck even the Hyundai Genesis sedan can be had with a 429-horsepower V8.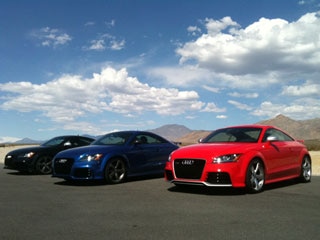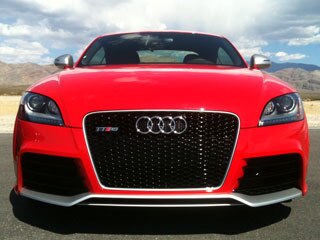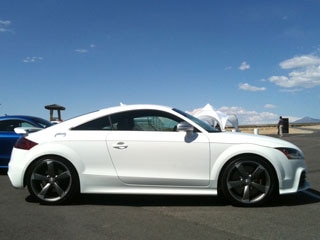 I was thinking about this horsepower desensitization as I sat idling in a black TT-RS coupe at Spring Mountain Raceway in Pahrump, Nevada. With helmet on and "S" button pushed (to stiffen the suspension and sharpen engine response) I waited for direction to enter the track's west loop. Flag up, clutch out, throttle pinned and, after a very brief pause while the turbos spooled, all internal conversation stopped. The TT-RS is fast. Not just in a cold, numeric, 0-60 mph in 4.1 seconds sense, but in a visceral, pressed into the seat, "wow that corner got here quick" sense.
With my brain properly recalibrated by physics I concluded that 360 horsepower in an Audi TT is plenty.
The pinnacle of Audi's TT lineup, the 2012 Audi TT-RS swaps the base car's 2.0-liter turbocharged four-cylinder for a turbocharged five-cylinder, increasing the TT's output from 211 to 360 horsepower. Other RS upgrades include an adaptive magnetic suspension, 14.6-inch front brake rotors with four-piston calipers, and a two-mode exhaust system that uses a flap to switch between quiet and loud modes. A host of interior and exterior tweaks includes special 19-inch wheels, a nicely contoured sport steering wheel and a fixed rear wing. On our shores the TT-RS is only available as a coupe, only offered with a six-speed manual transmission and will only be sold in limited numbers over the course of the 2012 and 2013 model years.
With all of its performance bits the2012 Audi TT-RS delivers an appropriately exhilarating on-track experience, providing thrills that extend well beyond straight-line acceleration. The RS handles really well with tight responsive steering, lots of grip and a willingness to adjust its attitude with throttle and brake inputs. About to miss the corner's apex? Let off the throttle slightly and the line tightens. With that said, a quick complaint: During our test Audi didn't allow us to disable the stability control system or even put it into the more permissive sport mode. We suspect the TT-RS might be down for some truly harrowing track shenanigans but for now we're left to speculate. Rest assured if you actually buy a TT-RS and take it to your local race track you'll be able to defeat the stability control system before it frowns on your fun.
Ultra-demanding performance enthusiasts might find one of its rear-drive competitors more engaging, but the all-wheel-drive TT-RS is a welcome option. All-wheel drive helps get power to the ground, but also means quick lapping with less chance of a spin, boosting driver confidence. At $57,725, including destination, the Audi TT-RS is also a bargain compared to its primary competitor, the less powerful and more expensive - by about $10,000 - Porsche Cayman R.
The TT line deserves a proper top-tier performance model and the TT-RS fills that role nicely. If you manage to snag one of the 1,000 cars being imported to the U.S., I'm sure you'll have a grand time driving it. Let us know what it's like with the stability control system off.