2012 Audi S8 - Frankfurt Auto Show
by
KBB.com Editors
|
September 7, 2011 8:25 AM
The flagship of its sedan fleet, the new 2012 Audi S8 puts an even-more-potent punctuation mark on the statement: "It's good to be rich!" Spun from the latest incarnation of the Audi A8 that rolled onto the scene for model-year 2009 and featuring the aluminum-intensive Audi Space Frame to minimize its overall weight, this all-wheel-drive "wonder car" impressively raises the stakes in the sport-luxury sedan game courtesy of a new engine that delivers significantly better performance and fuel economy plus even more advanced technology to complement its expansive roster of comfort/convenience touches.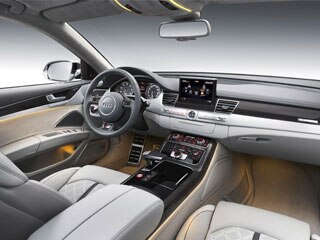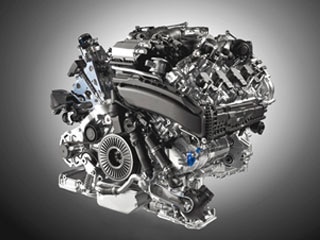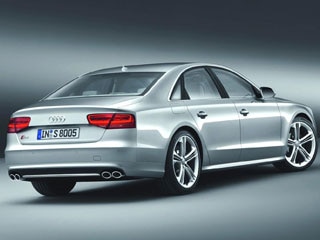 The single most-significant enhancement to the new-generation Audi S8 is found under the hood, where the 5.2-liter naturally-aspirated V10 used in the previous generation S8 has been supplanted by a twin-turbocharged/intercooled version of Audi's new 4.0-liter TFSI V8. Developing 512 horsepower in this application -- 68 more than the engine it replaces -- this state-of-the-art motivator matches its predecessor's 479 pound-feet of peak torque, but does so in a far wider 1,700-5,500 rpm range. Paired with an eight-speed paddle-shiftable version of Audi's tiptronic automatic, it can take the new S8 from zero-to-100kph (zero-to-62 mph) in a blistering 4.2 seconds and on to an electronically limited top speed of 155 mph.
That impressive might is matched by equally notable efficiency. Like the 4.0 TFSI V8 in the S6/S7, this ultra version features Audi's "cylinder on demand" technology that can deactivate four cylinders under light load conditions as well as a standard start/stop technology and an energy recuperation setup that uses data from the main on-board computer to help drivers more effectively manage high-drain elements like the climate-control and seat-heating systems. Further optimized by a selection of well-chosen gear ratios in the transmission, this new engine delivers nearly 23-percent better fuel economy numbers than the now-departed V10.
Underpinning the 2012 Audi S8 is a specially tuned version of the A8's adaptive air suspension with variable shock damping that offers tri-level ride height control. Also on hand are the dynamic steering that can vary its ratio depending on vehicle speed and the Audi drive select dynamics system that offers five discrete operational modes for the throttle response, shifting program, suspension settings, dynamic steering and rear sport differential that adds even more torque-vectoring capability to the S8's standard quattro all-wheel-drive system. Completing the mix are big anti-lock vented disc brakes -- with steel or optional carbon-ceramic rotors -- a dedicated ESP stability control and an assortment of 20-inch alloy wheels shod with 265/40 performance tires upgradeable to any of four different 21-inch alternatives.
Visually, the 2012 Audi S8 displays a number of understated tweaks to both its exterior and interior. Subtle revisions to details on the front fascia and rear diffuser, LED head/taillamps, more dramatically contoured side sills and two S8-exclusive colors -- Daytona Gray and Prism Silver -- are the most notable outside revamps. Inside, the S8's lavishly appointed cabin boasts unique sport seats with heating/cooling/massage capability and exclusive upholstery and trim materials along with primo standards like Audi's MMI navigation plus system, a 1,400-watt Bang & Olufsen Advanced Sound System and Bluetooth. The options roster is equally well-stocked, offering all of the sophisticated A8 driver aids, like Audi side assist, lane assist, pre-sense and adaptive cruise control with stop/go function as well as a new parking system that comes with a quartet of cameras that provide a 360-degree view to ease maneuvering in tight confines.
The 2012 Audi S8 goes on sale in Europe early next year and will arrive in America next fall as a 2013 model. Pricing and equipment specifics will be released at a later time.