2012 Audi S7 - Frankfurt Auto Show
by
KBB.com Editors
|
September 7, 2011 8:15 AM
Even more eagerly-awaited than the original Audi A7 Sportback, the high-performance 2012 Audi S7 Sportback steps into the limelight in Frankfurt with an added measure of super-concentrated excitement to complement its strikingly beautiful and elegantly-proportioned bodywork. This five-door cousin to the new 2012 Audi S6 shares much in the way of basic design pedigree with its midsize platformmate, starting with a mass-reducing aluminum-intensive structure and Audi's twin-turbocharged/intercooled 4.0-liter TFSI V8.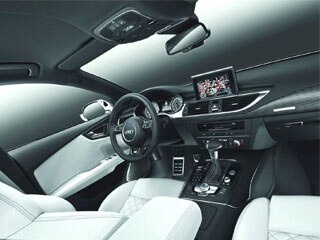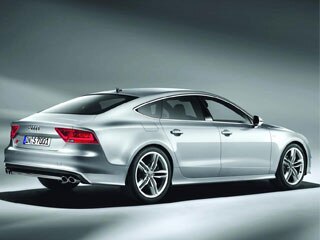 As it does in the S6, the force-fed engine in the S7 Sportback makes 414 horsepower, 406 pound-feet of torque and uses fuel-saving "cylinder-on-demand" technology to help raise its average overall mileage number to the equivalent of 24.3 mpg. Also paired with a paddle-shiftable seven-speed S-tronic automatic, it propels the S7 Sportback from zero-to-100 kph (zero-to-62 mph) in a marginally longer 4.9 seconds. However, both cars have the same electronically-limited 155 mph maximum velocity.
The S7 Sportback features many common exterior cosmetic enhancements also seen on the S6, as well as its driver-adjustable air suspension, quattro all-wheel drive, Audi drive-select driving dynamics package and S-spec wheel/tire/brake system upgrades. However, the flowing coupe-like roofline that literally lowers but figuratively elevates the S7 Sportback's profile leads back to a large hatch with a unique articulated rear spoiler that automatically deploys at speed to improve stability.
Like the S6 Sedan/Avant, the new Audi S7 Sportback will arrive in America next fall as a 2013 model. No word yet on pricing or features for the U.S.-spec car.