2012 Audi R8 GT Spyder gets its real reveal
by
KBB.com Editors
|
June 3, 2011 1:28 PM
True to the preview sketches released in April, the 2012 Audi R8 GT Spyder has now surfaced in the metal along with a more fleshed-out spec sheet. This limited-production ultra-performance upgrade spun from the standard R8 Spyder 5.2 FSI Quattro travels the same basic route as its recently launched R8 GT Coupe kin, adding power and shedding weight to deliver an entirely new level of exhilaration -- albeit here with an al fresco twist.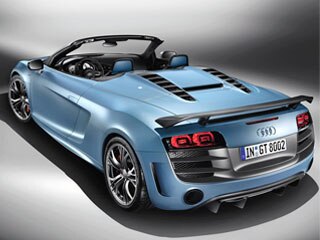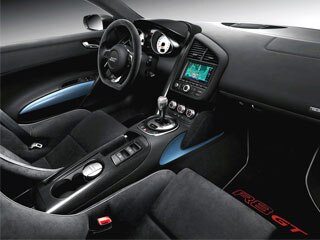 A number of subtle but effective visual tweaks set the R8 GT Spyder apart from its lesser sibling. Up front the changes are highlighted by a revamped front splitter with a dual-lip spoiler made from lightweight CFRP (Carbon Fiber Reinforced Polymer) complemented by aero-enhancing "flics" on the side of the fascia, all finished in titanium grey. Out back, a new rear bumper with revised diffuser and a fixed rear wing -- all rendered in CFRP -- plus dark LED taillamps in clear-glass housings and prominent round exhaust outlets add more character and function to the mix. Red GT badges and an optional matte-finish CFRP windshield frame complete the GT Spyder's fast and fashionable look, which is crowned by a power activated soft top that features a separate extendable glass rear window and can be cycled in just 19 seconds at speeds up to 31 mph.
In their focused effort to yank weight wherever possible from the already light, aluminum-intensive R8 package, Audi engineers also trimmed mass from various mechanical elements -- notably the transmission, engine cradle, wheels and brakes -- as well in its CFRP top cover and rear side panels. But the biggest single loss came from swapping the R8's standard seats for a pair of racing-style perches made from Glass Fiber-reinforced Polymer (GFRP), a move that accounted for nearly 70 of the 187-pound total reduction in the GT Spyder's 3,616-pound curb weight.
The new Audi R8 GT Spyder shares its powertain and chassis bits with the R8 GT Coupe. Audi's all-alloy 5.2-liter/V10 engine nestled amidships cranks out 552 horses and 398 lb-ft of torque. It's matched with a paddle-shifted automated six-speed R-tronic sequential transmission that can change cogs in less than a tenth of a second. Audi claims the combo will let the GT Spyder hit 62 mph in just 3.8 ticks and top out at 197 mph.
To ensure best use of its prodigious motivational might, the R8 GT Spyder's bespoke Quattro all-wheel-drive system features a prominent rear-wheel bias and gets matched with a sport-tuned and appropriately lowered version of the existing double-wishbone suspension, specially calibrated (and driver-defeatable) stability control and a limited-slip rear differential. Rounding out the package are ultra-sticky tires wrapped around super-light alloy wheels teamed with ultra-efficient carbon-ceramic brakes.
Although performance is its game, the 2012 Audi R8 GT Spyder doesn't scrimp on creature comforts. Standard cabin amenities include automatic climate control, navigation system and a comprehensive driver-info system with lap-timing feature. The car's Alcantara seat coverings can be replaced with optional Nappa leather trim while audiophiles have the choice trade the base sound system for a primo Bang & Olufsen setup that features a Bluetooth interface and a convenient hands-free microphone in the seatbelt. Each R8 GT Spyder also will come with a unique production-number tag on the top of its shift lever.
Like the R8 GT Coupe, Audi will only produce 333 examples of the R8 GT Spyder. About 100 of those are rumored to be headed to America, likely carrying about a $240,000-$250,000 pricetag. The 2012 Audi R8 GT will make its public debut at the 24 hours of Le Mans later this month before heading on to an encore appearance at the Frankfurt Auto Show in September. Expect sales to start here early next year.