2012 Audi A6 - 2011 Detroit Auto Show (w/video)
by
KBB.com Editors
|
January 11, 2011 7:53 AM
As expected, the all-new 2012 Audi A6 line did make its formal public debut in Detroit following the earlier preview release of images and data on the European-spec models that go on sale there shortly. Regrettably, the automaker chose not to reveal any additional information about U.S.-bound cars that will arrive here in late summer or early fall. Set to compete against the BMW 5 Series and Mercedes-Benz E Class on both sides of the Atlantic, this mid-size four-door fully embraces the automaker's current approach to styling and technology to create a package that combines exceptional mechanical and aerodynamic efficiency with outstanding creature comforts and safety.
The new look of luxury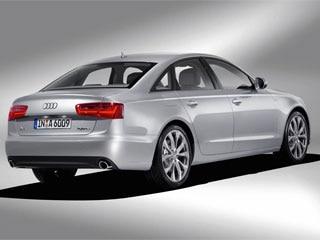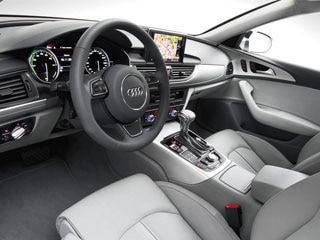 As one would expect, the 2012 Audi A6 uses a combination of high-strength steels and aluminum to create a core structure with minimum mass and maximum strength and rigidity. In addition to being used for various internal components, many body panels on the Audi A6, including the hood, doors, decklid and front fenders, also are made from aluminum.
>See more new cars unveiled at the 2011 Detroit Auto Show
Visually, the 2012 Audi A6's sleek (0.26 coefficient of drag) bodywork shares a good deal of key design character with the flagship Audi A8. While slightly longer, lower and wider than the outgoing model, the 2012 Audi A6 does gain a significant 2.7 inches of wheelbase (114.6-in) that enhances its stance and provides for better interior packaging. The A6's restyled headlamp and taillamp treatments also feature A8 cues that add interest as well as style, with the shape of the xenon/LED front units being paralleled in the 3D-look LED rear lamps.
Inside, the 2012 Audi A6 gets an even more refined character and feature set that reflects themes found in the A7/A8. In addition to expanded dimensions and new, more supportive seats, the new A6 boasts a cockpit-style wraparound dash; the latest iteration of Audi's MMI integrated multimedia controller and the Driver Information System that will be standard in U.S. models. Our cars also will come with leather seat coverings and offer a variety of wood and alloy trim accents.
Staying motivated
In Europe, the 2012 Audi A6 will be available with gasoline and diesel engine choices of both four and six cylinders as well as a new late-arriving gas-electric hybrid variant. However, Audi sources here indicate that our version will launch with two gasoline engines. Front-drive A6s will be available with the 2.0-liter/211-horsepower turbocharged inline-four also used in the A4/A5 while the volume-leader A6 Quattro will come with the 3.0-liter/300-horspower supercharged V6 found in the current A6. The former will be matched with Audi's Multitronic continuously variable automatic transmission while the latter will be fitted with the firm's new eight-speed Tiptronic autoshifter.
No word yet on any S6 variant -- V8-powered or otherwise -- or an Avant wagon, but Audi has announced a new hybrid model will join the A6 lineup later in 2011. Currently not slated to make it to our shores, this more efficient iteration will be fitted with the same gas/electric parallel-hybrid powertrain as the soon-to-launch Audi Q5 Hybrid. It matches the 2.0-liter/211-horsepower turbo four with a 45-horse electric motor that also adds an extra 157 lb-ft of torque. Located directly behind the engine and energized by a lithium-ion battery that sits beneath the luggage compartment, it allows the Audi A6 Hybrid to reach 62 mph and travel up to 1.9 miles in pure EV mode. Regardless of input mix, all power gets sent to the front wheels of the A6 Hybrid via a modified version of the Audi eight-speed automatic that here eliminates the need for a conventional torque converter.
A look at various chassis/suspension details of the new 2012 Audi A6 shows the A7/A8 influence is present here, as well. FrontTrak front-drive versions will match the ESP stability control with an electronic limited-slip differential that emulates torque vectoring to help it deal with unstable traction situations while all A6 Quattro models will get the latest version of that legendary all-wheel-drive system that includes a new crown-gear center differential and integral torque-vectoring capability to aid in handling. European buyers will be able to swap the A6's conventional steel springs -- in base or sport-spec configurations -- for an optional adaptive air suspension which, while still unconfirmed, is virtually certain to be offered here as well. Another probable A6 option for the U.S. is Audi's multi-mode drive-select dynamic handling system that offers five custom mapping functions that integrate the engine management, power steering, climate control and other operating systems.
Pricing and additional details regarding equipment and trim options on the 2012 Audi A6 will be available closer to its on-sale date.
>All Auto Shows , >Past Detroit Auto Shows , >Detroit Auto Show 2011