2011 Volkswagen Jetta Review: A back step forward
by
KBB.com Editors
|
August 9, 2010 2:05 PM
100-word shortcut
In many respects, the all-new 2011 Volkswagen Jetta is a lesser car than its predecessor. The standard engine is far less powerful, the rear suspension is less sophisticated and the interior is no longer over-the-top refined. But it is roomier and more affordable, and that's just what Volkswagen thinks America wants. Yes, some of the Jetta's more discriminating devotees will be disappointed, but the new model will attract far more buyers than it loses. And even with the cost-cutting, the Jetta is still fun to drive and still has one of the category's finest interiors. Last three: Outsider moving in.
Maybe your favorite car in the category if...
Interior quality, driving dynamics and individuality are still Jetta strong suits. Now that prices are down and roominess is up, the 2011 Volkswagen Jetta is sure to be a favorite on many levels.
Maybe not your favorite car in the category if...
The 2011 Volkswagen Jetta's 115-horsepower base engine is the weakest in the category, and the lower prices still don't qualify the Jetta as a value leader (but its historically strong resale values don't hurt). Tech-savvy buyers wouldn't be wrong to expect more from the Jetta.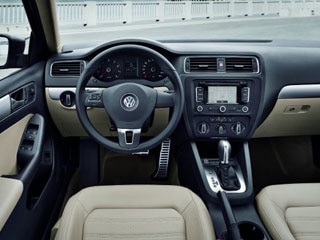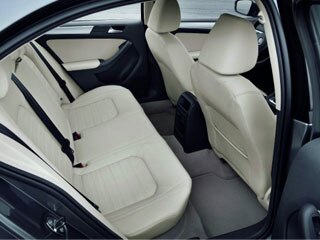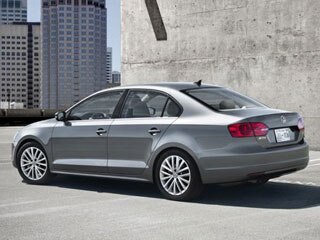 Are you feelin' it?
Not everyone who buys a Jetta does so for things like steering feedback and roadholding ability, but European driving feel -- for less than $20,000 -- has been one of the Jetta's greatest strengths for decades. Thankfully, given the simplified suspension and added length, it still is. The familiar 2.5-liter engine is punchy if short-winded, and the five-speed manual and six-speed automatic transmissions are just fine. Highway ride is firm within reason, and highway noise is on the quieter side of the category spectrum. We're eager to drive a Jetta with the smaller, 115-horsepower engine and smaller wheels - not because we think we'll love it, but to find out just how severe the penalty is.
Big and tasty
The biggest Jetta ever measures about three inches longer than its predecessor. Some were hoping for more expressive sheetmetal, but we think it's a tasteful design that will stand the test of time. Exterior differentiators throughout the lineup range from small, 15-inch covered steel wheels on the base-model Jetta S, to mirror-integrated turn signals, front fog lamps, chrome accents and 17-inch alloy wheels on the Jetta GLS.
More of less
The 2011 Volkswagen Jetta interior in a nutshell: more room, cheaper materials. Rear legroom, which was tight in the outgoing model, is up 2.7 inches and now best-in-class. But in areas where you'd find premium-like, soft-touch materials in the outgoing Jetta, the sixth-generation model features hard plastic. Moving up the trim ladder does buy a little more flair, and it's still among the nicest interiors in the class, but we wouldn't call it a $30,000 interior like we did the last Jetta's (and the current Golf's). The Jetta's huge trunk is also worth noting, as is the unremarkable sound system. Volkswagen's decision to put the USB port in the glove compartment could madden some whose phone and portable music player are one and the same.
What you get for just under $17,000
The 2011 Volkswagen Jetta S starts under $17,000, but with a weaker engine than its competitors and a pedestrian list of standard equipment. Highlights include air conditioning, power locks/windows/mirrors (with one-click up/down on all four windows) and a four-speaker AM/FM/CD sound system with auxiliary audio input. A full complement of standard safety features includes electronic stability control and six airbags.
What you get for about $25,000
A loaded 2011 Volkswagen Jetta SEL features a 2.5-liter 170-horsepower engine, six-speed automatic transmission, leatherette seats, USB audio input, Bluetooth phone connectivity, cruise control, heated seats, touchscreen navigation/audio with six speakers and SD memory card slot, Sirius satellite radio, moonroof, rear disc brakes, and keyless entry and start. The SEL trim also offers a Sport package with a lowered sport suspension, sport-bolstered seats, aluminum pedals and unique door sills.
Endless engine options
The 2011 VW Jetta powertrain lineup will quickly grow to include four engines and four transmissions. The bread-and-butter combo is the 170-horsepower five-cylinder engine paired with a six-speed automatic transmission. The sport-tuned Jetta GLI will match Volkswagen's renowned 2.0-liter turbo engine with its quick-shifting and efficient six-speed dual-clutch automatic transmission (or a six-speed manual). The Jetta TDI will offer the same transmissions as the GLI, but mated to VW's also-celebrated turbo-diesel four-cylinder engine. At the other end of the spectrum, the base model 2011 Volkswagen Jetta S will be saddled with a 2.0-liter, 115-horsepower four-cylinder engine that, when matched to the auto transmission, has to strain for 11 seconds before pulling the car to 60 mph. A couple years down the road, we'll get a hybrid Jetta.
2.0-liter four-cylinder (Jetta S)
115 horsepower, 125 lb.-ft. of torque
2.5-liter five-cylinder (Jetta SE, SEL)
170 horsepower, 177 lb.-ft. of torque
2.0-liter turbocharged four-cylinder (Jetta GLI)
200 horsepower, 207 lb.-ft. of torque
2.0-liter turbo-diesel four-cylinder (Jetta TDI)
140 horsepower, 236 lb.-ft. of torque
Up to 42 mpg highway (VW estimate)
KBB value analysis
When it goes on sale in October, the core 2011 Volkswagen Jetta lineup will start at a Manufacturer's Suggested Retail Price (MSRP) shy of $17,000 and top out under $25,000 - prices that are indeed in line with those of category leaders like Civic and Corolla. The diesel-powered Jetta TDI will start well-equipped at about $24,000 and top out over $26,000 with a navigation package and DSG automatic transmission. The Jetta GLI shows up in the beginning of 2011 and pricing is yet unannounced. We expect our Fair Purchase Prices to reflect little discounting when sales commence, and for the Jetta's traditionally strong resale values to continue.