2011 Toyota Highlander gets new look and significant enhancements
by
KBB.com Editors
|
September 29, 2010 12:40 PM
One of the most popular players in the mid-size crossover realm receives an impressive mid-cycle revamp for the new season. In addition to more visual distinction, a longer list of amenities and powertrain upgrades to both its gasoline and hybrid variants, the 2011 Toyota Highlander bolsters its comprehensive Star System safety suite with Toyota's new Smart Stop brake override setup.
A bolder face
All iterations of the 2011 Toyota Highlander boast a fully revamped front end with a common new hood and fenders but unique detailing in the grille, fascia and head/fog lamp treatments to differentiate the conventional and hybrid models. The Highlander Hybrid also gets blue tint covers on its head and taillights plus color-keyed rocker sills with chrome accents. Carrying over from 2010 is the Highlander's base/SE/Limited trim hierarchy as well as a choice of front-drive/all-wheel drive on gasoline-engine Highlanders and standard full-time 4WD on the Hybrids.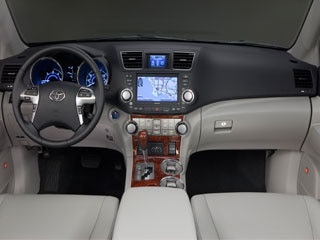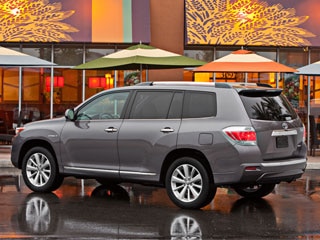 More appealing interiors
Inside, all incarnations of the 2011 Toyota Highlander now come with a standard 50/50 fold-down third-row seat and standard rear air conditioning. SE and Limited models benefit from a new Tech Audio system the brings integrated Bluetooth with a host of new connectivity capabilities and XM Satellite Radio while the base Highlander gets a new Tech Package option that includes all of the above as well as a backup monitor with 3.5-inch multi-information screen, power driver seat and easy-clean upholstery fabric. The base Highlander Hybrid now comes with many of the features in the Tech Package and gains its own new Leather Package that beyond the obvious hide infusion adds items like a power moonroof, Homelink and an engine immobilizer. The 2011 Highlander Hybrid also offers a navigation system option on the base model for the first time while the Limited gets upgraded perforated leather upholstery as well as auto climate control on its rear A/C unit.
Better economy, too
Both versions of the 2011 Toyota Highlander also benefit from meaningful powertrain changes. In the standard Highlander, the 2.7-liter/187-horsepower four-cylinder engine previously used only in base trim is now available in the front-drive SE model, as well; while the 270-horse/3.5-liter V6 that's standard in the Limited can be ordered up in both lesser versions. The Highlander Hybrid swaps its former 3.3-liter V6 for a new 3.5-liter alternative that ups pony count from 209 to 231 and raises the total gas/electric output from 270 to 280 net horsepower. And in case where more is more, the change bumps its EPA numbers from 27-city/25-highway mpg last year to 28/28 mpg stats in both driving regimens for 2011.
The 2011 Toyota Highlander line has just gone on sale nationwide. Pricing ranges from $28,740 for the base four-cylinder/front-drive model to $37,155 for a Limited V6 with four-wheel drive. The all-wheel-drive 2011 Highlander Hybrid starts at $38,100 for the standard model with a Limited Hybrid commanding $43,755.