2011 Toyota Avalon review -- At your senior service
by
KBB.com Editors
|
September 17, 2010 12:16 PM
A new take on the old formula
Still focused on its mild-mannered mission to deliver a full-size measure of cruising comfort in a feature-rich driving environment, the flagship of Toyota's sedan fleet has been treated to a modest makeover for 2011 intended to put a bit more contemporary spin on its admittedly aging-boomer primary appeal. Beyond a simplification of trim levels, this fine-tuning process nets the 2011 Toyota Avalon tasteful exterior and interior tweaks that couple a touch of much-needed visual spark with more functional interior luxury -- and even yield a slight bump in fuel economy for good measure. Although destined to remain well beneath the radar of typical Gen Y and Millenial buyers, these enhancements should definitely help the recast 2011 Avalon as it battles with its full-size four-door rivals for a greater share of the mature market.
Two flavors, more flash
Opting for quality over quantity, Toyota cut the 2011 Avalon model lineup from three choices to two: Avalon and Avalon Limited. Both share subtle but effective nose and tail revamps that bring a restyled grille and fascias, new halogen/HID headlamps and LED-infused taillamps plus an extra helping of chrome trim on the rockers, decklid and mirrors. The primo Limited variant also gets new 17-inch/10-spoke mirror-finish alloy wheels, which, like the standard Avalon, are wrapped in 215/55 all-season tires.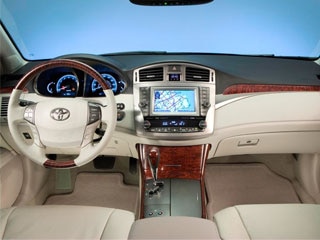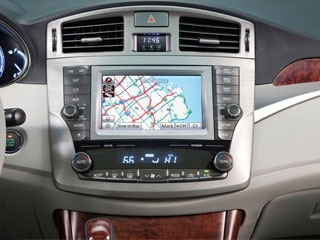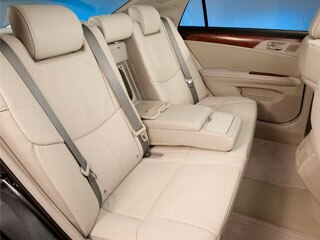 The quiet and well-isolated cabin of the 2011 Toyota Avalon also enjoys a healthy helping of this enlightened "newness." Key gains there include a revamped dash design that brings restyled, even-more-legible Optitron electroluminescent gauges and a center stack that opens the door for the fitment of Toyota's latest voice-activated touch-screen DVD-based navigation package with a 7.0-inch LCD screen. The de facto merging of last-year's XL/XLS models also brought standard leather trim to the new base Avalon and nets the Limited even more elegantly upholstered perches that now provide both heating and cooling capabilities.
May be your favorite car in the category if...
Partisans of neo-classic auto design whose driving desires lean heavily towards safe and serene cruising in a spacious, near-luxury environment will find plenty to like about the latest version of the Toyota Avalon.
May not be your favorite car in the category if...
Those seeking a big sedan with more expressive appearance, one that offers a high-performance engine option or just plain caters to a younger mindset will probably feel more at home in a Buick LaCrosse, Ford Taurus or Hyundai Genesis.
What you get for about $33,000
Opening slightly above the $33,000 mark, the entry-level Avalon features an impressive assortment of standards from a full array of power assists, dual-zone climate control, leather upholstery, wood-grain trim and a power moonroof to a nine-speaker premium audio system with three months of free XM Satellite Radio, Bluetooth connectivity, USB/Aux/iPod inputs, rear-view monitor, power front seats, class-exclusive reclining rear seatbacks seven airbags and all of the vehicle dynamics elements in Toyota's Five Star Safety System. Also of note on the 2011 Avalon is a redesigned accelerator pedal assembly and brake override circuitry.
What you get for around $35,000-$38,000
Stepping into Avalon Limited territory brings an expanded roster of good stuff, headed by a 12-speaker/660-watt JBL Premium Synthesis audio system, full climate controlled front seats, enhanced perforated leather and wood-grain trims, four-door Smart Key with Push Button Start, a power rear sunshade, full HID headlamps and various other lesser accent elements. The base Avalon can be fitted with heated seats and both models also can be upgraded with Toyota's latest voice-activated touch-screen DVD navigation system.
Surprisingly quick, and even more fuel efficient
The Avalon's sole engine/transmission combo -- Toyota's 3.5-liter V6 and a six-speed automatic transmission delivers an impressive combination of swiftness, smoothness and now even better economy. Although the engine's 268 horsepower and 248 lb-ft of torque are hardly the stuff of legend, it features efficiency-boosting VVT-i (Variable Valve Timing with intelligence) on both the intake and exhaust side. Coupled with a responsive multi-mode six-speed autoshifter, it helps this roughly 3,600-lb sedan impressively sprint from 0-60 mph in less than seven seconds. Toyota says its made no mechanical or electronic changes underhood for 2011, but the latest EPA test regimen awarded the new Avalon 20 mpg in the city and 29 mpg on the highway compared to the 19/28 mpg numbers it carried 2010.
More ride than drive
True to its heritage, the 2011 Toyota Avalon remains at its best in unabashed cruise mode. Compliance definitely trumps precision control in this spacious sedan, although few Avalon buyers are likely to take much issue with the relative balance that's been struck between the two. Steering response and brake pedal feel also exhibit that same kind of family four-door character. So too the front buckets which, while offering comfort and adjustability to go the distance, are decidedly light on lateral support when the venues do get twisty. As for the Avalon's aft quarters with a standard 60/40-spllt reclining rear seatback and superb leg/head room, they're simply the best in this -- and quite possibly any other -- class. While a relatively low center tunnel makes three-across at least a short-term possibility, the two outboard spots are clearly the locations of choice.
KBB Value Analysis
On sale since spring, the 2011 Toyota Avalon continues to be a solid but now even more capable player in the large-sedan segment. While its total sales numbers remain relatively modest, they are up on the year, making Avalon the only Toyota passenger car to achieve that status thus far in 2010. While short on excitement, the revamped 2011 Avalon boasts exemplary resale value compared to its prime rivals from Buick, Ford and Hyundai, with the standard model holding a slight edge over the Limited trim in the long-term residuals department.