2011 smart fortwo gets a mid-life update
by
KBB.com Editors
|
July 8, 2010 8:42 AM
While U.S. representatives aren't yet ready admit anything beyond a "refresh" is in store for the 2011 smart fortwo, parent company Daimler has released the full story on changes that lie immediately ahead for the international edition of its two-passenger micro city car. These provide a pretty fair idea of what we're likely to see here come early fall.
Exterior changes to the 2011 smart fortwo are modest, to say the least. New exterior colors and trim combo possibilities for the body panels, convertible top fabrics and exposed Tridion safety cell frame are definitely in the works, and smart has just begun offering U.S. consumers a variety of distintive vinyl "wraps" as part of its new "Smart Expressions" program that also lets buyers of new (or any existing) smart fortwo opt for a load of individualized paint and graphics treatments. European customers will even be able to get a special matte finish on their new cars, although there's no confirmation as to whether it will make the cut here. Beyond that, anticipate new-look 15-inch alloy wheels for the 2011 smart fortwo and the ability to replace its conventional daytime driving lights with optional cool strip LED units -- a change that actually does add a new measure of visual interest to an otherwise unchanged fascia.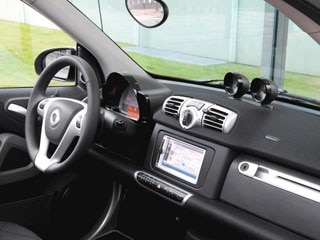 The new color/new trim team-ups extend to the 2011 smart fortwo's cabin as well, although they're only part of a considerably more extensive update. A restyled dash houses redesigned and more attractive/legible main instruments and an upgraded audio package with additional USB/AUX inputs that can be had with an optional navigation system that brings a new 6.5-inch full-color display. The revamp also accommodates full integration of smart's new dedicated multifunction iPhone app previewed in our recent driving impression of the fortwo ED electric vehicle which also will arrive in the fall as part of a 250-unit evaluation fleet. Other additions to the 2011 Euro option mix -- and likely candidates for our cars -- include a leather-wrapped three-spoke multifunction steering wheel with audio/cruise control switchgear, a trip computer and new ambient mood lighting based around dimmable LEDs.
Save for confirming that we won't be getting either the European diesel or hybrid versions of the smart fortwo in 2011, there's no mechanical news to report in the powertrain department, including no mods to the car's less-than-slick shifting automated-manual transmission. However, meaningful tweaks to the control mapping and exhaust systems have helped raise fuel efficiency and lower CO2 emissions in Europe and there seems to be at least the possibility that the 70-horsepower/1.0-liter three-cylinder gasoline engine in our fortwo fleet also may benefit from those added green perks. As for U.S. pricing and EPA numbers, smart promises more on them as we get closer to the car's on-sale date.