2011 Saab 9-5 Review: Typical Swedutchamerican Sedan
by
KBB.com Editors
|
August 9, 2010 2:18 PM
Back from the dead
When General Motors faced bankruptcy in 2009 and was forced to shed half its eight U.S. brands, Sweden-based Saab - acquired by GM years ago -- was one that had to go. When early efforts to sell the company failed, it entered the Swedish version of Chapter 11 bankruptcy, suspended operations and went into liquidation. But then tiny Dutch exotic sports-car maker Spyker stepped in and bought the proud "Born from Jets" brand and all its assets, with financing from the Swedish government and European investment banks. Saab then resumed operations as an independent automaker with its own design, engineering and state-of-the-art manufacturing, and is again building mid-size 9-3 models while ramping up production of this larger all-new 9-5 luxury sedan.
GM roots remain
Although Saab's first post-GM product was actually designed and engineered under GM ownership, is based on GM's Epsilon II global architecture and is powered by GM-developed turbocharged V6 and four-cylinder engines, it's nevertheless strong on distinctive Swedish design and driving character.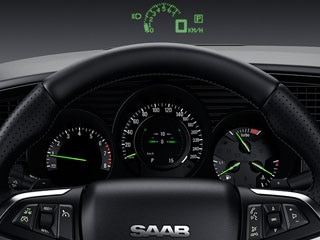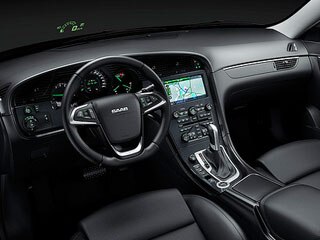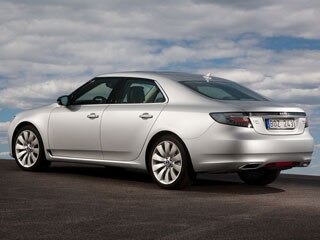 Maybe your category favorite if...
If you have owned and enjoyed Saab cars in the past, you should love this new and best-ever 2011 Saab 9-5. It is distinctive outside, quiet, luxurious and roomy inside, and it strikes an excellent balance of performance and fuel efficiency for its size.
Maybe not your category favorite if...
Saab is hardly a mainstream brand...you might have to explain why you chose it. Instead, you might prefer a similar-size Audi A6, Lincoln MKS, Volvo S80, or maybe the more affordable Buick LaCrosse - with which the Saab 9-5 shares its underpinnings.
Swedish fun
Saabs are typically fun-handling cars, and the 9-5 turbo-four models are dynamically the best-ever. Steering is crisp and responsive and braking is reliably strong. The suspension takes a set and holds on through tight and faster curves, while XWD -- Saab's advanced, corner-to-corner all-wheel-drive system, standard with the turbo V6 -- eliminates annoying front-wheel-drive torque steer. Each engine comes with its own specific suspension and calibration and an available sport chassis setting. Saab "DriveSense" (standard on the Aero XWD) adaptive chassis control varies shock rates, steering feel, shift points, throttle response and front-to-rear torque distribution with a choice of Comfort, Sport and Intelligent settings. We sampled all three powertrains on a test track and on public roads and found the turbo V6 strong but the turbo four with the manual transmission more fun to drive.
Fresh but familiar design
This new 2011 9-5 brings traditional Saab styling cues thoroughly up to date. Its face is defined by a forward-looking take on the traditional Saab grille, and its upper proportions are reminiscent of the iconic Saab 900 of the 1980s. Its entire "greenhouse," with its pillars subtly blacked out, looks almost like a single wraparound piece of glass. Its falling roofline blends into its rear pillars, and below its smooth rear deck is a full-width light-bar with LED signature lighting. Additional Saab cues are its "hockey-stick" beltline and the smooth surfacing of its body sides. Its aerodynamic drag coefficient is a very slick 0.28.
More room to move
Inside its quiet, spacious, tastefully-crafted cabin are more traditional Saab shapes echoing the exterior design. Legroom is increased front and rear vs. the previous 9-5, and the interior materials, fit and finish, and tactile quality of the controls all have a premium feel. The large center console sweeps up into a display of deeply-recessed dials, where the crisp, floating displays are illuminated in signature Saab green and a rolling altimeter-like speed meter alludes to Saab's aviation heritage. Between the front seats, where Saab ignition switches have traditionally lived, is a start/stop button.
Base-price highlights
The base 2011 Saab 9-5 Turbo4 comes with a full complement of features, including a leather-trimmed interior, power front seats with driver-side memory, keyless ignition, dual-zone climate control, nine-speaker audio system, USB and aux inputs, Bluetooth, XM Satellite Radio, power heated outside mirror, and fog lamps front and rear. Standard safety features include Electronic Stability Program (ESP), traction control, OnStar Safety and Security, active head restraints, six airbags, and breakaway pedals.
So many options
The Saab 9-5 Turbo4 Premium, Turbo6 XWD and top-of-the-line Aero XWD models add progressively more features including 18-inch wheels, Bi-Xenon headlamps, a panoramic power moonroof, power-folding and auto-dimming outside mirror, keyless entry, remote start, and front/rear park assist. Most options are grouped into packages, including a Technology Package (head-up display, lane departure warning, advanced park assist) and a Rear-Passenger Package (tri-zone climate control, rear-seat audio and DVD video). Stand-alone options are a navigation radio with hard-disk drive and premium 11-speaker Harman/kardon audio, plus (for the Aero only) summer performance tires on 19-inch alloy wheels and ventilated front seats.
Feature faves
XWD
Saab's advanced, highly effective corner-to-corner all-wheel-drive system helps the 9-5 better convert power into momentum.

DriveSense
The 2011 Saab 9-5 Aero XWD's adaptive chassis system varies shock rates, steering, shift points, throttle response and front-to-rear torque distribution with Comfort, Sport and Intelligent settings.
Turbo times two
Saab has been turbocharging engines for more than 30 years, so the new 2011 9-5's all-turbo line-up comes as no surprise. Top-of-the-line Aero models are powered by the 300-horsepower 2.8-liter twin-scroll turbocharged VVT (variable valve timing) DOHC 24-valve aluminum V6 mated to a six-speed automatic (with manual shift capability) and XWD. Lower-priced two-wheel drive models get a flex-fuel (gasoline or E85) 220-hp 2.0-liter direct-injected VVT DOHC 16-valve aluminum turbo four with the of a choice of six-speed manual or six-speed automatic transaxle.
2.0-liter Turbocharged four
220 horsepower @ 5300 rpm
258 lb.-ft. of torque @ 2500 rpm
EPA city/highway fuel economy: N/A
2.8-liter Turbocharged V6
300 horsepower @ 5500 rpm
295 lb.-ft. of torque @ 2000 rpm
EPA city/highway fuel economy: 16/27
KBB Value Analysis
2011Saab 9-5 Turbo4 sedans with a manual transmission will have a Manufacturer's Suggested Retail Price (MSRP) starting around $39,500. By comparison, Audi's supercharged A6 V6 quattro and Lincoln's MKS Ecoboost V6 both start substantially higher. A more direct comparison price-wise is arch-rival Volvo's (admittedly aging) turbocharged in-line-six S80 sedan, which starts close to $41,500. When it comes to resale value, we expect this new 9-5 to see stronger residuals than Saabs of the recent past.