2011 Saab 9-3 Convertible Independence Edition -- Geneva Auto Show
by
KBB.com Editors
|
February 24, 2011 9:43 AM
To help celebrate its first year of existence outside of the GM fold, Saab has announced it will build a limited-production variation on its 9-3 drop-top. Based on the top-spec Aero model and making its formal debut in Geneva, the 2011 Saab 9-3 Convertible Independence Edition goes on sale worldwide during the next couple of months. The automaker plans to turn out just 366 examples -- one for each day of this inaugural year of independence plus an additional copy to celebrate day one of the second.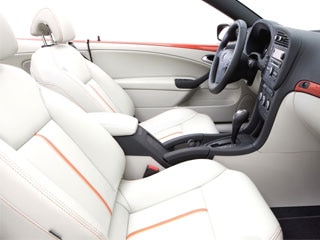 Save for market-specific engine choices, all of the cars will be identical and share a special Amber Orange metallic exterior paint set off with unique 18-inch five-spoke satin-chrome/black-finish alloy wheels wrapped in summer performance tires. Inside, the 2011 Saab 9-3 Convertible Independence Editions will feature special Parchment leather interior appointments with a color-matched accent stripe, a Super Sport leather-wrapped steering wheel, premium Hirsch leather trim on the dash, doors and console, a TurboX boost gauge, custom floor mats and a special serialized "Independence Edition" badge and window etching.
The U.S.-spec 2011 Saab 9-3 Convertible Independence Edition also receives a powertrain upgrade that previews what lies ahead for the entire 2012 Saab 9-3 line. The same 2.0-liter turbocharged/direct-injected four introduced in new 2011 Saab 9-5 will supply motivation, bringing 220 horsepower -- 10 more than the current 9-3's 2.0T -- and 258 lb-ft of torque, a 37-unit gain in the peak-twist department. It can be teamed with either a six-speed manual or optional six-speed automatic transmission.
The 2011 Saab 9-3 Convertible Independence Edition will be made available to retailers on a request basis. However, given the prominent position the Saab Convertible has historically enjoyed in America -- the first Saab drop-top was sold here and we remain its single largest market -- nearly half of the production run of this commemorative variant could ultimately land on our shores. Pricing and delivery dates are still being finalized but anyone interested should contact their local Saab dealer for more complete information.