2011 Porsche Carrera GTS -- Paris Auto Show
by
KBB.com Editors
|
September 17, 2010 9:51 AM
Premiering in Paris and heading to U.S. showrooms early next year, the 2011 Porsche Carrera GTS is set to become the most potent member of the current Carrera clan. To be offered in both Coupe and Cabriolet forms, it purposefully combines unique styling elements with an additional helping of fuel-efficient horsepower to effectively split the performance gap between a 911 Carrera S and the far-edgier 911 GT3.
At first glance, 2011 Porsche Carrera GTS is distinguished by a SportDesign front apron with black spoiler edge, unique black sideskirts and rear valance panel set off by "Carrera GTS" logos on the doors and decklid, in black or silver depending on the body color. But a closer look reveals that the new Carrera GTS shares the same "widebody" as the all-wheel-drive Carrera 4 models. Although rear-wheel drive, the Carrera GTS also boasts that car's expanded front and rear track dimensions, the better to fully exploit the capabilities of its super-sticky performance tires that are wrapped around 19-inch center-mount alloy wheels from the RS Spyder. Cabin changes for the new GTS are equally subtle but effective and match a new three-spoke SportDesign steering wheel with loads black Alcantara trim on the seats -- as well as everywhere else the driver and passenger make contact with the interior.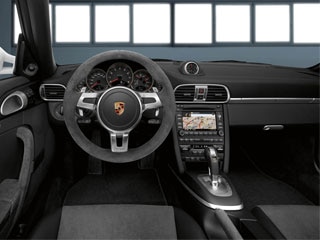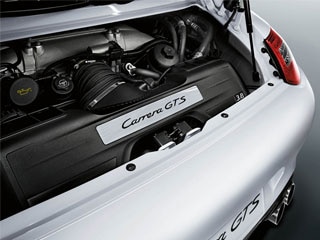 While using the same basic 3.8-liter flat-six as a Porsche 911 Carrera S, modifications to the intake and exhaust systems help bump GTS-spec output from 385 horsepower to 405 ponies -- just 27 less than a 911 GT3. The secret of this extra muscle lies in a special resonance intake manifold that has six vacuum-controlled tuning flaps compared to just one in the Carrera S, a feature that permit real-time switching between power and torque-optimized geometry. While maintaining the same 310 lb-ft of max torque, these cylinder-specific micromanagers give this more potent six more efficient mid-range punch, yet have no impact on its fuel economy numbers. Exhaling through a dedicated sport exhaust system, the engine can be backed by either the standard six-speed manual transmission or Porsche's seven-speed Porsche dual-clutch/paddle shifted PDK. Porsche says a the 2011 911 Carrera GTS Coupe with the manual gearbox can hit 190 mph, two up on a Carrera S. Fitted with the optional PDK shifter and Sport Chrono Package Plus it can streak to 60 mph in 4.0 seconds.
Although not revealing its full EPA stats, Porsche did indicate that best numbers on any GTS variant would be most 19 mpg in the city and 27 mpg on the highway. As for pricing, the 2011 Porsche 911 GTS Coupe will start at $104,050 and the 2011 Porsche 911 GTS Coupe is set to open at $113,850.