2011 Porsche Boxster Spyder First-drive Review
by
KBB.com Editors
|
June 8, 2010 9:21 AM
In these days our complicated lives are reflected by ever-more-complicated cars. Most of today's vehicles - even at the lower end of the price scale - are filled with computerized systems, touch-screen apps and hard-drive-based infotainment. As you move up the price ladder, added features grow by leaps and bounds.
Now don't get us wrong; we like creature comforts as much as anyone, and perhaps more than most, but it is extremely refreshing to experience the new 2011 Porsche Boxster Spyder that was developed with the opposite approach. Instead of piling on yet more equipment, some of which can actually separate you from the driving experience, Porsche engineers and product planners have intentionally deleted things in an effort to reduce driving to its essentials.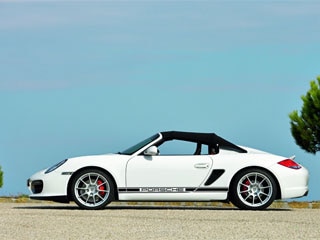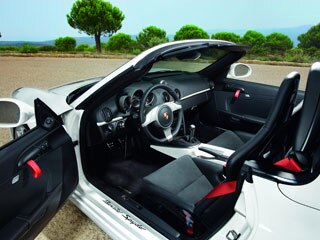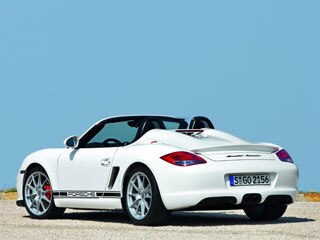 Adding Lightness
The key object of the exercise was to deliver was what Porsche sportscar product planner Tim Cup calls an "intense roadster experience." That means out went things like an electrically operated folding top, which has been replaced by a carbon-fiber framed manual top that is as slick as the latest piece of high-tech mountaineering equipment. Out went steel doors, which have been replaced by aluminum-skinned units. Out went the cover over the instruments; out went the cupholders, the air conditioning and the radio.
Adding Power
In its purest form, the 2011 Porsche Boxster Spyder weighs 176 pounds less than the Boxster S. And its 3.4-liter six-cylinder boxer engine with direct fuel injection produces 320 horsepower, 10 horsepower more than the Boxster S. Peak output is at a rather busy 7,200 rpm, 950 rpm above the maximum engine speed of the Boxster S, but the good news is that there is more low-end torque than you might expect. Peak torque of 273 lb.-ft. occurs at a more reasonable 4,750 rpm.
In standard trim the Boxster Spyder offers a six-speed manual gearbox, which we think is more in keeping with its classic roadster nature than the also-available seven-speed PDK Doppelkupplungsgetriebe (double-clutch) gearbox. The PDK is a mechanical marvel that is essentially a conventional manual gearbox subdivided into two separate gearbox units with a hydraulic control unit in the middle. It can be manually shifted using steering wheel-mounted paddles, but in practice it usually does a much better job of gear selection and changing than one might do manually, and it automatically matches revs to boot.
Adding It All Up
So how does all this work on the road? Terrifically well, that's how. The added horsepower and lower center of gravity of the 2011 Porsche Boxster Spyder gives it a more satisfying overall feel and balance than the Boxster S, and that is saying a lot. The combination of eliminating 176 pounds while adding 10 horsepower results in an impressive zero-to-60 mph acceleration time of 4.6 seconds, and we can attest to the fact that the Boxster Spyder felt strong and capable in all of the demanding situations our test drive put it through. You would be hard-pressed to find a more satisfying open sportscar experience anywhere.
When you add to that the Spyder's handsome looks that channel both the legendary Porsche 550 Spyder of the Fifties and the high-dollar Porsche Carrera GT, we think the 2011 Porsche Boxster Spyder is a serious bargain at its $61,200 base price. If you can't do without a radio and air conditioning, and most Porsche dealers will figure that you can't, the $63,660 or so you will pay for the Spyder with those luxuries is also a superior value. This is surely an instance where less really is more.
More at KBB.com: Looking to spend about $40,000 less? Check out our 2010 list of the 10 Coolest Cars Under $18,000.