2011 Porsche 911 GT3 RS 4.0 - A farewell in the fast lane
by
KBB.com Editors
|
May 2, 2011 11:04 AM
With an all-new Porsche 911 set to bow in this fall at the Frankfurt Auto Show, the latest and arguably greatest version of the racing-inspired GT3 RS based on the current "997" platform has just surfaced. In addition to its larger and more potent engine, the limited-production 2011 Porsche 911 GT3 RS 4.0 will be fitted with an expanded range of lightweight components that serve to further showcase its competition pedigree.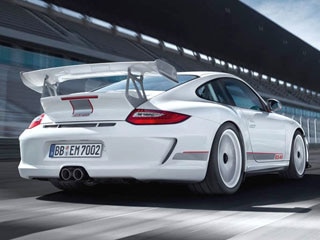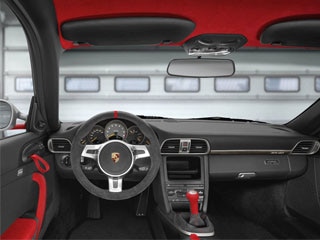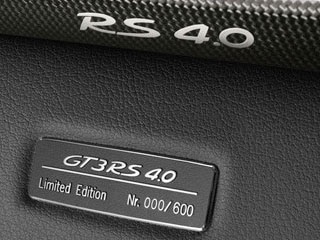 As its name implies, the 2011 Porsche 911 GT3 RS 4.0 gets a motorsport-derived 4.0-liter version of Porsche's famed flat-six engine. The largest engine ever to be used in any series-built 911, it's a near-clone of the naturally aspirated six fitted to the racing-only 911 GT3 RSR, complete with its carryover long-stroke crankshaft that raises displacement from 3.8 liters and all of that engine's trick internal bits, including forged pistons and titanium connecting rods. The growth spurt bumps output to from 450 to 500 horsepower and raises torque from 317 to 339 lb-ft compared to the 3.8. All of that might gets sent to the rear wheels via a conventional six-speed manual transmission and allows the Porsche 911 GT3 RS 4.0 to streak from 0-60 mph in 3.8 seconds and reach a top speed of 193 mph with factory gearing.
To best utilize the extra muscle on tap, the 2011 Porsche 911 GT3 RS 4.0 also benefits from numerous weight-reducing and aero-enhancing changes. The front fenders and luggage-compartment lid are carbon fiber as are its shell-style bucket seats, which like the rest of the interior are covered in black leather and red Alcantara. Even the carpets have been "optimized" to trim excess mass and help hold curb weight on the car to just 2,998 pounds -- 22 under the 2011 Porsche 911 GT3 RS 3.8 it replaces. The bottom line is a stellar pounds/horsepower ratio of 5.99:1 with a full tank of fuel.
In addition to its bespoke rear wing and more aerodynamic fascia sculpting, the new GT3 RS 4.0 is the first production Porsche to feature air deflector vanes - flics -- on its front bumper that further enhance high-speed grip. Porsche estimates that at terminal velocity, the changes up front add an additional 426 pounds of downforce on the nose of the car while the new rear wing and revised end plates also contribute to even more stick on the tail of the GT3 RS 4.0. The car's competition-spec chassis bits are further bolstered by a purpose-tuned version of the Porsche Active Suspension Management (PASM) electronic damper system and a modified rear axle. Real-world results of these collective upgrades are best seen in its comparative lap times around Germany's fabled Nürburgring-Nordschleife circuit, where the 2011 Porsche 911 GT3 RS 4.0 blasted around serpentine 12.9-mile road course in 7 minutes and 27 seconds -- 5.0 seconds less than the best factory time for a 2011 911 GT3 RS 3.8.
Finished in standard Carrara White (basic black also is an option), the 2011 Porsche 911 GT3 RS 4.0 will go on sale here late this year, starting at $185,000 (plus an as-yet-undetermined destination fee). Of the 600 cars Porsche plans to turn out for the world, expect somewhere between a third to half to be earmarked for America.