2011 Nissan Quest -- A second look at what's coming next spring
by
KBB.com Editors
|
July 8, 2010 7:15 AM
Following up on the original teaser image it presented last March, Nissan has released some additional and far more revealing photos of the all-new 2011 Nissan Quest minivan. Although still holding back on nearly all of its tech details, this latest round of visual updating confirms the next-generation of Nissan's personable people will abandon the aggressively avante garde -- and largely unappreciated -- styling cues of its predecessor for a somewhat more traditional but still decidedly modern character when it returns to showrooms following a one-year hiatus.
As we learned from the heavily-cloaked first look, the 2011 Nissan Quest front end builds on grille/headlamp/fascia elements first seen on the 2008 Nissan Forum Concept van. Now, it's clear that the production Quest liberally borrows a number of other exterior elements from that one-off show vehicle, including a subtly dipped lower margin in its front-door glass and a prominent rising swage line that runs from the A-pillar all the way to its single-piece rear hatch. To complete the look, the 2011 Nissan Quest also features the same Forum-inspired concealed D-pillar treatment that adds a distinctive flair to its large, sightline-friendly greenhouse.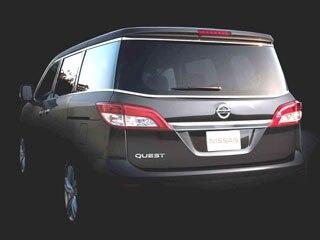 Although packaging specifics on its three-row seating and cargo-carrying capability remain classified for the moment, the completely redesigned dash in the 2011 Nissan Quest boasts a new and far more user-friendly configuration. More legible instruments lie directly ahead of a restyled multi-function steering wheel. While the shift lever remains high-mounted on the left side of the center stack, the remainder of the new Quest's climate/audio/navigation switchgear has been brought up to current Nissan spec, including the multimedia controller itself.
No word on engines or transmissions for the 2011 Quest, although at least some form of Nissan's highly-regarded house 3.5-liter V6 is almost certain to be called upon to drive the front wheels, quite possibly backed by a CVT continuously variable automatic transmission. Still set to formally bow in at the 2010 Los Angeles Auto Show in December, the 2011 Nissan Quest is due to arrive in dealers sometime in early 2011. To keep up with the latest breaking Quest news and see all of the photos released to date, visit Nissanusa.com/microsite/quest.