2011 Nissan LEAF Review - Boldly charging into the future
by
KBB.com Editors
|
October 29, 2010 8:08 AM
Rolling on down Electric Avenue
While every major car manufacturer -- and a number of minor ones -- have now begun cautiously venturing into the EV arena, Nissan can rightfully claim the singular distinction of being the first big automaker to hit the pure electric trail in a big way thanks to the imminent arrival of its new LEAF. Although the initial batch won't arrive at select dealers in California, Washington, Oregon, Arizona and Tennessee until December, the 2011 Nissan LEAF's exemplary combination of features and affordability has sufficiently piqued interest in this front-drive five-door hatch sedan to see its entire year-one U.S production allocation of 20,000 units already fully spoken for. Early next year, Nissan will expand LEAF distribution to Texas and Hawaii with sales in North Carolina, Florida, Georgia, Washington DC, Virginia, Maryland, South Carolina and Alabama commencing in April and a national marketing rollout slated for fall.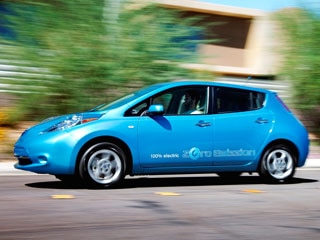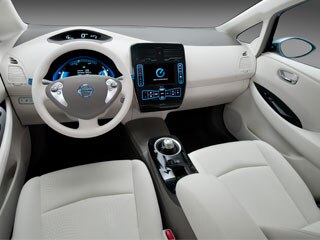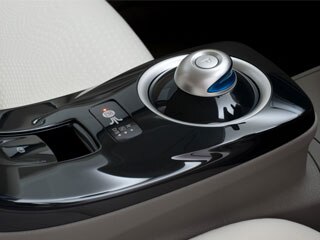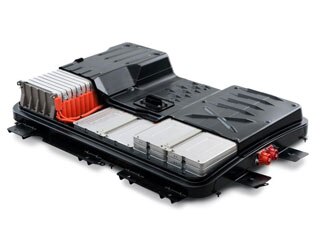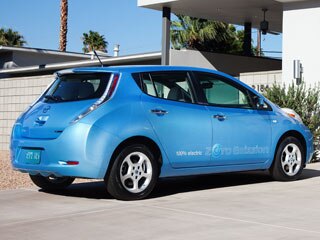 Nissan sealed its commitment to the LEAF and future EV programs with a $1.7 billion expansion of its existing production facility in Smyrna, Tennessee. Set to go operational in 2012, it will have the ability to turn out 50,000 complete LEAF vehicles and as well as 200,000 battery packs per year when running at full capacity.
An exercise in green efficiency
From its wind-cheating bodywork bookended by energy-saving LED head and taillamps to its well-appointed, scaled-for-five passenger compartment that makes extensive use of recycled and recyclable materials, Nissan created the LEAF to rack up miles as cleanly, effortlessly and transparently as possible. In that quest, it succeeds in a most impressive manner. Save for the lack of conventional engine noise, the absence of a tailpipe and the presence of various pedestrian warning sounds, you'd have no clue that its motivation comes strictly from electricity. Nicely isolated, the cabin matches decently formed front buckets with a utility-enhancing 60/40 split-folding rear bench seat that will take a pair of full-size adults or a trio of kids. While getting comfortable with the daunting amount of vehicle and systems information that can be called up at any time does require a bit of orientation effort, logically arrayed basic control layouts ensure that the actual LEAF driving experience is, well, remarkably car-like.

Designed to be a daily driver

To check Nissan's claims, we ventured to Tennessee to put the LEAF though its paces in a variety of real-world situations, from urban stop-and-go to rolling two-lane backroads to formal freeway hauling. In every case, it proved the functional equal of a conventional compact and fully up to the task at hand. Energized by a 24kWh lithium-ion-manganese-graphite battery pack mounted beneath its floor and inboard of the wheels, the LEAF's 80kW/107-horsepower motor/generator develops 206.5 lb-ft of torque from virtually zero rpm. Sent to the front wheels via a single-speed reduction gear, it makes this 3,370-pound Nissan feel surprisingly quick off the line, carries it to 60 mph in around nine seconds and on to a top speed of 90 mph.
When the going got twisty, the LEAF revealed another commendable facet of its "real-car" character. Although calling it sporty would be an overstatement, this super-green Nissan responded to all control inputs in a confidently predictable manner. Admittedly a tad numb on center, the LEAF's electric power steering is direct and decently weighted while Versa-based suspension bits keep body roll fairly well in check and the regenerative braking effect, while present, is hardly intrusive. Even the 205/55 low-rolling resistance tires on 16-inch alloy wheels serve up a greater-than-expected level of grip allowing, if not encouraging, at least a modicum of spirited motoring.
Like any pure electric vehicle, there's one inescapable issue that does materially impact the LEAF's consideration index: range. Nissan says the LEAF can travel an average of 100 miles per charge (on the LA4 cycle), sufficient to cover the daily commuting needs of over 90 percent of Americans. However, it also admits that temperature extremes and a heavy right foot can markedly skew the real-world figure. To help stretch the drive distance possible under any conditions, the Nissan has fitted the LEAF with both conventional regenerative braking and a computer controlled ECO mode that's engaged by a double tug on its mouse-shaped "shift" knob. Engaging the latter backs off acceleration by about 10 percent and palpably increases the regen effect of the brakes to add about 10 miles of range on average. When battery charge level drops into the cautionary zone, the LEAF responds with both visual and audio advisories to head for an outlet soon.

May be your favorite car in the category if
No question that card-carrying Greenies who think EVs are the future and the future is now will love the new Nissan LEAF. Others will simply have to decide if a vehicle with its admirable cost-to-benefit ratio makes the most sense as a second or third commuter car.

May not be your favorite car in the category if
Driver's with unpredictable daily schedules, long commutes and/or budgets that will support only one car will be better off with a conventional compact vehicle -- or the LEAF's high-profile but pricier rival for eco plaudits, the E-REV Chevrolet Volt.

What you get for about $33,600 -- or likely less
Although the 2011 Nissan LEAF SV carries a manufacturer's suggested retail price of $33,600, that figure is subject to any number of federal and state incentives. Nissan also is offering the LEAF for $349/month on a three-year/36,000-mile lease deal. Beyond its advanced all-electric powertrain, the LEAF's lengthy roster of standards spans everything from a full array of power assists, driver-selectable eco-encouraging digital readouts, real-time navigation/vehicle information systems, a six-speaker AM/FM/CD/MP3 audio package with iPod/USB connectivity, Bluetooth and available XM radio to a sophisticated trip computer, electric climate control system, Intelligent Key push-button starting and three years of CARWINGS telematics that lets owners with web-enabled smartphones monitor and control battery charging as well a activate other on-board systems. Complementing its vehicle dynamics and traction control systems, the LEAF also is fitted with front/front-side/side-curtain airbags.
In addition to base SV trim, the LEAF is available in premium SL guise. Selected by over 75 percent of initial buyers, this $940 upgrade brings a RearView Monitor, solar panel on the rear spoiler, fog lights and automatic headlights. Extras are minimal, to say the least. Because it takes about five times the energy to warm the interior as to keep it cool, Nissan will offer a yet-unpriced Cold Package for both the SV and SL that adds heated front seats, a heated steering wheel, heated mirrors, extra rear-seat heater ducts and dedicated temperature management circuitry. SL buyers can opt for a supplemental Quick Charge Port that will allow an 80 percent recharge in 30 minutes at public charging stations.
While the LEAF comes with a standard 110V charging cord that can be plugged into any wall outlet and will top the battery pack in about 20 hours using its 3.3kW on-board charger, Nissan expects most LEAF customers to spring for a dedicated 220V home charger. Projected to cost about $2,200 installed -- half that or less after various credits -- this hard-wired unit can trim the recharging interval to roughly eight hours. Buyers with the need for speed can choose option three, the aforementioned Quick Charge Port.

Why your price may differ
To help foster consumer support for electric and plug-in electric vehicles, a number of incentives are being offered by both public and private organizations. In addition to qualifying for the widely-publicized $7,500 federal income tax credit, the LEAF is currently eligible for $4,500-$6,000 in direct rebates from various states where it will be sold as well as several other supplemental spiffs offered by local jurisdictions and energy providers. One California-specific best-case scenario would bring the effective out-of-pocket cost for a LEAF down to $12,280 -- as well as zero out the price of the home charger unit.
KBB Value Analysis

Given the numerous and significant variables that come into play, it's tough to make many ironclad assessments about the ultimate value story represented by the 2011 Nissan LEAF. However, for those not concerned with range anxiety questions, its cost-to-benefit ratio looks more than solid, particularly for buyers living in temperate locales that are more favorable to efficient EV operation. The LEAF's most critical and costly single component, its battery pack, is covered by an eight-year/100,000-mile warranty and Nissan cites average cost data that indicates it will run no more than $3 to recharge -- and possibly less -- depending on when and where that process takes place. The automaker also claims that unless gasoline dips below $1.10/gallon, the replenishing process will still set you back less than operating a conventional compact car with an internal combustion engine that averages 25 mpg. While there's no shortage of EV skeptics who continue to question whether Americans are truly ready to embrace the electric car in meaningful numbers, by 2012, over 13,000 public charging stations are set to be up and running across the country.