2011 Nissan LEAF -- U.S.-preview drive and product update
by
KBB.com Editors
|
July 23, 2010 1:57 PM
Although we've slipped behind the wheel of several Nissan LEAF development mules -- both here and in Japan -- we finally got our first taste of the real thing during a recent on-road outing in the suburban environs around Santa Monica, California. While the LEAF we drove was technically a pre-production prototype, Mark Perry, head of Nissan North America's advanced product planning wing, confirmed it was a virtual clone of the vehicle that will start hitting the streets in selected markets starting this December. During an informal but informative briefing, Perry also offered some new insights on a car that's arguably the most ambitious project in the company's history.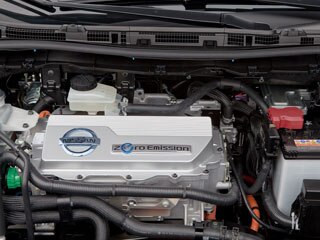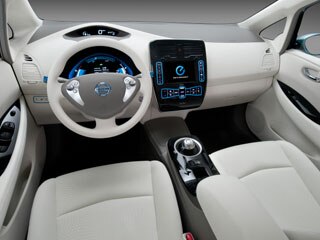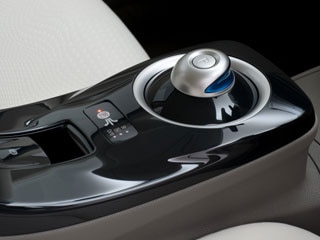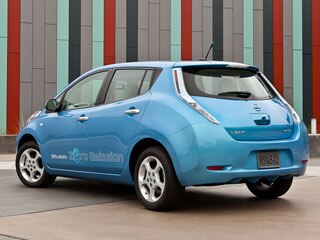 Plenty ready for prime time
Our drive was admittedly brief and didn't allow for any at-the-limit explorations. However, we were able to get a legitimate feel of how the 2011 Nissan LEAF will respond to the kind of real-world situations it's most likely to encounter. For openers, the car's well-isolated cabin is impressively quiet. And even with three aboard, it proved commendably quick and agile enough to more than hold its own -- both in city-style cut and thrust as well as on a quick run down Pacific Coast Highway. Fitted with a 107-horsepower motor/generator and 24-kilowatt-hour battery array, the LEAF is capable of reaching an electronically-limited top speed of 90 mph, which will make it freeway friendly, as well. Although we'd prefer a bit more natural feel in its decently-weighted electric power steering, the LEAF's anti-lock disc brakes, even in serious regen mode, displayed a commendably linear pedal response as well as confident stopping power.
Slightly smaller inside than it appears when parked at the curb, personal time in the LEAF's aft quarters confirmed that this zero-emissions compact still has sufficient rear legroom and headroom to accommodate a pair of average-size adults or a modestly-scaled trio of kids in its fold-down rear seat. Up front, the decently contoured buckets offer a segment-appropriate mix of support and comfort while the control layouts proved user-friendly for the most part.
Overwhelmingly beige and produced primarily from recycled waterbottles, the LEAF's interior trappings won't have you mistaking it for even a mid-luxo offering. Despite that relative absence of accent color, the overall package is well-finished and complemented by a bounty of standard equipment. Highlghting a list that also includes Bluetooth connectivity and XM Satellite Radio is a real-time navigation/information system that not only tells you where you are but lets you scroll through an owners-manual-worth of information screens detailing everything from favorite infotainment settings to all aspects of the energy usage/management/replenishment side of the equation.
Our first-ever LEAF street drive also gave us the chance to experience its pedestrian warning system, which thankfully proved much less intrusive than we'd initially feared. Literally inaudible from inside the car, it emits a subtle and rather conventional "beeping" sound when the LEAF is traveling in reverse while forward motion is accompanied by an even lower-decibel "whoosh" that one might expect to be emanating from the world's smallest and quietest jet aircraft.
On going the distance
Although Nissan is not yet ready to announce warranty terms on its advanced lithium-ion battery pack, Perry did go into some detail regarding the potential real-world range the LEAF's fully-recyclable lithium-manganese-graphite cell arrays are capable of delivering. The nominal figure, as generated by the standard US LA4 regimen, remains at 100 miles or 160 kilometers. But after presenting a series of different driving scenarios that yielded a 62-138-mile worst-best window -- and noting that even more extreme situations are at least possible -- Perry ultimately indicated: "We expect most people to be in the 80-110 mile range."
To help maximize the distance-to-empty figure under any conditions, the LEAF also has a dedicated ECO mode. Engaged/disengaged by flicking the car's mouse-like, console-mounted "shifter" to the left and back, ECO mode adds tactile resistance force to the accelerator pedal, switches to a more aggressive regenerative-braking program and allows the car's auto climate control system a bit more latitude when it comes to maintaining cabin temperature.
One particularly interesting fact emerged with regard to that last functional ECO mode element: It takes five times as much electric power to run the LEAF's heater than its air conditioning. That being the case, Nissan plans to offer the car with a heated seats/heated steering wheel option. The feeling is that allowing drivers in colder climates to selectively warm these primary "touch points" will make them feel more comfortable and also more inclined to set passenger compartment temps a bit lower to help offset the heater's range-ravaging energy drawdown. When recharging does become necessary, the LEAF can be plugged into a conventional 110-volt home outlet for about 20 hours, use a 220V dedicated line that cuts that interval to seven hours or grab an 80-percent refill in about 30 minutes via a 50kW DC commercial quick charger.
With the LEAF's formal ordering process set to commence in August, Perry indicated that the early reservation program has already generated over 16,300 respondents who ponied up a $99 refundable fee to get on the initial I-want-one list. Nearly 75 percent of that group has opted for one in the signature Aqua Globe blue finish, and over 80 percent have chosen the upline SL trim. Stickering at $34,540 -- $940 more than the base-but-far-from-basic SV -- the SL adds a rearview monitor, HomeLink transceiver, solar panel on the rear spoiler, foglamps, cargo cover and automatic headlamps to the extensive feature mix. The LEAF will also be available on a three-year/36,000-mile lease deal that starts at $349 a month.
Beyond qualifying for a $7,500 federal tax credit, Nissan LEAF purchasers also stand to benefit from up to a $5,000 direct rebate from many state governments plus potential additional givebacks from some local municipalities. As per its original plan, Nissan still expects the 220V home recharger setups to run around $2,200 installed. The automaker hopes to have solid orders for 25,000 U.S. vehicles -- literally half of all first-year LEAF production -- in hand by December.
In assessing the critical total cost of ownership figures against a comparable vehicle with an internal combustion engine (for this comparo, one that gets an average of 25 mpg), Nissan's calculations show that unless gasoline miraculously drops below $1.10 per gallon, the LEAF will provide a better long-term deal. Whether that math ultimately convinces a sufficient number of people to live with the range-anxiety issues ownership of any electric-only vehicle entails remains to be seen -- particularly given the existence of other more-forgiving strains of green alternatives like the Toyota Prius and upcoming Chevrolet Volt. But from a product viability standpoint, the 2011 Nissan LEAF definitely makes an impressive case for consideration by anyone whose daily driving profile revolves around short-distance commuting.