2011 Nissan Juke Review -- Daring to be daring
by
KBB.com Editors
|
August 30, 2010 2:08 PM
Different by design
While the overall automotive industry remains mired in slow-recovery mode, the compact crossover segment continues to enjoy a stunningly robust growth spurt which is projected to continue well into mid-decade. However, with that expansion in popularity being matched stride for stride by a proliferation of players, standing out in an increasingly crowded field takes some well-focused effort on all levels. It's a mission the 2011 Nissan Juke was born and bred for. A bold attempt to win the hearts -- and wallets -- of young and primarily male active lifestylers, this compact five-door sport hatch combines a distinctive avant-garde appearance, potent powertrain and comprehensive feature set with a sub-$20,000 starting price. In the case of the entry-level front-drive Juke S, that figure includes a standard CVT (continuously variable automatic transmission). Even the range-topping leather-lined, fully loaded all-wheel-drive Juke SL barely cracks the $25K mark.
Attack of the Thriller "B"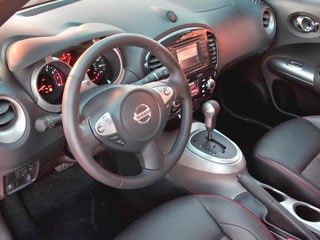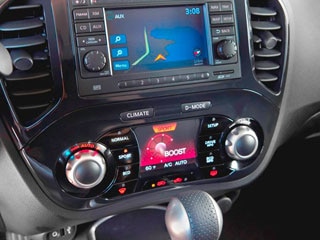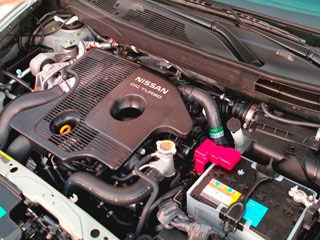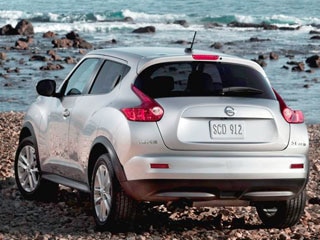 Although this new Nissan is spun from a version of company's excellent B-platform that also underpins the Versa, Cube and LEAF, in Juke-spec, it gains a number of key enhancements. For openers, its over-the-top styling is complemented by an aggressively sporty suspension tune that also brings a three-inch wider track dimension and standard 17-inch alloy wheels wrapped in grippy V-rated 215/55 tires. Underhood, the Juke boasts a high-tech 188-horsepower turbocharged engine while inside, a host of enthusiast-grade design touches add even more emotional appeal to what remains at its core, an extremely practical vehicle.
May be your favorite car in the category if...
Love being the center of attention and hate misplacing your ride in a crowded parking lot? The Juke could well be your personal dream machine. It's also destined to score big with anyone seeking a feature-rich personal transporter that delivers a world-class combination of fun and affordability.
May not be your favorite car in the category if...
Those who lean towards more traditional styling or are willing to sacrifice a bit of performance for an added measure of economy could well find a more compatible running mate in Juke alternatives like the Kia Soul, Mazda3, Scion xB, Suzuki SX4 and Toyota Matrix. The upcoming Mini Cooper Countryman also figures to be a prime potential rival.
Driven to exceed
Whether front- or all-wheel drive, the 2011 Nissan Juke is an exercise in confident control. Although some may ding its spring/shock setup for being a tad too harsh over rough pavement, body roll is impressively curtailed and the decently-sorted electric power steering, wider track and healthy wheel/tire fitment help ensure that the Juke feels equally at home zipping through the twisties or cruising down a freeway. Opting for the sophisticated intelligent all-wheel-drive package that includes class-exclusive rear torque-vectoring capability also trades the base torsion-beam rear axle for a multi-link design that further enhances the Juke's already impressive cornering prowess. However, stability/traction control and antilock disc brakes are standard across the lineup.
Inside moves
Despite a dearth of soft-touch surfaces, Nissan did endow the Juke's relatively spacious and well-finished cabin with unique visual flair and lots of functionality. A thick-rimmed three-spoke multifunction steering wheel and well-bolstered front buckets team with a driver-friendly dash layout and legible main gauge cluster. The Juke's high-rise center console puts the shift lever within easy reach and is contoured like a motorcycle gas tank to serve as an effective leg support. Scaled to accommodate average-sized adults, the Juke's 60/40 flat-folding rear seat can be dropped to bump cargo space from 10.5 to 35.9 cu ft. Front-drive models also feature hidden stow space under the cargo floor.
What you get for around $20,000-$23,000:
Opening just under $20,000, the front-drive Juke S comes with all of the trick engine/suspension bits detailed previously along with the CVT automatic. Opting for AWD adds another $1,500 to the bottom line. In either case, "S-spec" also brings an expansive list of standards including power windows/lock/mirrors, air conditioning, six-speaker AM/FM/CD/MP3 audio, iPod connectivity, Bluetooth, cruise control, keyless remote entry, a multifunction steering wheel, trip computer, vehicle security/immobilizer systems and front/front-side/side-curtain airbags.
Starting slightly below the $21K mark, the Juke SV expands that formidable features list with things like premium upholstery cloth, a power moonroof, automatic climate control, the I-CON integrated controller, XM Satellite Radio (subscription required), a USB port and privacy glass while also allowing buyers to match the engine with a standard six-speed manual transmission or opt for a $500 CVT upgrade. Beyond that transmission choice, the lone "option" on this (or any other) Juke model is an $800 Navigation Package that brings an SD-card based navi system with 5.0-inch color LCD screen, a speaker upgrade with Rockford Fosgate subwoofers and USB connectivity.
What you get for about $23,000-$25,000:
You're strictly in Juke SL territory at this level, where powertrain configuration is the sole determinant of the specific sticker numbers. All three versions of the Juke SL include the SV-plus-Navigation Package goodies plus leather upholstery, heated front seats, the RearView Monitor system, fog lamps, and auto on/off headlights.
Features of note:
I-CON (Advanced-Integrated Control) system interface
Standard on the Juke SV and SL, Nissan's slick I-CON interface/display readout located in the lower center dash area can be toggled between "Climate" and "D-mode" at the touch of a button, each accompanied by its own specific graphics. In the former, I-CON commands all heat/air functions while the latter lets the driver choose Normal/Sport/Eco settings that appropriately revise the electronic mapping for throttle response, transmission shifts and steering feel.
Intelligent AWD with Torque Vectoring
Available on all three Juke trim levels, Nissan's Intelligent All-Wheel Drive system can create up to a 50/50 front/rear power split and also distribute torque from side to side on the rear axle to improve handling and reduce understeer when cornering.
State-of-the-art motivation
All versions of the 2011 Nissan Juke are fitted with the automaker's new 1.6-liter inline four-cylinder that boasts the holy trinity of modern engine tech -- direct fuel injection, turbocharging/intercooling and variable camshaft timing -- here on both the intake and exhaust side -- to deliver an impressive mix of performance and economy. Making an enthusiastic 188 horsepower and 177 lb.-ft. of torque, this free-revving four matches well with both the CVT automatic (which features the driver-selectable S-mode that serves up six "virtual" gears) and the conventional six-speed manual transmission. It also has plenty in hand to deal with the added weight of the all-wheel drive system. While a manual-equipped front-drive Juke can sprint to 60 mph in around seven seconds, the CVT and AWD add about a half tick each to that baseline figure. On the mileage front, a front-drive/CVT Juke earns 27/32 mpg city/highway EPA numbers, with the manual FWD getting 24/31 mpg marks and the CVT AWD coming in at 25/30 mpg.
KBB value analysis
It's tough to predict exactly how the new Juke will fare in the long run, as so much of its fate will be determined by the way U.S. buyers respond to its admittedly polarizing exterior appearance. However, we can confirm that dynamically and functionally, this new Nissan has what it takes to create some serious buzz in the compact crossover segment and boasts an enviable cost-to-benefit ratio, regardless of how it's configured.