2011 Mercedes-Benz CL-Class - First Look
by
KBB.com Editors
|
July 2, 2010 12:14 PM
Making its worldwide debut at this weekend's Goodwood Festival of Speed in England, the 2011 Mercedes-Benz CL-Class embodies the kind of premium performance character that should have it feeling right at home. While visual changes are fairly modest, this exhilarating uber-coupe boasts a host of new technological innovations plus a more potent and efficient standard engine that add even greater luster to its already formidable presence.
Elegance with an edge
A more keenly drawn hood and soft fascia complement the restyled grille on both the CL500 4MATIC and CL600 while a prominent chrome strip now sets off the revamped lower air intakes. Also featured in the 2011 exterior remix are LED-strip daytime running lights beneath standard bi-xenon headlamps that incorporate both active curve illumination and standard Adaptive High Beam Assist. The rear treatment on this updated CL-Class sees minor revisions to both the taillamp and exhaust outlet designs. Inside, the 2011 Mercedes-Benz CL-Class benefits from a modified multifunction steering wheel that now boasts softer Nappa leather inserts and a sportier overall appearance.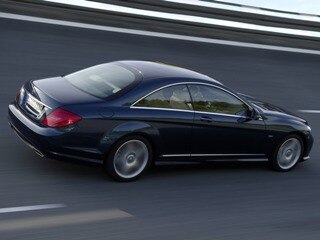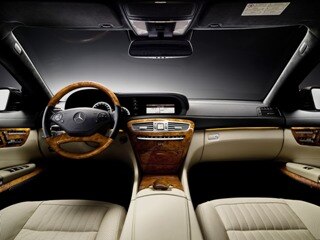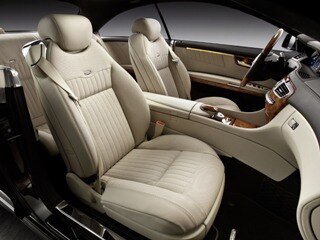 Power with a conscience
The most dramatic change for the 2011 CL-Class is found under the hood of the CL550 4MATIC where M-B's all-new 4.6-liter twin-turbo V8 replaces the current 5.5-liter engine. Despite its smaller displacement, this new direct-injected gem employs M-B's latest BlueDIRECT technology to turn out 429 horsepower and 516 lb-ft of torque compared to the 382/391 relative figures of the outgoing eight. Even more impressive, the BlueDIRECT enhancements allow it to do so while netting a 10-15 percent gain in fuel efficiency and producing 23 percent less CO2 emissions.
No changes are due the 5.5-liter V-12 in the range-topping CL600, which carries over with 510 horses on call and 612 lb-ft of twist. Somewhere in the not-too-distant future, the yet-to-be-revealed AMG version of the new CL-Class will also roll onto the scene motivated by the new and also super-efficient AMG-designed 5.5-liter V8 biturbo engine with a peak output of up to 563 horses and maximum torque of up to 664 lb-ft.
Playing it even safer
Given its bounty of current passenger protection systems, the CL-Class hardly found itself wanting in the safety department. But for 2011, this classy coupe gains even more of the potentially life-saving right stuff. The biggest news is the availability of two new features, Active Lane Keeping Assist and Active Blind Spot Assist. Both of these self-descriptive enhancements incorporate a new selective braking function that's automatically activated by the ESP stability system to help prevent a driver from inadvertently wandering into a potentially dangerous situation. Also for 2011, the standard Active Body Control (ABC) adds a crosswind stabilization feature and the anti-lock brakes gain Torque Vectoring circuitry, both of which had only been offered on the CL63/CL65 AMG models.
The 2011 Mercedes-Benz CL550 4MATIC and CL600 models will go on sale here in the fall. Pricing and formal EPA numbers have yet to be released.