2011 Mazda MAZDA2 Review - Engaging economical and fun, too
by
KBB.com Editors
|
January 25, 2011 8:55 AM
It's taken Mazda a surprisingly long time to bring its smallest and most affordable model to America, but the recent arrival of the new 2011 MAZDA2 gives the automaker a solid, stylish, and impressively spirited player in the increasingly popular "B-segment." Although sharing a good deal of basic platform architecture with the Ford Fiesta, the MAZDA2 offers unique powertrain and suspension bits as well as its own exterior and interior design treatments. Mazda's front-drive/five-door hatchback is available in two trim levels, an impressively well-outfitted Sport and slightly more upline Touring variant. While its primary rivals include the Fiesta and Honda Fit, the Nissan Versa, Toyota Yaris and Chevrolet Aveo (and its Sonic successor that arrives in the fall) are also among the many foes vying for potential buyers who believe that small is beautiful and small and inexpensive is an even more enticing combination.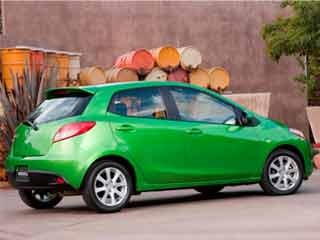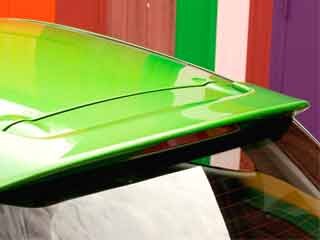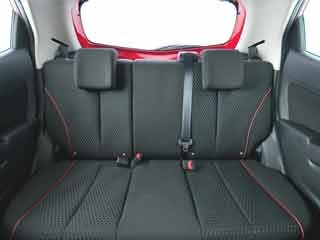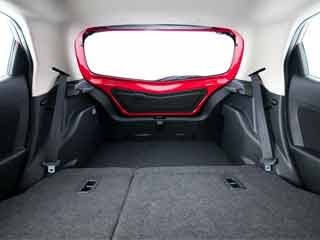 You Might Like this Vehicle If...

When sporty character, versatile packaging and a budget-respecting sticker price top your must-have list in a primary transport module, the MAZDA2 is a car to consider.
You Might Not Like this Vehicle If...

Anyone who's become addicted to soft-touch interior surfaces or demands a factory navigation system or SYNC-style connectivity would be far happier with a Honda Fit or Ford Fiesta.
Style with a smile

The new MAZDA2 breaks no new fundamental design ground in its basic exterior shape and proportions. However, it does bring a unique sense of "zoom-zoom" flair to its bodywork contours that are complemented by prominent front fender flares and side sculpting set off with its own variation on Mazda's signature "happy face" grille treatment. Sport models wear their V-rated 185/55 all-season tires on 15-inch steel wheels while the Tourings mount identical rubber on lightweight aluminum alternatives.
Inside, the MAZDA2's cabin is roomy, well-appointed, well-finished and well-isolated. That said, save for the seats and armrests, it's a realm dominated by hard plastic. Highly-legible analog gauges and well-placed, user-friendly control layouts do make it easy to feel at home behind the three-spoke steering wheel that sits atop a tilt steering column. Comfortable front buckets are paired with a 60/40 split-folding rear bench seat that offers decent room for two average-size adults or three kids. When toting cargo takes priority, flipping the backs forward ups the MAZDA2's rear bay capacity from 13.3 to 27.8 cu-ft -- although the resulting "stepped" floor surface does impact overall utility a bit.
What you get for about $15,000

The MAZDA2 Sport opens just under $15K when fitted with the five-speed manual transmission and $800 more if you opt for the four-speed automatic. In either case, the price of entry includes a full assortment of power assists, air conditioning, four-speaker AM/FM/CD/MP3 sound system, tilt steering column, keyless remote entry, stability/traction controls, antilock disc/drum brakes with Brake Assist and Electronic Brake force Distribution and front/front-side/side-curtain airbags.

What you get for around $16,500-$17,000
The Touring trim, which starts just over $16,000, adds several functional upgrades to the MAZDA2 menu. Inside, it gains cruise control, a trip computer, leather-wrapped multifunction steering wheel, upgraded cloth seat trim and two more speakers for the audio system. Exterior enhancements include fog lights, a rear roof spoiler, chrome exhaust tip and the aforementioned alloy wheels. Extras are minimal, with both models offering an auto-dimming rearview mirror with compass and Homelink, floormats, a cargo net and Crystal White paint, while Touring buyers also can opt for wheel locks.
Behind the wheel

Although not the quickest or fastest player in the burgeoning B-segment, the 2011 Mazda MAZDA2 will most assuredly impress anyone who loves to drive with an exceptional mix of balance and responsiveness. To take full advantage of its relatively light weight, Mazda tuned the car's MacPherson strut front/torsion-beam rear underpinnings in a way that deftly blends control with comfort and teamed them with tires that, while modest in size, provide a reassuringly high level of grip. Factor in electrically-assisted power steering that merits exceptionally high marks for overall feel and precision plus a stability control setup that keeps a fairly low profile and you've got a vehicle that's just as happy being tossed into the twisties as it is racking up miles in a leisurely cruising mode.
Under the Hood

Sole engine in the MAZDA2 is a 1.5-liter four-cylinder that makes 100 horsepower and 98 lb-ft of torque. Despite those relatively unassuming output numbers and five-speed manual/four-speed automatic transmission choices, this mini Mazda's minimal mass allows the car to make the most of what it does have on hand. Expect 0-60 mph times to fall into the 9.5-10.5 second realm; and while hard-core enthusiasts will definitely want to go with the do-it-yourself gearbox, even the autoshifted Touring we tested was more than capable of holding its own in town and on the freeway. However, the absence of a six-speed gearbox does have an impact on the MAZDA2's fuel economy stats. Carrying EPA ratings of 29/35 mpg city/highway for manual models and 27/33 mpg for those fitted with the optional four-speed auto shifter, this mini Mazda can't match the numbers of the Ford Fiesta, which offers a five-speed manual and six-speed automatic transmission.
1.5-liter in-line four cylinder
100 horsepower @ 6000 rpm
98 lb.-ft. of torque @ 4000 rpm
EPA city/highway fuel economy: 29/35 mpg (manual), 27/33mpg (automatic)

KBB value analysis

With an attractive pricepoint, impressive build quality and a dynamic personality the 2011 Mazda MAZDA2 definitely brings some laudable qualities to the practical transport game. Equally important, KBB.com sees it as a vehicle likely to maintain that fundamental appeal over time and projects that the 2011 MAZDA2 will closely match the Honda Fit and exceed the Ford Fiesta when it comes to long-term value retention. Some may take issue with its lack of certain standards and optional features, but no one can deny that Mazda's newest offering is concrete proof that good things still do come in small, affordable packages.When sporty character, versatile packaging and a budget-respecting sticker price top your must-have list in a primary transport module, the MAZDA2 is a car to consider.