2011 Lotus Evora S and Evora IPS auto -- Paris Auto Show
by
KBB.com Editors
|
August 27, 2010 1:01 PM
In an early look at what it promises will be a number of impressive product intros, Group Lotus has pulled the wraps off of two new Lotus Evora variants that will grace its display in Paris. Taking direct aim at hard-core enthusiasts, the 2011 Lotus Evora S brings an elevated level of sheer exhilaration to the package courtesy of a power-boosting supercharger for its V6 engine matched with a host of other dynamic tweaks. Aimed at potential buyers who love the looks of this striking 2+2 coupe but have been longing for the convenience of an automatic transmission, the 2011 Lotus Evora IPS -- for Intelligent Precision Shift -- swaps the Evora's standard six-speed manual gearbox for an ultra-responsive auto alternative.
A clear case of sibling revelry
While their approaches may differ, both of these new additions to the Evora family maintain all of the fundamental Lotus character traits that have already gained worldwide acclaim for the original. Subtlety rules the day when it comes to visual cues that set the 2011 Lotus Evora S apart from the base Evora. A large center-mounted exhaust outlet and aggressive rear diffuser plus larger, cross-drilled brake rotors are the key tipoffs to the added power that lies within courtesy of a bespoke supercharger setup that raises output of the 3.5-liter V6 nestled amidships from 275 to 345 horsepower.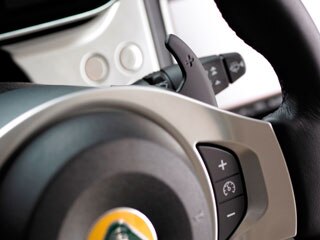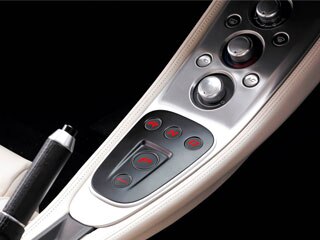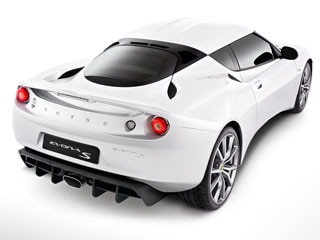 Helping make best use of that extra muscle, the Evora S also comes with a retuned suspension and Sport Pack that nets a console-mounted "Sport" button capable of raising the rev instantaneous rev limit and permitting a more liberal map on the stability control system while adding a bit more throaty roar to the exhaust note. Lotus says the "S" spec Evora can run 0-60 mph in 4.6 seconds compared to 4.9 ticks for the base Evora. It also gains 10 mph on the top end, maxing out at 172 mph.
Less intense but likely to end up being more popular, the 2011 Lotus Evora IPS retains the naturally aspirated V6 but backs it with a paddle-actuated six-speed automatic that uses a Lotus-designed controller to optimize gear changes in both full-auto or manual-style modes. Like its brawnier brother, the Evora IPS also boasts a "Sport" button that added even more direct shift "feel" and further cuts cog-to-cog transition times. In full-charge mode, the Evora IPS can run 0-60 mph in 5.3 seconds and hit 155 mph.
A quick look ahead
In commenting on the new Evora S, Lotus Chief Commercial Officer Andreas Prillmann offered a tantalizing observation about the future holds what for the iconic marque. "The Evora S is a natural progression for us but more than that, it's a taste of what people can come to expect from the next generation of Lotus cars. As for the Evora IPS, Dany Bahar Lotus' Chief Executive Officer said this extension of the line "is set to broaden the appeal of the Evora and reach out to a slightly different market. We hope it will be popular with established automatic locations such as Asia, the Middle East and the US. It's been a long time since Lotus created an automatic and we've spent a great deal of time refining this one to make sure that it perfectly complements the Evora drive experience."
Set to go on sale in Europe this fall, both the 2011 Lotus Evora S and the 2011 Lotus Evoar IPS will arrive in showrooms here next spring. Pricing has not yet been finalized on either model.