by
KBB.com Editors
|
November 18, 2011 1:29 PM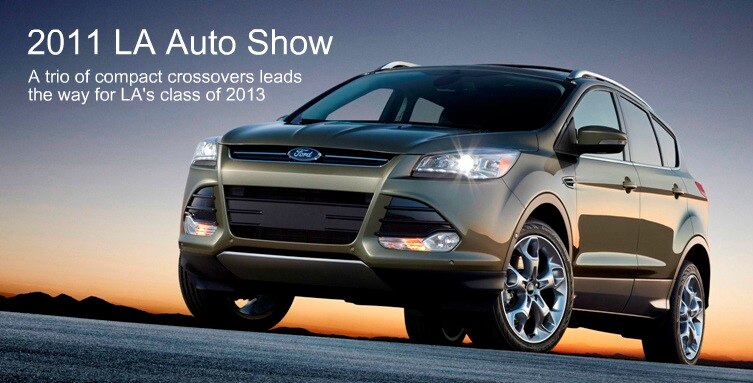 Perhaps we can interest you in the fresher 2012 LA Auto Show?
From all-electric to high-performance and everything in between, we can always count on the LA Auto Show to have it all. The 2011 LA Auto Show holds true to form, with a particular focus on the middle of the market with makes like Ford and Honda introducing new versions of top sellers. The Subaru BRZ STI Concept gives us a good look at the production version set to hit the streets next year, and the Fiat 500 Abarth brings turbocharging to the diminutive Italian. As for the electric and high-horsepower ends of the spectrum, the Honda Fit EV covers one end and the latest Ford Shelby GT500 -- now with 650 horsepower -- epitomizes the loud side.
Get full details below, or start with our Top 20 Quick Tour.
All-new Production Cars
From new cars with new names like the 2013 Chevy Spark, to new versions of familar models like the 2013 Ford Escape, these are the all-new cars we'll start seeing on the road in the coming months.
New Twists on Existing Models
It can take hundreds of millions of dollars to create an all-new car from the ground up, but just a sliver of that to update an existing vehicle with more power, new technologies or even a different face.
Concept Cars
Some of them are only slightly different from the production cars they'll spawn within a year. Others can be outrageous design exercises that may or may not resemble anything we'll see in the future.