2011 Lexus CT 200h First Drive Review
by
KBB.com Editors
|
November 9, 2010 6:29 PM
Lexus pulled the wraps off the CT 200h at the Geneva Auto Show in March. In September, the automaker confirmed the car's Prius-sourced hybrid powertrain would produce the same 134 horsepower that it does in Toyota's mileage-maxer. We also learned it would cover the run to 60 mph in the same 9.8 seconds, but that EPA city/highway fuel economy numbers would likely come in at 42/41 mpg, short of the Prius' 51/50 mpg rating. Most recently, we brought you our early impressions of the car's look, feel and features after our first couple of days in it.
Now we can talk about how it drives.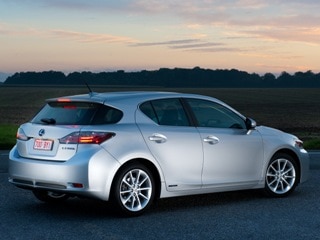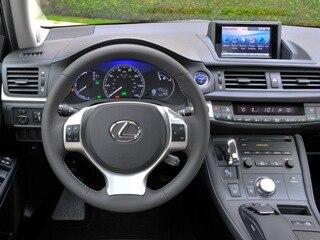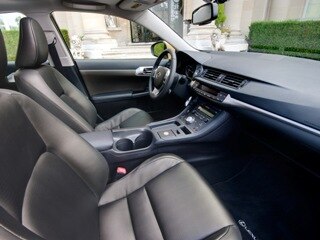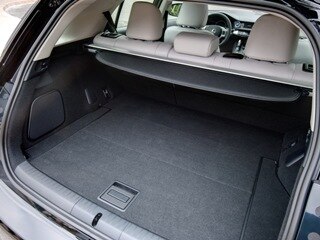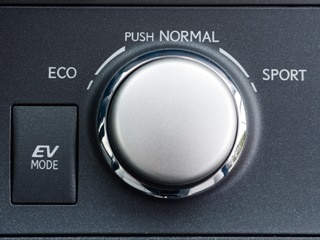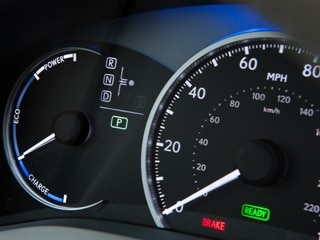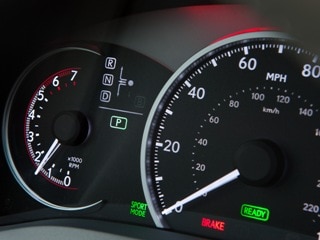 100-word shortcut
The 2011 Lexus CT 200h isn't fast, but the refined, responsive CVT and instant torque of the electric motor combine to deliver a kind of smooth, satisfying acceleration that actually encourages quicker launches than you might be inclined to dial up in a more powerful car. Likewise, the littlest Lexus won't be setting any skidpad or slalom records, but it qualifies as crisp and responsive until pushed to its limits. No surprises on the highway: ride, noise and passing power all met our expectations for a compact, 134-horsepower Lexus. Last seven words: New mix of fuel efficiency and fun.
Working the wheel
We knew moments after Lexus lifted the sheet off the CT 200h that it wouldn't be any quicker than your basic economy car. So the only chance it would have to back up its sporty stance would be in the handling department, which could be an unfair burden to place on a car laden with hybrid weight.
But in two days of highway, country and in-town driving, we found the 2011 Lexus CT 200h as nimble as any sporty compact (up to a point), and sticky enough to dizzy us around at least one small traffic circle.
It turns out the 2011 Lexus CT 200h isn't just the lightest Lexus, it weighs almost 200 pounds less than its most direct competitor, the 2011 Audi A3 TDI (3130 vs. 3318 pounds). Built on a version of the platform underpinning the Toyota Corolla, the CT 200h is stiffened with high-strength steel, lightened with aluminum and supported by a more sophisticated suspension.
Where the CT 200h falls short of the Audi A3 TDI in performance handling are driving feel and adhesion limits. The CT 200h has one of the better electric power steering systems we've come across, but it still commands a tradeoff in steering feedback. And while the CT 200h offers more than enough lateral grip to put a smile on the average driver's face -- or fear in the average passenger's eyes -- it doesn't hold on long enough to pull the words "hot hatchback" from your mouth.
In some ways the 2011 Lexus CT 200h reminds us of a sporty mid-size sedan: athletic enough for reaility, but not something you'll dream of taking to the track.
It's fun to floor it
It's basically illegal in this country to floor a Porsche 911 Turbo for more than four seconds. But in the 2011 Lexus CT 200h you can stand on the gas for more than 10 seconds at a time before you have to concern yourself with highway speed limits. It may sound like a backhanded compliment, but there's something to be said for cars you can actually wring out on your way to the office.
There's also more to the CT 200h's 9.8-second zero-to-60 number than meets the eye. For starters, the instant torque supplied by the electric motor gives the car a smooth but nice kick off the line. Not like being shot out of a cannon, but more like getting a good push on a playground swing. And even though the powertrain components are the same, the CT 200h is tuned with more aggressive throttle mapping than the Prius. We didn't record a 0-30 mph figure, but it wouldn't surprise us if the CT 200h is a tick quicker to that pace than other cars with the same 0-60 mph time.
The 2011 Lexus CT 200h also benefits from one of the more refined continuously variable transmissions we've driven. Toyota and Lexus have been doing CVTs for awhile now, and the CT 200h exhibits none of the acceleration elasticity or buzzy drone that still afflicts some CVT-equipped cars. The result is a smarter, more direct connection between driver and car.
Lexus has made similar strides in hybrid braking. The 2011 Lexus CT 200h delivers better pedal feel and steadier deceleration than some earlier hybrid models. Most hybrid braking is done by the motor/generator system, and Lexus claims some Prius taxis have gone more than 200,000 miles on the same brake pads.
Performance-oriented drivers will be particularly fond of the car's Sport mode, which not only provides livelier throttle response, but also emulates the selection of a lower gear when entering, negotiating and exiting corners, providing greater throttle control and more readily available power on exit. Sport mode also provides more direct steering response, changes the instrument panel highlights from blue to red, and turns the power gauge to a tachometer. Considering the CT 200h doesn't offer any sort of manual shift control, as do some CVTs, the tach is really more for show than go. Combined with the quality of the transmission and the nature of the car, Sport mode makes it easier to swallow the fact that the 2011 CT 200h doesn't offer manual shift capability.
Out on the highway, Lexus says the CT 200h will top out at 112 mph. You'll have to floor it for quite awhile to reach that velocity, but if pedal to the metal is your thing, the 2011 Lexus CT 200h is, in its own way, right up your alley.
Cruising and parking
Out on the highway the Lexus CT 200h is firm for a Lexus, but softer and quieter than your typical sporty compact car. Around town and in parking lots, the CT 200h offers all the maneuverability and outward visibility you'd expect from any small five-door.
Lexus to the core
Inside, the 2011 Lexus CT 200h hybrid does a better job of mimicking its pricier siblings than does the Audi A3. Highlights include a visually split dash/console design, dynamic instrument panel gauges/lighting, and a backseat that can comfortably accommodate a six-footer, if just barely. The synthetic leather seats won't be mistaken for the real thing, but they look and feel just fine. During our longer drives, though, we appreciated the added ventilation of the optional perforated leather buckets.
Safety stuff
In addition to eight airbags, electronic stability control and all the other safety equipment you'd expect to find in most premium cars today, the 2011 Lexus CT 200h includes the automaker's Safety Connect system that offers automatic collision notification and other emergency/assistance services. The CT 200h also offers radar-based adaptive cruise control and collision detection/mitigation.
Included in the box
Standard equipment highlights include keyless entry and start, Bluetooth phone and audio connectivity, iPod integration, synthetic leather seating, dual-zone auto climate control and LED daytime running lights. Lexus has hinted at a starting price of just above $30,000 when the 2011 Lexus CT 200h goes on sale in February.
Available upgrades
You'll have to write a bigger check if you want your 2011 Lexus CT 200h equipped with leather seats, a moonroof or a voice-activated hard-disk navigation system with backup camera, remote touch and Lexus Enform. Other extras include LED headlamps, in-mirror backup camera (if you want a camera but don't want the navigation system), heated front seats with driver's seat memory, auto-dimming outside mirrors and rain-sensing wipers.
A buyable balance?
The 2011 Lexus CT 200h is sportier and more stylish than a Prius, more fuel-efficient than an Audi A3 TDI, and really does feel like a happy marriage of the two. But, like even the happiest of marriages, the CT 200h isn't for everyone and it demands compromise.
Whether or not it's your cup of tea will depend in part on how readily you accept new things. Compact luxury hatchbacks don't have a history of great success in the U.S., and the addition of a hybrid powertrain can only complicate things.
Or maybe it's the missing ingredient?